V Home Insurance.com, researched various literature to compile a list of features where 3D Printed homes may have an advantage over traditionally constructed homes
3D Printed Homes Have Cost and Other Advantages over Conventional Home Construction
Contributed by | V Home Insurance
3D printed homes are slowly gaining adoption in the home construction market. V Home Insurance.com, researched various literature to compile a list of features where 3D Printed homes may have an advantage over traditionally constructed homes (see below image)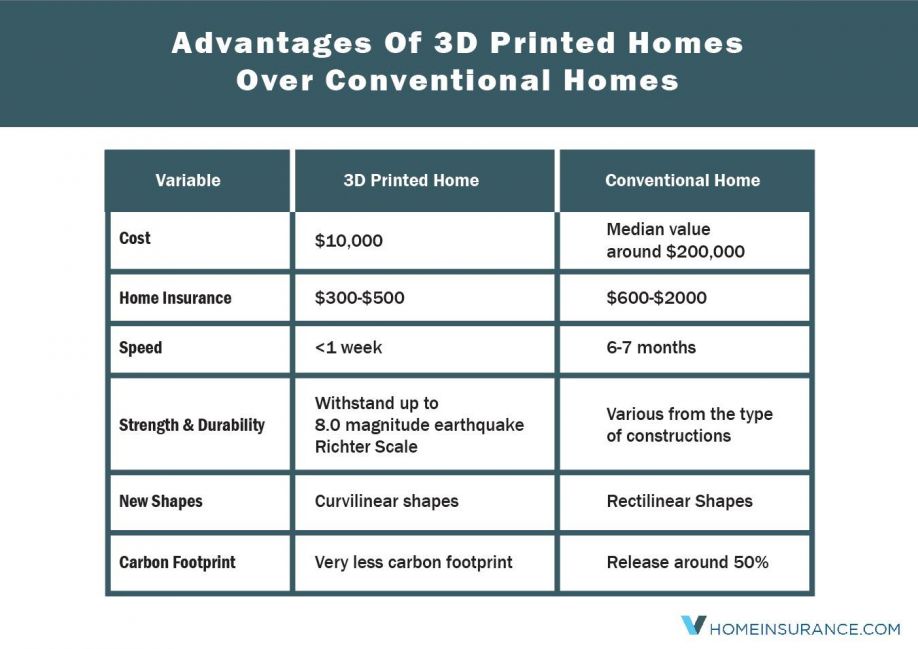 Lower Construction Cost: 3D printed houses have the potential to reduce the cost of materials and labor dramatically. Apis Cor is a company specialized in developing mobile 3D construction printers. To demonstrate the potential of the printers Apis Cor built a 410 square-foot house within the budget of around $10,000 with a cost break down for each component as shown in the below image.
A major portion of the construction cost (35%) is needed for building the doors and windows of the house. This is followed by the cost of building the floor and roof (24%). The remaining (50%) cost is for other essential components such as walls (16%), interior (12%), exterior finishing (8%), foundation (3%) and wiring (2%).
Home Insurance: This study by Gavop on lowering home insurance costs mechanisms shows that choosing lower risk construction material lowers homeowner costs. Most home insurance premiums are based on replacement values and if the cost to build a house is cheaper to begin within than it follows that home insurance costs would also be dramatically lower.
Speed: A traditionally constructed house usually needs 6-7 months for construction. This is in contrast to the speed of a 3D Printed home. For example, a Chinese company Winsun used 10 meters wide and 6.6 meters tall printers to build 10 full-sized houses in the span of just 24 hours.
Strength and Durability: The advancement in 3D printing technology has seen the design of concrete-based houses in recent years, to withstand extreme weather conditions. A company called Tengda Hua Shang has claimed that their two-story, 400-square-meter house will even be able to survive an 8.0 magnitude earthquake on the Richter scale.
New Shapes and Designs: 3D printing technology provides homeowners with the flexibility of designing as per their taste. This new technology uses curvilinear structures rather than the usual rectilinear ones which adds a robust structural integrity to building architectures.
Carbon Footprint: Even in the sphere of sustainable energy, 3D printing technology does not lag behind. Amsterdam based architecture company DUS have recently completed printing a canal house using bioplastics produced from 80% vegetable oil.
The content & opinions in this article are the author's and do not necessarily represent the views of ManufacturingTomorrow
---
Comments (0)
This post does not have any comments. Be the first to leave a comment below.
---
Post A Comment
You must be logged in before you can post a comment. Login now.
Featured Product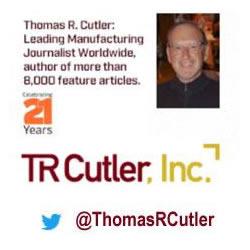 Cutler has authored more than 8000 articles for a wide range of manufacturing periodicals, industrial publications, and business journals including most of the leading monthly trade publications.