According to supply chain and logistics consulting firm MWPVL International, when the storage capacity of a warehouse distribution center surpasses the 85% utilization level, there is also a reduction in productivity.
Warehouse Efficiency Improves Operations
Megan Ray Nichols | Schooled By Science
The worst thing you can do in terms of productivity and efficiency is to overload your warehouse or storage space. According to supply chain and logistics consulting firm MWPVL International, when the storage capacity of a warehouse distribution center surpasses the 85% utilization level, there is also a reduction in productivity.
There are many reasons why this happens, not the least of which is because there's less space to maneuver and work inside the facility. Products or goods are often staged within areas where they shouldn't be — like operating aisles — simply to make room. Receiving and shipping docks tend to be cluttered and in disarray. Employees have a tough time managing the excess inventory and overall messiness that occurs as a result.
It's best to keep your warehouse expansive, which means increasing capacity as it fills up. The question is, how do you make this happen, especially if you have limited resources? Is there a way to make better use of the space you do have?
1. Adopt a Warehouse Inventory Management System
There is a tool that specifically addresses the management and organization of any large storage facility, called a warehouse management system or WMS. It's a digital platform that assesses inventory and storage capacity, in real-time, through a series of data streams. It can also handle the management of goods as they move out of your warehouse and through the supply chain, or vice versa as they move into your warehouse.
More importantly, WMS tools often integrate seamlessly with existing systems, particularly those that your partners and fellow distributors rely on. This feature allows vendors and distributors to see your current inventory, including related stats.
Inventory management and the efficient use of existing space becomes much easier through a WMS, which helps you identify where things are stored, what areas are underutilized and even where you can improve.
2. Restructure Your Shelving
Another great way to boost capacity — without actually increasing square footage — is to reorganize and restructure the way your warehouse is set up. There are a plethora of changes you can make to boost efficiency and increase the total amount of space you have to work with. For example, swapping to teardrop pallet racks over double-slotted pallet racks can make a huge difference. Other changes include readjusting rack elevations, utilizing block storage configurations, and installing single or double deep selective racking or push-back racking.
Begin by assessing the physical layout of your space, and then choose a configuration that services the natural flow of operations. For example, with incredibly heavy loads it may be necessary to create a drive-in racking system that allows forklifts and machinery to move about freely. That will even dictate how much space you allow in aisles and walkways.
3. Build up, Not Out
Many warehouse and storage facilities already have a ton of vertical space that is not being used. This isn't always the case, but if it applies, you should definitely consider building up as opposed to out. You can more efficiently use the space by deploying custom racks and storage shelving. You can utilize block storage by stacking pallets on top of one another — but be sure the goods are stable enough to support this configuration.
Increasing rack elevation is a definite substitute for remodeling or building onto an existing space. You will have to be more careful about how the goods are transported and handled. Machinery will likely be necessary to safely remove pallets stored up high.
4. Reduce Inventory or Change Stock
If you are in direct control of the inventory that's being stored inside the facility, then it's a valid consideration to swap goods or components. You can reduce the total amount of stock you have inside a facility, but you could just as easily spring for smaller, less bulky items. In fact, by storing little things, you can fit a whole lot more inside a space without ruining productivity and availability.
Sometimes, inventory has simply grown out of control, and an operation would benefit from proper forecasting or data analysis tools. They explicitly handle predictions and reports dealing with the number of goods coming, going and staying inside your facilities.
5. Tighten up Aisles
One strategy involves constricting corridors and walkways, creating something called very narrow aisles, or VNAs. This provides even more space to store goods simply by taking away negative space or open areas. You still need enough room to maneuver and safely allow your employees to move about inside a facility, but there are benefits to cutting down on necessary space.
It instantly increases capacity without costly measures, like development or remodeling. It also makes more efficient use of the space you have available, cutting down on costs. The caveat is that you have less room to use machinery or forklifts.
The Many Benefits of Increasing Storage Capacity
Both efficiency and productivity see a huge boost as a result of better space management. Employees also have a lot more room to maneuver, which cuts down on safety risks and potential mistakes. Finally, there are always cost savings gained via more efficient use of available space. The capacity increases naturally, so you can store more goods, but that also means you can cut down on excess costs you would incur through maintaining a bigger space.
Ultimately, you will be faced with a capacity dilemma at some point — if you haven't already. It's just something that happens as you work to fill your facility and storage areas with more goods. With the right planning and efficient use of available space, you can cut down on delays or productivity drops as a result of capacity fluctuations.
The content & opinions in this article are the author's and do not necessarily represent the views of ManufacturingTomorrow
---
Comments (0)
This post does not have any comments. Be the first to leave a comment below.
---
Post A Comment
You must be logged in before you can post a comment. Login now.
Featured Product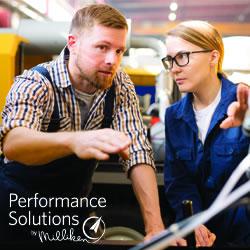 Performance Solutions by Milliken is a dedicated consulting and training group that helps guide businesses toward success. From supply chain, to operations and safety, we're dedicated to developing sustainable results for our clients through the implementation of a holistic operating system. We believe engaging all associates in the process will systematically transform your company to create efficiency, uncover hidden capacity, and generate long-term gains. Are you ready to reinvent your operations and transform your organization? Let's get started.