A completely replaced controls system. 5 panels with all they contain. Under 7 days downtime. 100% production on day 1.
Same Old Problem, Brand New Solution
Ian Mogab | Patti Engineering, Inc.
Reprinted with permission from the Patti Engineering, Inc.:
Old equipment is a staple on the plant floors of any manufacturer that has been running for more than a decade. Maintenance teams meticulously maintain these machines. Eventually the controls components (PLC's, drives, starters, etc.) fail though, and they get replaced until one day, the last spare gets used up and the distributor no longer carries the parts. Relying on eBay and repair shops to keep the plant up and running is now a reality.
Sound familiar? How much is on the line when your aging machine goes down and replacement parts are no longer a phone call away?
This was the situation of one our customers machining engine blocks. Several of their machines that perform rough-cut operations were approaching 20 years old. They were very concerned about the looming possibility of one of their PLC's or drives failing and not being able to get a replacement. Millions of dollars in lost production time were on the line.
After carefully weighing replacement vs retrofit, this customer turned to Patti Engineering to develop a retrofit solution that would meet their requirements. Replacing 5 control panels, with 5 PLCs, 8 servo drives and motors, cabling, and cable carriers per machine was a tall order. Doing it with under 7 days of downtime – some might even say impossible.
The Patti Engineering team went with a Siemens solution, which drastically cut down onsite install, debug, and testing to meet the time frame. Five PLCs were replaced with a single Siemens 1518F processor (the "Cadillac" of the new Siemens 1500 series PLC line). Sinamics S120 servos paired with Simotics servo motors provided control for the machining process as well as the gantry transfer system to smoothly handle engine blocks weighing over a ton. A dozen ET200sp remote I/O racks were placed directly on the machines, greatly reducing cabling. Profinet ties the whole system together through Scalance industrial ethernet switches.
But how do you get all this hardware installed, programmed, and running production in under 7 days? Our engineering team employed several strategies to make this quick turnaround. We worked closely with our panel shop to design a modular panel design that could be installed and wired quickly in the field. As the panels were built, our team did comprehensive panel testing, networking configurations, and drive setup in the shop. The key to the whole operation though was creating a digital twin.
A digital twin is a digital representation of a physical process. We used Siemens PLCSim Advanced to create a series of programs, which identically matched the physical machine and how it operates. We were then able to test and debug 95% of our machine programming before we even installed a single panel onsite. This made our 3-4 day window of debugging and testing an obtainable goal.
As soon as the machine was turned off and handed over to Patti Engineering, a team of over 30 engineers, electricians, and technicians descended on the work site working 24 hours a day to remove and replace every control cabinet, cable, cable carrier, and servo motor on the machine. Testing and debug then went very smoothly due to the virtual debug and testing that was able to be done utilizing the digital twin. Production started up on schedule and the machines were producing at 100% from day 1.
Not only did our customer get an entire, brand new controls system up and running production in 7 days, but they now have machines that run faster, recover easier, and have less downtime than they have ever had in their 20-year history.
Many manufacturers are hesitant to retrofit their machinery because they can't afford the risk of extended downtimes, but also can't rationalize replacing machines that are in great shape mechanically. However, running machinery on borrowed time is never a good solution. A systems integrator, such as Patti Engineering, who is experienced in doing controls retrofits, can work around customer requirements and utilize modern design techniques to dramatically reduce the risk and downtime.
The content & opinions in this article are the author's and do not necessarily represent the views of ManufacturingTomorrow
---
Comments (0)
This post does not have any comments. Be the first to leave a comment below.
---
Post A Comment
You must be logged in before you can post a comment. Login now.
Featured Product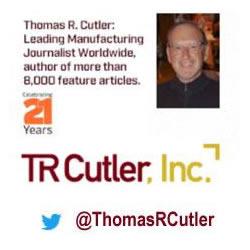 Cutler authors more than 1000 feature articles annually regarding the manufacturing sector. Cutler has established special divisions including African manufacturing, Colombian manufacturing, Gen Z workforce, and Food & Beverage. Cutler was recently named the Global Supply Chain journalist of the year for the second time in a row. Over 5200 industry leaders follow Cutler on Twitter daily at @ThomasRCutler. Contact Cutler at trcutler@trcutlerinc.com.