Healthcare Packaging EXPO shines light on achieving greater agility, record keeping and speed in maintenance.
Sophisticated Automation Enhances Precision, Flexibility and Product Safety
Contributed by | Rockwell Automation
From meeting demands for a wider assortment of niche and custom drugs to coping with a workforce shortage and regulatory emphasis on digital documentation, today's pharmaceutical manufacturers are pulled in many directions. As a result, this mixed bag of high-level priorities is changing the face of manufacturing, requiring investments in sophisticated and flexibility-enhancing automation.
To address pharmaceutical manufacturers' options for improving flexibility on the packaging line, we spoke with Steve Mulder, packaging segment leader, North America, Rockwell Automation. At Healthcare Packaging EXPO—co-located with PACK EXPO International (Oct. 14-17; McCormick Place, Chicago), Mulder will deliver a presentation titled "Advanced Technologies in Life Sciences" on Monday, Oct. 15 from 11:00 a.m. to 12:00 p.m. at the West Hall Innovation Stage (Booth W-320). The session will highlight solutions that allow more flexibility in manufacturing and packaging, examining several use cases.
What market demands are placing pressure on pharmaceutical manufacturers?
Following trends for industries across the board, pharmaceutical manufacturers are responding to demands for more custom and niche drugs and medical solutions. Having to manage multiple SKUs on a single system and efficiently handle changeover requires greater agility and flexible production as well as efficient and swift changeover. Additionally, the pharmaceutical sector is afflicted by a similar skills gap and worker shortage that is currently affecting other product categories.
Meanwhile, increased expectations and changing guidance around risk and regulatory demands are another factor driving these companies to embrace automation. We have seen the FDA start to embrace digital documentation, pushing toward vertical and horizontal integration of data across the enterprise. It is increasingly important to tie information and records to specific products. On the digital front, strengthening cybersecurity is imperative. Viruses can cost companies millions of dollars. End users and many of their Original Equipment Manufacturers may not be prepared to deal with today's barrage of challenges alone. All of these hurdles require innovative solutions.
Discuss briefly the advanced technologies you intend to address in your session and how they ease those pressures.
When it comes to juggling a greater variety of products on a single system and speeding changeover, independent cart technology can support the necessary flexibility. Rather than a traditional servomotor that utilizes coils to create rotation, independent cart technology positions motor coils flat and linearly, creating a track, on which carts or "pucks" can swiftly move to precise locations. This innovation gave us the opportunity to rethink machine design. It supports flexible production on a machine level, allowing the handling of many different medicines or testing samples.
For the total layout of a manufacturing facility that conducts blood and tissue testing, independent cart solutions are serialized. This makes them suited for handling individual samples. Samples located on the carts can be independently called up upon order for a test—or multiple tests, with the equipment tracking and maintaining a perfect record of those tests. This minimizes the chances for human error and associated risks.
In addition to independent cart technology, control robotics that can run off a single-control system enable easy reporting on total system functionality. New opportunities are also arising in predictive data analytics at the machine level that enable companies to better contextualize the analysis and make faster, better and more secure decisions on maintenance, efficiency and in trouble-shooting challenges.
Augmented reality can even deliver a way for maintenance professionals to "step around" fixed equipment when trying to solve a problem. The technology guides operators through every step of a changeover, even delivering changeover processes step-by-step on the spot if necessary. These systems also digitally confirm the performance of each step, again providing accurate reporting records.
Can you tease some of the real world applications you may highlight in your session?
Many of these solutions, but especially independent cart systems are already in place for applications in e-commerce prescription fulfillment and medical device assembly. Independent cart technology is also effective for small delivery filling on vials, syringes and sprays as well as other products requiring aseptic containment. The manufacture of eyeglasses is another arena suited for independent cart utilization. Manufacturers of eyeglasses must often handle small runs of different prescription or non-prescription lenses, which require different coatings and other treatments. These are just some examples. Any small batch runs that require a great deal of precision, record tracking and swift changeover can benefit from these solutions.
The Innovation Stage offers free, 30-minute seminars presented by Healthcare Packaging EXPO and PACK EXPO International exhibitors. Sessions address technological breakthroughs and solutions to the industry's most pertinent challenges. The shows will bring together 50,000 attendees and 2,500 exhibitors for North America's largest packaging event in 2018. To learn more about the event and register, visit hcpechicago.com.
The content & opinions in this article are the author's and do not necessarily represent the views of ManufacturingTomorrow
---
Comments (0)
This post does not have any comments. Be the first to leave a comment below.
---
Post A Comment
You must be logged in before you can post a comment. Login now.
Featured Product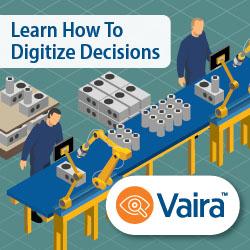 Pleora's Visual Inspection System helps operators detect errors and defects for unique component types, assembly steps, and custom low-run products where automated optical inspection (AOI) is too complex and expensive. The system helps DICA Electronics: Avoid costly, errors as a result of detecting errors at different phases in production, Speed time in detecting the root cause of the in-field errors with Tracking & Reporting apps for traceability, Maintain consistency in training new employees on requirements or with staff any time a new product is added, Easily train the system using 'good product' images for multiple product lines with no programming skills required, Reduce subjective decision-making, especially over a long shift, reducing error-escapes.