While the connected factory demands new and emerging technologies to be overlaid and interwoven into the manufacturing environment, existing systems such as MES, ERP and ECM are also at the forefront of IoT enablement.
Beyond the Hype: How the IoT is Enabling the Innovation of Things for the Connected Factory
Tom Franceski | DocStar
While the IoT may be built with innovative technologies, real innovation is found in that it allows organizations to become more intelligent, agile, and adaptive.
According to Benson Chan, senior partner at Strategy of Things, a research and consulting firm, organizations must look past the hype of the IoT to see the real opportunity to enable the "Innovation of Things."
The IoT refers to a network of connected devices collecting and exchanging data over the Internet autonomously. Business process management (BPM) analyzes, discovers, designs, implements, executes, monitors, and evolves collaborative processes across organizations. Until recently, teams and resources tasked with BPM and IoT have operated in siloes. Organizations must bring these two disciplines together to fully realize the potential for change and innovation.
While the IoT is a building block for the factory of the future, it's also dictating change on the factory floor. According to analysts at BPM.com "Unless it is made actionable, and connected to a responsive loop, the petabytes of data generated by the IoT is merely a burden, not a benefit nor a source of competitive advantage. Resolving this challenge is what will drive a rapidly growing volume of IT investments in the era of the Fourth Industrial Revolution. While there will be investments in data generating devices, there must be connected business rules and processes for this data to be actionable."
Historically, processes have been run, measured, and evaluated, with improvements then implemented to optimize performance. Today with the IoT, all these critical phases may take place simultaneously and near instantaneously. The opportunity for continual operational optimization is exciting, but systematic processes must be in place to support this innovation.
In its report, Predictions 2018: IoT Moves From Experimentation To Business Scale, Forrester Research emphasizes the need to build out capabilities around IoT-enabled products and experiences such as remote product management, monitoring, and control, as well as the ability to integrate IoT-enabled business assets into cohesive business processes.
BPM capabilities in manufacturing execution systems (MES), enterprise resource planning (ERP) and enterprise content management (ECM) systems all play roles in the orchestration of data consumption, analysis, and action—creating seamless hand-offs between systems, people, processes and machines to revamp processes in the IoT age.
However, having the right technologies and systems in place is just the beginning—manufacturers also need new thinking and leadership strategies.
Process mapping

—understanding impact on existing operations

Equipping machines with sensors is a foundational IoT strategy that offers significant value. If a sensor sends out an alert when a machine goes down, it will likely have implications to the shop floor schedule, customers, raw materials requirements, etc. Process mapping exposes the waterfall-effect of data and events across the manufacturing organization and how existing business applications can be optimized with connected factory-floor data streams.
Enlisting a tiger team
Completed process mapping identifies specific areas where an IoT-enabled approach can add significant value—an excellent starting point to enlist a "Tiger Team" to move forward.
Accessing the right talent to integrate your connected factory initiative may involve pulling in resources from outside your organization, such as local university academics and students, as many undergrad and grad-level programs seek to partner with manufacturers to offer students real-world experience. Your business software vendors can also provide a consultative role in moving forward.
Closed loop actions and compliance in the connected factory
The advent of the IoT does not reduce governance and compliance for manufacturers. The need to document corrective actions and other reporting to meet safety, compliance, and environmental compliance requirements is constant. ECM can help digitize this documentation and streamline these processes, ensure they are routed and reviewed by the right human stewards, and that information is secured and managed according to disposition schedules.
While the connected factory demands new and emerging technologies to be overlaid and interwoven into the manufacturing environment, existing systems such as MES, ERP and ECM are also at the forefront of IoT enablement. Together, with new thinking and new approaches around IoT, manufacturers now have the framework for the Innovation of Things.
About Tom Franceski
Tom Franceski is vice president and general manager of DocStar. DocStar proven business process automation technology and workflow expertise empowers organizations to operate at peak performance, navigate change, and grow.
The content & opinions in this article are the author's and do not necessarily represent the views of ManufacturingTomorrow
---
Comments (0)
This post does not have any comments. Be the first to leave a comment below.
---
Post A Comment
You must be logged in before you can post a comment. Login now.
Featured Product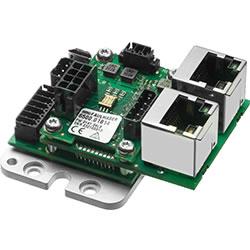 The FAULHABER Linear Actuator L series are designed to provide high performances in compact dimensions, these actuators can support large input speed, high output force and are suited for a wide range of applications like robotics, industrial machines and laboratory equipment.