Additive manufacturing enables not just personalisation but also, importantly, cost reduction and gains in success. There are sure to emerge many more potential applications.
Additive manufacturing in the medical industry
James Murphy | HLH Mold Tech Co Ltd
Additive manufacturing in the medical industry
The medical industry is already one of the largest users of additive manufacturing. It is one of the industries where additive manufacturing's twin advantages of complex part design freedom and personalisation can really be utilised. The medical industry is also the industry where some of the more cutting edge and groundbreaking uses for additive manufacturing are taking place and being researched.
So where is 3D printing being used today;
Hearing aids, this is a perfect case study for 3D printing where the desire for personalisation meets the low volume required for each particular item. Additive manufacturing is perfect for creating the organic shapes specific to each user which then house the stock electronic assembly.
One of the applications of additive manufacturing within medical which is already having a big impact is the ability to practice before procedure. Surgeons can use data taken from MRI and CT scans to build 3D models of the patient's anatomy they will operate on. They then use this 3D CAD data to manufacture 3D printed models, enabling them to practice tricky surgery techniques on realistic models to perfect technique. This allows surgeons to be more precise, reduce risks and operate faster, all things which are good news for the patient.
The dental industry is also one of the biggest users of 3D printing. Again using scans taken from the actual patient's mouth dentists and dental laboratories are able to build accurate and tailored solutions to fix dental problems. Use cases include 3D printed aligners which slowly move the teeth into a desired position as well as 3D printed crowns and bridges. Additive manufacturing is a massive and growing player in the dental industry and there are already a number of machines and materials built specifically for this market.
Patient specific implants PSIs, these can be very expensive and time consuming to make using traditional manufacturing techniques but with additive manufacturing can be done quickly and precisely in massively reduced time lines. Especially for complex organic shapes which traditional manufacturing techniques struggle with 3D printing really holds its own. Two of the major advantages of 3D printing for these applications are the ability to use patient specific data to build the implants and the ability to create matrix or lattice patterns on the surface of the parts. These patterns aid osseointegration and reduce rejection.
3D printed surgical cutting and drill guides are a growing application within the medical sector, especially in dental. Like drill jigs for manufacturing which ensure holes are in the right place, surgeons often use jigs to ensure their operations are in the precise location. These have on the whole been off the shelf parts but using 3D printing it is now possible to have bespoke guides built to the patient's unique anatomy. Meaning more precise operations and better postoperative results.
Prosthetics are some of the more famous case studies in 3D printing for medical applications. There have been numerous stories of companies manufacturing simple 3D printed prostheses for children or people in developing countries without access to alternatives. This is just the surface though and there are numerous companies working on this in a very serious way. Additive manufacturing offers the ability to make patient specific prostheses without being prohibitively expensive.
Some of the applications of 3D printing outside of traditional manufacturing include the possibility to 3D print organs. This could be one of the most revolutionary uses of 3D printing and one with real scope to change the world as we know it. If it was possible to print new organs and body parts using your own cells as the base, then millions of people desperate for transplant donors would no longer have to wait for a suitable match.
3d printed designer drugs. Current drug and medicine production is on a mass scale and the medicines are not targeted but more catch all solutions which work with varying effectiveness and intensity for different people. Additive manufacturing opens up the possibility of printing designer medicines which are specific to you, your body and your needs.
Additive manufacturing enables not just personalisation but also, importantly, cost reduction and gains in success. There are sure to emerge many more potential applications. Not just of existing technologies and materials but as new medical specific technologies are designed and developed, 3D printing will continue to change the face of the medical industry.
About James Murphy
James Murphy born in the UK has lived and worked in the manufacturing industry in China for the past 12 years. During that time, he has worked with hundreds of companies large and small from many industries to utilize rapid manufacturing and 3D printing to realise their project goals.
The content & opinions in this article are the author's and do not necessarily represent the views of ManufacturingTomorrow
---
Comments (0)
This post does not have any comments. Be the first to leave a comment below.
---
Post A Comment
You must be logged in before you can post a comment. Login now.
Featured Product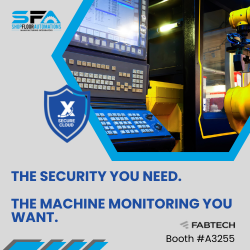 For manufacturers adhering to regulations like International Traffic in Arms (ITAR), Defense Federal Acquisition Regulation Supplement (DFARS) and other security and compliance requirements, the ability to monitor disparate machines, each with a unique control system and communication protocol with varying ages, can make continuous improvement initiatives challenging in the cloud. The Scytec DataXchange solution, available through Shop Floor Automations, resolves these issues by leveraging AWS GovCloud to capture real-time, Industrial Internet of Things (IIoT) data from a variety of equipment - from lasers and press brakes, to saws and robots - through universal machine connections to give teams full transparency on the shop floor through an architected secure cloud solution for a total smart factory transformation.