In the manufacturing industry, you have no option to continue ignoring the threat to your data. Digital security must take as much precedence, if not more, as the physical security of your facility.
How the Manufacturing Industry Can Defend Against Cyberattacks
Emily Folk | Conservation Folks
Cybersecurity is more critical than ever before. If you don't have a plan to protect your manufacturing business from cyberattacks, you're already behind. It's no longer a matter of if your business gets hacked, but when. See why security is so vital and what you can do to ensure the safety of your company's data.
The Proliferation of IoT and Cybersecurity
The Internet of Things, IoT, connects devices throughout your facility. IoT machines can change the pace at which they operate to match that of other parts of the facility, which optimizes efficiency. With multiple facilities around the world using the same equipment, hackers have more access to attack the computer system. The problem gets compounded because most computer systems now connect to the Internet to allow for remote control of the facility. Internet access also leaves a door for hackers to get into the system.
What's at Stake?
In manufacturing attacks, hackers look for company information such as proprietary processes or ingredients. Such sensitive pieces of data require extra security. But worker emails and passwords need protection, too. Through stealing an employee's login information, a hacker could easily access the most sensitive secrets of the company. While it's essential to keep your company's intellectual property secure, you must take the same steps to protect your employees' credentials.
In addition to your company's information, hackers could disrupt your production by accessing your Internet-connected equipment. IoT enhances productivity, but it also opens the door to cyberattacks on your facility. Don't forget to secure the network your manufacturing equipment uses, as well. You will protect your company's efficiency and your bottom line.
Cybersecurity Does Not Affect Lean Manufacturing
Manufacturers face an average of 130 cyberattacks annually. The cost of these attacks in 2017 averaged $11.7 million per company. The cost of dealing with the aftermath of a cybercrime makes responding to these attacks the antithesis of lean manufacturing. While some companies avoid investing in Internet security in favor of cutting their costs, this hurts them over time.
Start With a Risk Assessment
The first step toward making your company safer is getting expert advice on where your business lacks digital security. A third-party risk assessment can show you where holes in your digital security lie, and make recommendations on patching those holes. Some of the worst offenders include weak passwords and a lack of two-factor authentication.
Require Strong Passwords From Employees
In 2017, three percent of Internet users used the password "123456," which is the worst option to choose. A total of 10 percent of those online had one of the 25 top weakest passwords. Encourage your employees to avoid weak passwords. Better options are long, have a combination of upper and lower-case letters, use numbers and have special characters. Also, require employees to change passwords frequently to keep the system secure.
In addition to secure passwords, use two-factor authentication for access to sensitive information such as your company's intellectual property or financial information. The two-factor authentication system requires the user to input a password and a code texted to a cell phone number connected to the account. This system works exceptionally well if you have company-provided phones.
Monitor Devices Throughout Your Facility
The computerized devices in your facility need regular monitoring, according to the CEO of cybersecurity provider Nozomi Networks. A cyberattack could easily overwhelm many industrial control systems, ICS, which cannot handle such a significant amount of information. And antiviral software may also take too much memory from ICS devices to allow either the equipment or the software to run correctly.
Real-time monitoring of ICS devices is a better option. Monitoring the system can help identify immediately when an attack happens without installing clunky software. Your IT workers should be able to shut down the system before the incident can do damage.
Cybersecurity Is a Manufacturing Requirement
In the manufacturing industry, you have no option to continue ignoring the threat to your data. Digital security must take as much precedence, if not more, as the physical security of your facility. With the right measures, you can keep your intellectual property safe and your business running smoothly.
The content & opinions in this article are the author's and do not necessarily represent the views of ManufacturingTomorrow
---
Comments (0)
This post does not have any comments. Be the first to leave a comment below.
---
Post A Comment
You must be logged in before you can post a comment. Login now.
Featured Product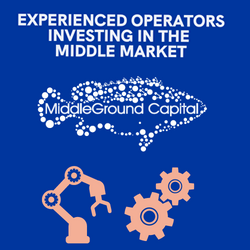 Our hands-on approach, in-house operational expertise and friendly and hard-working culture differentiate us from our peers. We serve as a resource to our portfolio companies, across all organizational levels, to help them grow and build long-term value.