With the right software and a single real-time Windows PC, you can consolidate all of those controllers and their associated costs. Your Windows IPC becomes the only controller that you need.
All-in-One Real-Time Windows IPC Machine Controller
Dipesh Mukerji | Kingstar
When it comes to machine automation, hardware costs and complexity add up fast. As your requirements expand, so does your ever-growing list of hardware: a controller for robot control. Another for CNC. Another for machine vision. You end up with a lot of controllers, perhaps even proprietary, ultimately end up being a lot of systems to manage – and a lot of dollars out of your pocket.
Software-based machine control changes that paradigm. With the right software and a single real-time Windows PC, you can consolidate all of those controllers and their associated costs. Your Windows IPC becomes the only controller that you need. Simply by flipping a switch or moving an Ethernet cable, you can seamlessly switch from a robot controller to CNC controller to a GigE camera. No more separate infrastructure with separate costs, no need for data acquisition or control cards – just one integrated real-time Windows machine acting as an all-in-one controller.
What about the challenges of EtherCAT? While EtherCAT is recognized as the network standard for software motion control, it's not without issues. That's why KINGSTAR delivers auto-discovery, auto-configuration, and much more, all in a "plug-and-play", open and standards-based environment.
Software-based machine automation also supports the modern needs of Industry 4.0 and the Industrial IoT (IIoT). It enables an OPC UA connection to the cloud for analytics, back-end needs, and security. A SCADA connection saves data to your database for real-time processing. And with new add-ons consistently added to the platform, you can keep up with the industry's move to the cloud.
About Dipesh Mukerji
With over 13 years of experience in mobile technology, consulting and the Internet of Things, Dipesh has experience in almost every facet of an organization. Dipesh's balanced portfolio of extensive experience involves implementing software technology, building and managing teams in professional services, sales engineering, product management and marketing. Dipesh has implemented software, tools and best practices at both startups and large-scale enterprise organizations that service the gamut of B2E, B2C and B2B customers.
The content & opinions in this article are the author's and do not necessarily represent the views of ManufacturingTomorrow

KINGSTAR
KINGSTAR Soft Motion Platform empowers you to dramatically reduce cost, time and complexity of hardware used for precision motion positioning and machine vision systems, with an industrial-grade real-time software-only solution. KINGSTAR's soft motion library and software PLC, built on EtherCAT standards and a real-time 64-bit Windows operating system, accelerate your time-to-market and enhance your efficiency and productivity with PC-based motion controllers for industrial machines
Other Articles
These success stories seek to highlight the industry-level challenges faced, the resulting automation and motion control requirements that need to be addressed, the results that can be achieved and the key platform strategy.
Booth #N9029 - we are previewing a soon-to-be released plugin for Mach4 CNC that was built with KINGSTAR Machine Automation Software, that features plug-&-play EtherCAT connectivity
Motion control systems are ideal for use in applications that require product positioning, rapid start and stop motions and synchronization of unconnected elements. PLCs have the capability to offer the required signals for commanding stepper systems and servos...
---
Comments (0)
This post does not have any comments. Be the first to leave a comment below.
---
Post A Comment
You must be logged in before you can post a comment. Login now.
Featured Product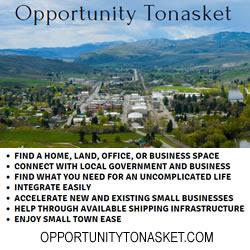 Our primary mission is to promote economic development and growth in the city of Tonasket, WA and surrounding area. This is a group of local citizens sharing a common goal. We wish to assist and promote existing businesses wishing to relocate, local businesses wishing to expand and local individuals wanting to startup a business. Preserving and enhancing the small town and rural lifestyle in a way which benefits everybody and maintains a healthy lifestyle. Opportunity Tonasket was created to be a hub for information and contacts with local city and county agencies, as well as local businesses and real estate connections. Their goal is to connect current and newly relocated individuals and businesses and "plug them in" with the best services, advice and experts in the area. Opportunity Tonasket is like a leg-up, as if one's already had a foothold in the community.