After years of focusing on supply chain and operational initiatives, OEMs are now turning their sights to aftermarket growth. In fact, a recent TSC survey shows that for 46% of service leaders, Service Revenue will be the top initiative for 2018.
4 Best Practices for OEMs to Drive Double-digit Growth in 2018
Vivek Joshi | Entytle
After years of focusing on supply chain and operational initiatives, OEMs are now turning their sights to aftermarket growth. In fact, a recent TSC survey shows that for 46% of service leaders, Service Revenue will be the top initiative for 2018. This shift is a welcome change as tending to existing customers' needs is critical for a healthy growth strategy for any company. It is also not a surprise since a) service and aftermarket revenue is much more profitable than the sale of original equipment and b) it should be way easier to drive cross-sell and up-sell rather than find new customers in such a competitive market.
What's even more heartening is that approximately 31% of the survey respondents also indicated that Installed Base Management is a top initiative for their companies. Now this may sound obvious, but without a solid understanding of customers and their behavior and needs, revenue generation initiatives are doomed for failure. Here are the four best practices to overall help service sales, marketing, and manufacturing leaders drive double digit growth in 2018:
Know your customers: In addition to actual coverage and renewal, OEMs must understand how customers are utilizing their products and services. Awareness of customer adoption and usage will allow for improved account management opportunities. This customer intimacy during the asset lifecycle will further create the makings of new innovative products and services in the future. It might also yield ideas for net new services that can be valuable to customers.
Map everything: Installed base visibility is key to running successful aftermarket campaigns. Unfortunately for most manufacturers, customer data is siloed, dispersed and sometimes simply not accessible to service, sales and marketing teams. How many of you have access to the ERP? How many to the CRM? In most cases data is shared via spreadsheets which can never be updated and shared in real-time. Also, manual processes tend to drive manual errors and accidental data deletion. IT departments at large organizations and big consulting firms provide an alternative to the status quo when it comes to cleansing and organizing old data. The downside (other than time and cost) is that once the project is completed, new data rarely flows into the new architecture. After only a few months, you're back where you started.
Don't wait for the phone to ring: Proactive selling is key to engage with customers, uncover business opportunities and beat your competitors. The purchasing behavior of B2B customers is changing; they expect the same level of service and engagement that they enjoy as consumers everyday. Don't wait for the phone to ring, but also don't make random courtesy calls.
Call with knowledge (CWK): Speaking of courtesy calls, they simply do not work. The key to successful aftermarket campaigns is the ability to identify who to call, when, and with what proposition. Customer data and installed base visibility are the foundation of CWK.
None of this growth is possible without investing in people, process and tools and in this regard, more than 60% of Service Organizations are planning for budget increases to support growth. For most of these organizations the cost investment comes in the form of better account management and in sales and marketing initiatives to increase service product reach.
Data science and AI to the rescue
As pointed a by a recent Forbes article, some of the biggest challenges in the transformation from analog to digital operations on the production floor have to deal with data. Complex, legacy systems, many with proprietary applications: huge volumes of data generated by existing equipment and few resources dedicated to deriving insights from the huge volumes of data.
For many manufacturing execs, the first thing that comes to mind when thinking about digitization is IoT. In a perfect world, all machines on the factory floor are connected and are constantly streaming data into systems capable of generating insights and react to any anomaly or predetermined trigger. The reality is very different. Few machines are connected, and even fewer are streaming data. This is especially true with distribution sales and service models where the machines are being deployed and serviced by partners rather than the manufacturers themselves.
Overcoming the aftermarket growth challenge
The answer to these challenges lies at the intersection of people, processes and tools. While the motivations have existed for a while, even if they had the right set of people in place, organizations simply did not have the tools to effectively sell to their installed base. With the advent of big data and the emergence of AI, the tools for a true system of intelligence are now beginning to take shape. We're talking about systems of intelligence that enable manufacturers to effectively identify who their customers are, connect with them in meaningful ways, and to engage with them through the entire lifecycle of the asset. We're talking about end-user applications that provide actionable insights to sales, marketing & service functions and directly drive customer engagement and ultimately, top-line revenue growth. Installed base management platforms CRMs currently offer out of the box solutions for service and sales data collection and visualization, while also providing companies with the tools they need to manage inbound service request. IoT vendors have been trying for a while to solve this problem, but struggle with year long deployments, data streaming permission, as well as change management issues.
Other companies, like Entytle, are taking a different route. By applying AI and machine learning algorithms to massive amounts of historical and new customer data, their platform - Entytle Insyghts - makes sense of and enriches all ERP, warranty, CRM and service contract information to provide enhanced visibility into the installed base and predictive business insights. This enables service, sales, and marketing professionals to proactively sell services and parts rather than waiting for the phone to ring.
The sophistication of such tools and the underlying big data and AI technologies powering them is now at a point where integrating and deploying these systems of intelligence can happen in a few weeks or months. Manufacturers and their distributors no longer have to be captive to multi-year million-dollar engagements, and can test and launch aftermarket engagement campaigns with minimum to no business disruption at all.
About Vivek Joshi, CEO and Founder, Entytle
Vivek Joshi is the CEO and founder of Entytle, a Palo Alto-based company that helps B2B manufacturers increase customer loyalty and lifetime value. Entytle Insyghts, the first AI-driven platform for Aftermarket Engagement, assembles data from multiple systems, and processes that data to identify usage patterns and customer segments, deliver opportunities, and drive revenue from installed base.
The content & opinions in this article are the author's and do not necessarily represent the views of ManufacturingTomorrow
---
Comments (0)
This post does not have any comments. Be the first to leave a comment below.
---
Post A Comment
You must be logged in before you can post a comment. Login now.
Featured Product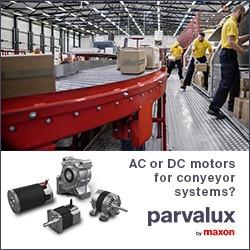 An effective, reliable and efficient drive system is essential to any material handling equipment, whether it's a motor-assisted tow truck, a barrel lifter, a robotic vehicle or a complete high-capacity parcel sorting hub; Parvalux designs and manufactures an exciting range of AC, DC brushless and brushed motors and our drives are valued for their performance and reliability.