The productive manufacturers of the future will be those who can adjust to the advanced change in sourcing, production and distribution, and are responsive and adaptable enough to take advantage of new logistical technologies.
Advancement in Manufacturing Logistics
Len Calderone for | ManufacturingTomorrow
Logistics is supply chain management that plans, implements, and controls the proficient, effectual forward, and reverse movement and storage of goods and services in order to meet a customer's needs.

Logistics is the endeavor to deliver the correct product in the appropriate quantity in the proper condition to the precise place at the scheduled time for the customer at an acceptable cost.
Bringing material into the manufacturing facility from suppliers is called inbound logistics; while shipping goods to customers is called outbound logistics. The best carrier rate for a vendor might not be the best rate for the manufacturer; therefore, the manufacturer should negotiate the best terms with a carrier that the vendor uses.
Automated notifications and status updates give real-time visibility into possible issues, such as an import shipment held at the border for inspection, or weather setbacks along a shipping route. Such notification will allow a manufacturer to pull from backup stock, or access other vendors.
One of the main benefits of managing inbound logistics increases customer service capacity and satisfaction. The lack of control over vendor actions and shipping selection enables the vendor to perform continuously below par, affecting production.
Purchase orders need to be tracked, including lot numbers, manufacturing dates, expiration dates, and serial numbers. Further checks need to be made for emergency re-direction of a shipment, routing times of short inventories, and the availability of backorders.
A manufacturer needs to control moving product, which is just as important as having control of storage and warehousing. Because of this, transportation companies are allowing for their license plate numbers to be tracked through warehouse management systems (WMS), such as LFS from The Numina Group.
To achieve exceptional profits through outbound logistics, a manufacturer must implement the right strategy. On-time delivery is the most important measure of a manufacturer's service to its customers. A manufacturer must balance demand and supply.
Different manufacturers may attain the best possible profits through different outbound logistics approaches. The key is for each manufacturer to establish its own most advantageous outbound logistics strategy.
Both inbound and outbound logistics can be controlled through a WMS, which is software and processes that give manufacturers control over warehouse operations from the time materials enter a warehouse until the time finished goods ship out.
A WMS can supply a view into a manufacturer's inventory at any time and location, whether the material is in transit or goods are being delivered. A WMS is often utilized alongside or combined with a transportation management system or an inventory management system.
There is a variety of WMS and implementation methods. The type normally used depends on the size and type of manufacturer. They can be stand-alone systems or modules in a larger enterprise resource planning (ERP) system or supply chain execution suite.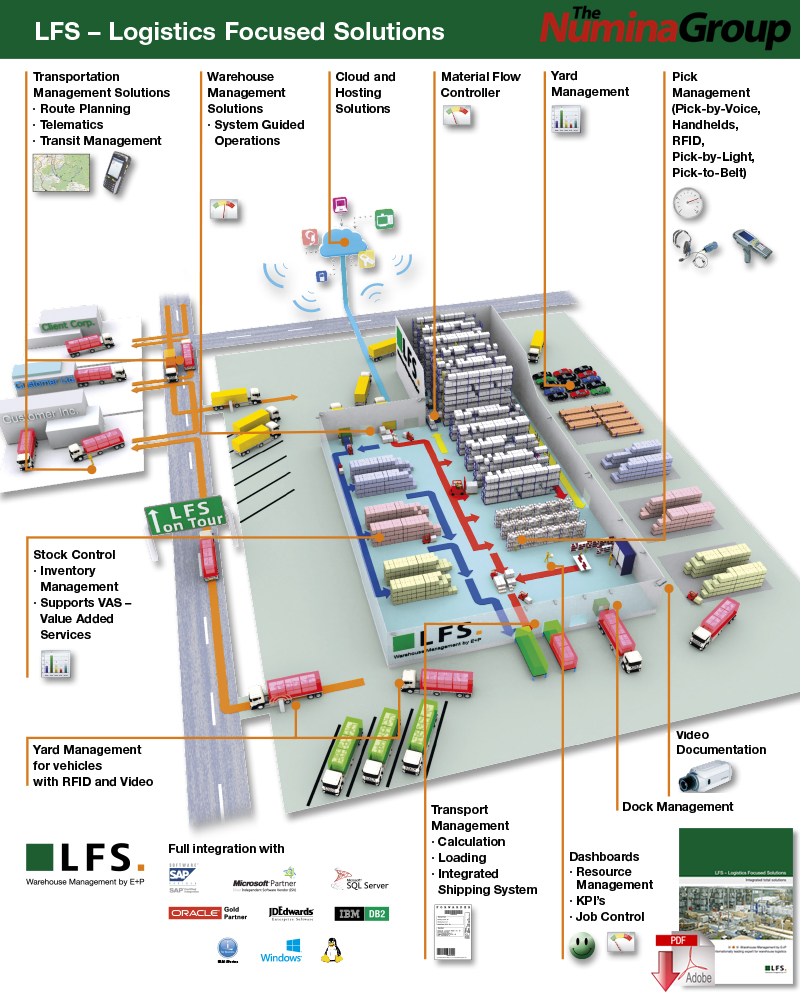 The logistics industry is an enormous market, worth over $4 trillion worldwide, affecting a wide range of business sectors from e-commerce to manufacturing. Automation is growing, using data-driven software to improve efficiency in the logistics industry, which includes advanced package labeling to streamlining warehouse sorting.
Considered the most advanced port in the world; Holland's Port of Rotterdam is a leader in the implementation of this technology. The port has fully automated container terminals, which use computer programmed stacking cranes to unload container cargo, that improve production, increase handling performance and shrink labor costs.
Presently, around 80% of warehouses use manual labor. They have no automation. This is about to change and by 2021, the automation market will grow to $22 billion.
A lot of progress is being made in the future of logistics. Most of the goods shipped to the U.S. were shipped in a container from overseas. Most of the goods in a container are not palletized. Because of the variety of sizes and shapes, the automation of loading and unloading has been difficult. Using 3-D laser vision and new robotic software, different products in a container can be recognized and the optimal loading or unloading sequence can be determined and carried out with a high level of accuracy.
With the next-generation of robots, which are lighter, more flexible, easier to program, and more affordable, we are finally starting to see automation becoming a reality in the supply chain. We will see automated guided vehicles in warehouses, moving boxes autonomously, without using conveyors or fork lifts, which aren't practical.
DHL, the world's leading logistics company, has performed a pilot project testing smart glasses and augmented reality in a warehouse in the Netherlands. The technology used put into operation "vision picking". Vision picking enables the picker's hands to be free, which greatly increases productivity.
DHL smart glasses view
The employees are guided through the warehouse by graphics displayed on the smart glass to speed up the picking process and reduce errors. Augmented reality is a technology that superimposes a computer-generated image on a user's view of the real world; thus, providing a composite view, which offers added value to logistics and results in increased productivity during the picking process.
Drones have an impact on a company's ability to deliver products, and this technology will continue to grow in the future. Drones make it easier to deliver in congested urban areas and to rural locations.
International logistics companies and startups are competing to establish themselves in this growing technology. UPS, for example, joined Zipline, a medical drone delivery enterprise, in a partnership to send urgent medical supplies, such as blood and animal vaccines, to those in need—no matter where they live.
Medical supplies dropped by Zipline drone
Logistics companies have adopted self-driving vehicle technologies. As a result, many logistics operations currently employ self-driving vehicles—from autonomous forklifts to driverless plant trucks.
They are now testing autonomous trucks built and operated by the startup Embark, which have been hauling Frigidaire refrigerators 650 miles along the I-10 freeway, from a warehouse in El Paso, Texas, to a distribution center in Palm Springs, California. Presently, a human driver rides in the cab to monitor the computer, but in the future these bemouths will head down the highway solo.
Embark autonomous truck on I-10
Freight forwarder, Flexport, has made the usually incomprehensible and non-digitized operations of global shipping accessible on a user-friendly, online dashboard. The company uses smart processes to cut transaction costs, increase transparency and satisfy a growing consumer preference for crowdsourced delivery options.
The Flexport dashboard shows the location of a manufacturer's cargo at every step of its trip, and their pricing is simple and all-inclusive—no hidden fees; and their itemized invoices alleviate accounting problems.
The logistics industry uses IoT (Internet of things) in various ways. IoT monitors temperature and humidity sensors for supply-chain quality control. It can also be used to detect when a package has been tampered with.
A report by Cisco estimates that by 2020, more than 50 billion objects will be connected to the internet. This opens up a $1.9 trillion opportunity for the logistics industry. The combination of mobile computing, analytics, and cloud services are powered by the IoT, and are changing how logistics companies are conducting their operations.
The productive manufacturers of the future will be those who can adjust to the advanced change in sourcing, production and distribution, and are responsive and adaptable enough to take advantage of new logistical technologies.
The content & opinions in this article are the author's and do not necessarily represent the views of ManufacturingTomorrow
---
Comments (0)
This post does not have any comments. Be the first to leave a comment below.
---
Post A Comment
You must be logged in before you can post a comment. Login now.
Featured Product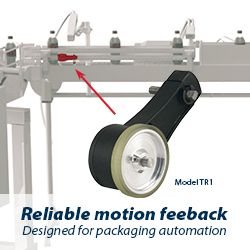 The Model TR1 Tru-Trac™ linear measurement solution is a versatile option for tracking velocity, position, or distance over a wide variety of surfaces. An integrated encoder, measuring wheel, and spring-loaded torsion arm in one, compact unit, the Model TR1 is easy to install. The spring-loaded torsion arm offers adjustable torsion load, allowing the Model TR1 to be mounted in almost any orientation - even upside-down. The threaded shaft on the pivot axis is field reversible, providing mounting access from either side. With operating speeds up to 3000 feet per minute, a wide variety of configuration options - including multiple wheel material options - and a housing made from a durable, conductive composite material that minimizes static buildup, the Model TR1 Tru-Trac™ is the ideal solution for countless applications.