More than a technological revolution, the connected factory is a total reorganization of the approach to production, using existing tools and placing a greater reliance on networks.

Len Calderone for | ManufacturingTomorrow
What is a connected factory? It is an array of innovations that impact a consolidated, connected and flexible model of organizing factory operations. These improvements primarily relate to the ability of machines to efficiently communicate with each other, the integrated flow of data to a centralized platform, and cross-device functionality. In the past, a human was required to be on the factory floor. Now, the employees, who are responsible for monitoring and controlling production lines, can do so remotely.
The control that can be employed from remote consoles is often comprehensive, comprising a large arrangement of functions, from output level control to repair and maintenance.
Factories can now adapt to workflows in real time, by machines communicating with other machines, and humans. This system brings together people, processes and products to enable continuous delivery of value to a company's customers.
By connecting all of the parts of the manufacturing process, a manufacturer can simplify and speed up the process of building and testing applications across every platform. Supervisors can monitor the health, performance, and utilization of all applications, workloads, and infrastructure. Business intelligence will grow by making better, faster decisions by analyzing data for deeper insights as to what is happening on the factory floor.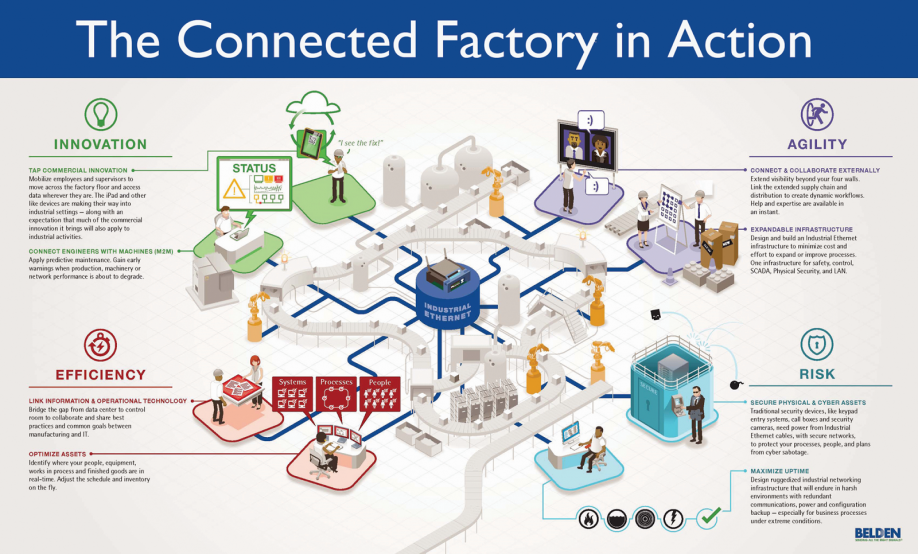 The connected factory can seamlessly integrate applications, data, and processes across both on-premises and the cloud. No matter where data resides, costly business interruptions can be avoided by protecting both data and applications. During an outage or disaster scenario, a disaster recovery solution will protect a range of applications, enabling an entire datacenter to be recovered in a matter of hours instead of weeks or months.
Using a common platform, equipment connected by sensors can supply helpful data about the continuing condition of equipment. This information can be analyzed to predict potential locations of equipment breakdown and production shutdown. In the event a breakdown does occur, a factory can analyze this data to determine the problem and take corrective actions to prevent future occurrences.
Using the IoT (Internet of Things), a manufacturer can connect devices, assets, and sensors to collect untapped data. This also allows a company to deliver scalable, reliable applications faster to meet the ever-changing demands of its customers. A company can focus quicker on innovation instead of infrastructure management.
Good communications between people and production equipment means that transitions among areas go according to plan and process design. Poor or no communication leads to inefficiencies and quality problems. When production equipment talks to other production equipment, it makes manufacturing flow efficiently. This is IoT in action.
New levels of productivity can be found in the connected factory, because of machine-to-machine integration and the Industrial Internet of Things, making the connected factory intelligent and aware. This incorporates using sensors rather than human decision to fine tune the operation of the machinery, using data from the production machinery to adjust workflows, which eliminates inefficient procedures, capacity attrition, wastefulness and performance bottlenecks. This is accomplished by remotely tracking, monitoring and adjusting machinery based on sensor data from different parts of the factory.
Inventory represents a substantial cost for most manufacturers, and an IoT approach can reduce excess inventory through automated replenishment. The production equipment on the factory floor can communicate when quantities are low and order more raw materials to safeguard against the line shutting down, utilizing just-in-time, cost-effective replenishment.
In order to boost manufacturing, new machines, processes and organization can be tied together thanks to the emergence of the Internet of Things and the wide spread of connectivity in the factories. Along with the IoT, human/robot teamwork, virtual reality and 3D manufacturing comprise the future of manufacturing.
This means that all industrial assets will be connected within the same factory as well as between factories. Sensors at each stage of production will exchange data in real time which will then be analyzed to guarantee the ideal operation.
Previously, robots used in factories were designed to work alone and perform single tasks. In the future, we will see more Cobots (collaborative robots), which are intelligent robots designed to work with production people in order to accomplish more with less effort.
Management can utilize virtual reality to design and simulate a product from its creation to finished product. Not only can virtual reality design and simulate a product it can also design the entire production facility, including equipment positioning, employee movement and a simulation of procedures. VR can then test the entire production from start to finish.
3D printing (manufacturing) uses only the material that is strictly necessary to build a product, eliminating the waste that we see when products are built by eliminating material. The 3D printer is controlled by a computer, depositing successive layers until they reach the desired final shape. This approach will make it possible to design lighter, more complex, and lower cost products while obtaining a substantial reduction in the industry's ecological footprint.
These milling machines, as well as similar arrays of injection molding presses and 3D printers, are connected to the Proto Labs network. Data collected by sensors track the progress of orders and help optimize scheduling. The monitor seen on the left displays real-time updates. Image courtesy of Proto Labs Inc.
General Motors Co. has connected about a quarter of its 30,000 factory robots to the internet, and GM is realizing less down time. In the last two years, GM has avoided 100 potential failures of vehicle assembling robots by analyzing data that the robots sent to external servers in the cloud. Connectivity is inhibiting assembly line interruptions and robot replacements that can take as long as eight hours. Connecting robots to the internet for preventive maintenance is just the beginning of a surge of new robotics technology; and GM is using robots that can work safely alongside humans in the factory.
Siemens' PLC manufacturing plant in Amberg, Germany has automated the production of its automation systems. The result is a reported 99.99885 percent perfect production quality rate. This is impressive given the plant produces around 12 million Simatic PLCs each year.
At Tesla's Gigafactory in Nevada, mobile robots called Automated Guided Vehicles or AGVs are being used for moving items from one point to another. Besides the AGVs, the Gigafactory is also equipped with robotic arms that assist humans in making the battery packs at the plant.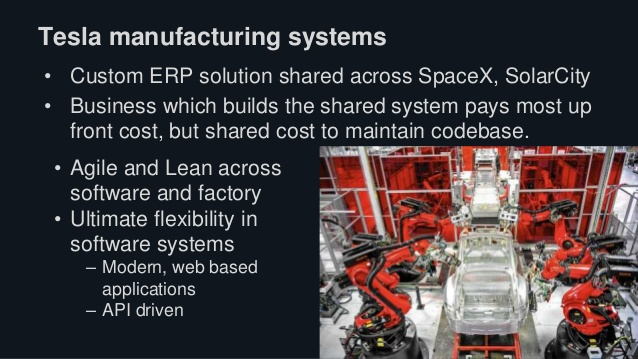 Bosch GmbH has put the connected factory at the center of the company's strategy. Bosch makes an array of smart consumer products, and is the world's leading manufacturer of Micro-Electro-Mechanical Systems sensors, and provides a host of components for automotive manufacturers. Bosch has achieved a 25 percent output improvement for its automatic braking system and electronic stability program production with the introduction of smart, connected lines.
Bosch has pushed to remake the company's 250 factories around the world using connected technology. The most advanced plant is in Homburg, Germany, which makes hydraulic components for cars. Connected technologies have enabled that plant to increase productivity by 10% and reduce inventory by the way of faster turnover by 30%.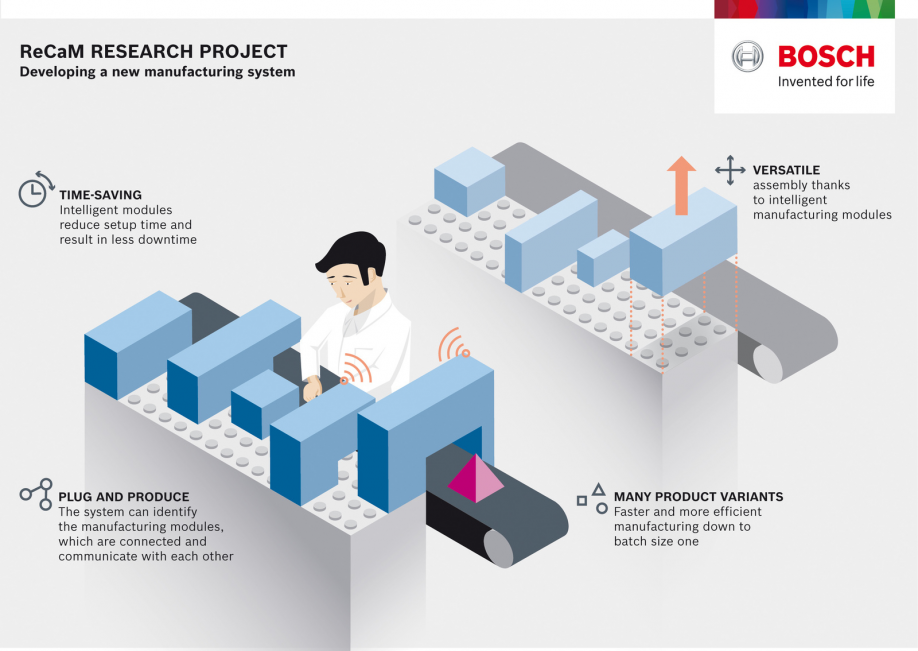 The core tools needed to implement a connected factory already exist, such as sensors, controllers, big data, the Internet of Things, and cloud computing. More than a technological revolution, the connected factory is a total reorganization of the approach to production, using existing tools and placing a greater reliance on networks.
For additional information:
The content & opinions in this article are the author's and do not necessarily represent the views of ManufacturingTomorrow
---
Comments (0)
This post does not have any comments. Be the first to leave a comment below.
---
Post A Comment
You must be logged in before you can post a comment. Login now.
Featured Product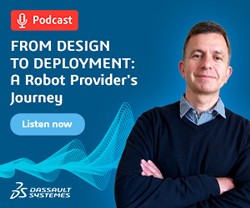 Let's listen to Arvind Krishnan, industry analyst at Lifecycle Insights and Michael Mayr, Industrial Equipment Sales Strategy Expert at Dassault Systèmes. They will discuss the robot industry and how startups can succeed in this market.