Together, well-designed technology and people drive solutions. LES is a tool that empowers workers with real-time information to see and solve production problems and create innovation.
Lean Execution System (LES)
Keith Barr | Leading2Lean
How does Leading2Lean's Lean Execution System (LES) change the narrative around automation and workers in manufacturing?
Automation does not mean the end of workers in manufacturing. Robots don't know why they broke down or how to improve themselves. Together, well-designed technology and people drive solutions. Leading2Lean's LES is a tool that empowers workers with real-time information to see and solve production problems and create innovation. The technology was developed by people who worked on the plant floor, and it has improved plant efficiency, production and employee morale wherever it has been implemented. Empowering workers through more accountability and the right tools leads to more success. It has also engendered more loyalty and pride among all employees, bottom to top. And it was inspired by plant workers with the desire to create a greater sense of ownership and accomplishment in everything they do.
How does it work?
Leading2Lean's Lean Execution System is cloud-based and works across existing legacy systems, tying operations together and providing full-plant insights and analysis live and in-the-task. It is a new standard in lean execution solutions for manufacturing. We provide a standard language, usable by all employees, that provides previously unseen data and insights to plant floor teams. This drives accountability and engagement that measurably improve operations.

How has the LES increased morale at Autoliv?
True lean performance comes from empowering workers to locate and solve problems quickly. Leading2Lean delivers true lean performance by helping their clients focus on problem resolution in real time, in the task. Autoliv, a Fortune 500 automotive supplier, was so impressed with the performance of Leading2Lean's LES – both on an efficient production level and on an increased employee morale level – that they have rolled it out across their entire network of 82 facilities in 28 countries. The product allows all workers to have the information they need to confidently identify and solve issues. And the transparency built into the LES allows all employees to see everyone's accomplishments. The knowledge of being seen increases accountability and reduces the feeling of just being a 'cog in the wheel'. This leads to an empowering cycle of problem identification and resolution, and brings management and the workforce in alignment.
When you talk about a bottom up rather than top down approach to creating software for manufacturing, what do you mean?
Leading2Lean was created by people who worked on the plant floor themselves. Many products are created from a managerial or financial standpoint, whereas Leading2Lean's LES was created to be a useful tool for those on the plant floor, as well as for those in management. For those on the floor, it is a tool rather than a task. The workforce gets personal value by using the LES. Also, with many other products, inputting and extracting data from the system can be very difficult and require a system expert. The LES is made so that anyone can understand it and use it live and in-the-task to spot and solve problems and opportunities, rather than requiring days or weeks to gather the information needed to implement a solution. And the data that can be seen by everyone is accurate and actionable. It allows any employee to initiate a solution immediately, drastically reducing downtime and increasing efficiency.

Why and how does transparency on the plant floor have an impact on a company's bottom line?
Full workplace transparency drives accountability and collaboration. It's the new standard for successful manufacturing. Leading2Lean's LES gives complete visibility to every workstation, every manager and every executive; this full transparency makes everyone accountable for joint success. Full transparency gives people the confidence to confront problems and collaborate on solutions. It can encourage a cultural shift of openness to identifying problems, without fear of blame or reprisal. Employees can instead have pride in problem solving and innovation. It is clear that empowering workers through more accountability leads to more efficiency and bottom line success.
What do you tell decision makers, including those at Autoliv, to convince them that cloud technology isn't something to be afraid of?
People are moving past the fear of the cloud. The cloud is extremely valuable since it can work across and tie into many different manufacturing and financial systems instead of working in separation from them. It also brings the business expertise and broad experience through best practices. Cloud technology allows us to work across legacy systems and is low cost, low risk, and high reward. It pulls everything together on a global level and allows the sharing of best practices. What most resonated with Autoliv is the ability to standardize their systems across their plant network without the cost and risk of removing and replacing other plant floor software systems.

Why is Leading2Lean's LES easier and less expensive to dispatch than other programs like it?
Since our LES is cloud based, it can be implemented alongside existing legacy systems. New hardware and tools do not need to be purchased for our product to be rolled out across a company's network. Leading2Lean's LES also does not require lengthy training. Training of plant floor workers typically takes less than a week, and the plant can be up and running with our tailored solution in 6-8 weeks. It is low cost, low risk, and high reward. Many systems require an administrator or program expert to generate reports or mandate repairs because the program or software is so complex. The LES is simple, intuitive, and usable by everyone, therefore also cutting down on administrative overhead that could hinder the process.

Tell us a bit more about Leading2Lean, who you are and what you do?
We are a team of manufacturers who make great software. Leading2Lean is unique among competitors because our LES was born on the manufacturing floor to solve real world problems for manufacturers. We help our customers sustainably and measurably improve their operations, reduce their costs, and maximize plant efficiency. This is accomplished with real time data and intuitive tools to engage, and enable human capital at all levels, to continually improve operations. We also view our customers as partners, and are continually leveraging their feedback to tailor our product to their requirements.
About Leading2Lean
As the head of Leading2Lean, Keith maintains a culture of continuous improvement. He brings experience gained both in the military and in heading four government organizations, transforming them from performance failures to centers of operational excellence.
He believes every team member is vital to our success, regardless of role. By helping workers see the big picture, he instills greater appreciation for their roles, and how they contribute to the overall success of our customers.
Keith insists that plant managers need truth, rather than simply data. Solving problems on the factory floor requires employee engagement, aligning of management objectives, and creating an environment that promotes constant enhancement of product and process.
The content & opinions in this article are the author's and do not necessarily represent the views of ManufacturingTomorrow
---
Comments (0)
This post does not have any comments. Be the first to leave a comment below.
---
Post A Comment
You must be logged in before you can post a comment. Login now.
Featured Product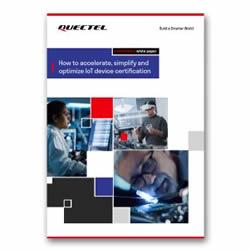 This white paper on the IoT device certification process can help your business accelerate product releases IoT device certification and testing is essential to the release of any connected product. Yet few IoT organizations have the time or skills to understand the variations and in-depth detail of the global certifications landscape. To help you decide which approach is best for your business, this white paper on IoT device certification sets out the complexities of certification, and explains how to optimize your organization's approach to obtaining certification.