The long-term objective of the program is to continue providing support to system integrators and OEMs in our target industries, and to also expand into new verticals.
Rolling On Interroll
Jens Karolyi | Interroll
Can you tell us a bit about Interroll?
Headquartered in Sant'Antonio, Switzerland, Interroll Group is a worldwide leading producer of high-quality key products and services for material handling. We operate a global network of 32 companies with more than 2,000 employers and around 23,000 customers that consist of system integrations and original equipment manufacturers (OEMs). Several of our core industries include courier, parcel and postal services, automotive, airports, food processing and distribution centers. Our products are in daily use amongst well-known global brands such as Amazon, Bosch, Coca-Cola, FedEx, Procter & Gamble, Siemens, Walmart and many others. We are always striving to help our customers conduct business more profitably, reduce their environmental footprint and generate sustainable growth. The Interroll Group has been listed on the SIX Swiss Exchange and included in the SPI index since 1997.
What is the idea of Rolling On Interroll?
Rolling On Interroll, our international customer loyalty program, was created to provide support for outstanding system integrators and OEMs and to promote an extensive exchange of experience and best practices between partners. Companies in our program excel through innovation, expertise, high-quality products and longstanding business relationships. We designed the program with our partners in mind, offering them new opportunities for differentiation and growth and brand recognition. Since its creation in March 2015, Rolling On Interroll has become a quality seal for the industry and highlights the value of a mission-critical, high-quality material handling solution to end users.
How does it work?
Rolling on Interroll is a quality label that our program partners can display on machines and systems built with Interroll's key products. More than just a visual sign, the Rolling On Interroll seal signifies that a machine or conveyor is powered by reliable high quality and efficient drive technology and that the company is a strong brand part of a trusted international community. A primary goal of the program is to make a lasting statement for quality and leadership among the industry. With the help of our partners, we aim to raise the end user's awareness of the importance of the quality of the components, the manufacture of the machine or entire production lines, as well as the resulting benefits such as increased productivity, operator safety and innovation.
What are the benefits for partners?
With mutual growth as the ultimate goal, Rolling On Interroll's partners gain exclusive access to shared resources and knowledge including marketing support; advertising investment; media exposure; demo material; exclusive previews; networking events; innovation workshops; factory visits and Kaizen coaching. Members are exchanging their skills and market entrance for mutual growth. Several examples of such matchmaking activities have already happened. Additionally, our partners benefit from Interroll's reputation as the most global and neutral provider of key products for material handling based on open platforms. The success of our partners proves that we are offering genuine added value that go beyond products and services. With Rolling On Interroll, we are creating one of the industry's strongest community of high performing partners worldwide.
What type of companies are selected to participate in the program?
Rolling On Interroll is an elite program for select Interroll customers who have long-standing business relationships with our company and where our products are mission critical for the performance, throughput and availability of their machines or systems. We value strong partners with compelling success, innovation, and growth stories, and aim to create a collaborative climate where best practices can be shared. Although created principally for mid-sized system integrators and OEMs, Rolling On Interroll now comprises a diverse range of partners that all benefit from the combined expertise the program offers.
What are your future plans/goals for the program?
The long-term objective of the program is to continue providing support to system integrators and OEMs in our target industries, and to also expand into new verticals. Our ambition is to develop Rolling On Interroll into a comprehensive and exclusive industry forum and community where partners can succeed. We are proud to have recently announced our 50th program partner and are constantly assessing ways we can improve to help our partners, key verticals and industry as a whole. We look forward to strengthening our standing relationships and investing in modernization to align with the growing market in the years to come.
What does Industry 4.0 mean to you and how does it relate to Interroll and this program?
Industry 4.0 or the Internet of Things (IoT) is becoming increasingly important in manufacturing.
By incorporating autonomous conveying solutions, the industry faces increasing the spread of intelligent machinery. This will results on a number of new business fields where new players will find their ways and established business have to be revisited. Interroll confirms the global strategy to offer platform based key products for this industry but commits to offer next generation features for predictive maintenance and autonomous conveying technologies. As a part of Rolling On Interroll's shared knowledge, we strive to increase education and communicate the benefits of Industry 4.0 to our partners and the manufacturing industry at large. Our partner program and programs that offer a global communication platform are key to promoting the education of new technologies and gathering dynamic experiences to foster sustainable growth.
With the new administration, how do you see the next few years rolling out for the manufacturing industry?
Interroll started its U.S. activities in Port Washington, NY back in 1968 – more than 45 years ago. We see the American business booming as new technologies arise and the market is consolidating. The core competencies of Interroll are unique and highly valuable for American system integrators and OEMs alike.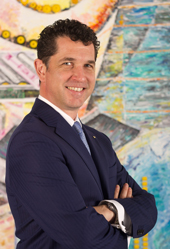 About Jens Karolyi
Jens Karolyi has been a senior manager in the industrial automation industry for more than five years with nearly 20 years of extensive B2B marketing experience. As the Vice President of Marketing at Interroll, Jens is responsible for the global establishment of marketing strategy, market positioning and fostering the company's culture. He leads the development of marketing campaigns, the company's global leadership-training curriculum and brand ambassador program. Prior to joining Interroll in 2011, Jens worked as the vice president of marketing and communications at Ericsson.
The content & opinions in this article are the author's and do not necessarily represent the views of ManufacturingTomorrow
---
Comments (0)
This post does not have any comments. Be the first to leave a comment below.
---
Post A Comment
You must be logged in before you can post a comment. Login now.
Featured Product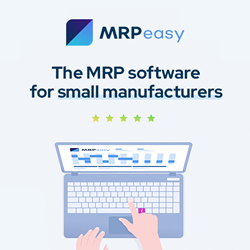 Always know what you have in stock and what you'll need to fulfill orders. Never forget to order parts on time or fail to notice a late delivery from your vendor. Easily create manufacturing orders and schedule them automatically according to resource availability or delivery deadline. Generate accurate cost and lead time estimates and provide customers with quick quotes. Receive notifications when orders are late or inventory levels reach a critical point. Ensure seamless communication between sales, production, warehousing, procurement, administration, and finance. Integrate with popular accounting, CRM, and e-commerce apps. MRPeasy is an ERP software for small manufacturers that gives you all that and more. Our users report a 54% average improvement in the overall performance of their business and a 42% increase in on-time deliveries. Try for free, no credit card needed.