If one of your new year's resolutions is to reduce your motion control costs without making sacrifices, this might be the year you can actually scratch it off your list.
How to Reduce Your Motion Control Costs in 2017
Jerry Leitz | Kingstar
For most businesses, new year's resolutions remain pretty consistent from year to year: Optimize costs without sacrificing performance. Get to market faster. Beat the competition. These goals stay the same because they're not easy to achieve. Doing more with less can be critical to your success, but the "how" is both difficult and changeable. Even if you make it happen one year, next year's circumstances may present a whole new set of challenges.
That's why it's important to invest in business decisions that deliver long-lasting benefits. In the world of industrial automation, one such decision stands apart for its proven advantages: software-based motion control, or simply soft motion.
Soft motion outperforms the traditional hardware approach in a variety of ways, including flexibility, agility, scalability, and performance. But nowhere is the case for PC-based motion control more compelling than the cost comparison.
Let's quantify the difference in cost between the hardware, DSP-based solution and the software platform solution. For the DSP-based solution, we need to find the average length of a cable. For the analog cable, we can assume that it is a fixed length of 5 feet from the PC to the amplifiers. For the encoders, the Hall effects, and the motor power, we can say that the shortest cable would be around 4 feet. The farthest axis is 15 feet farther away, so the average axis is 7.5 feet farther away, for a total of 11.5 feet.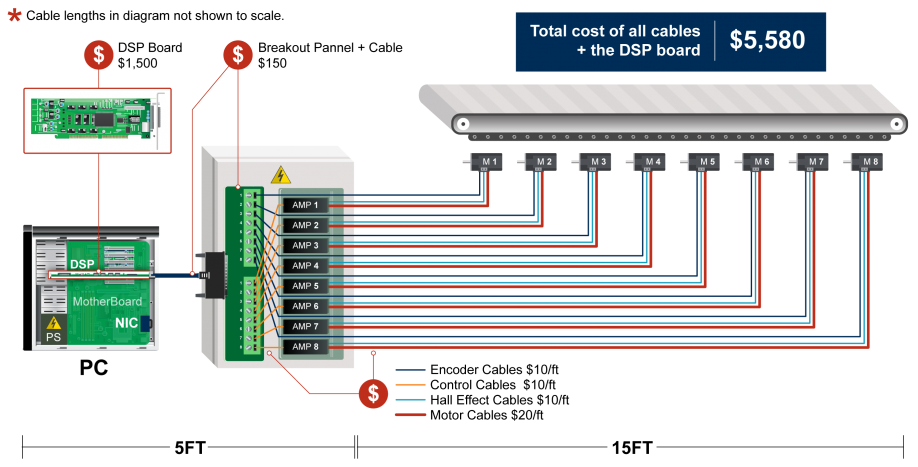 For the EtherCat software-based solution, we can assume that an EtherCat cable will cost about $10 for any cable up to 25 feet long. For the other cables, to get from the motor to the amplifier will be the shortest cable length of about 4 feet. We also have to account for the fact that EtherCat amplifiers are slightly more expensive to cover the cost of the EtherCat interface. This will come down in the future, but for right now we will assume that it costs an extra $75 per amplifier.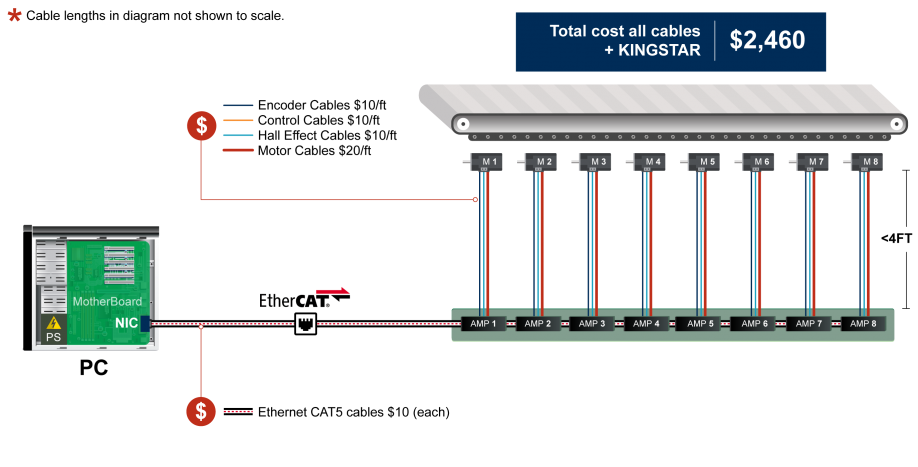 As detailed in the chart below, for our 8 axis machine, the cost of KINGSTAR Soft Motion is only 44% of the cost of the DSP board. This number is impressive on its own, but what happens if you need to scale upwards is even more compelling. If you needed to add just one more axis, the DSP solution goes up by $1,500 to add another board to the PC. With KINGSTAR Soft Motion, we can add axes as often as needed at no additional cost.
As you can see, the software-based motion control solution costs just 56% less than the hardware-based approach, with no loss in performance. If one of your new year's resolutions is to reduce your motion control costs without making sacrifices, this might be the year you can actually scratch it off your list.
For a more detailed comparison of hardware vs. soft motion control, get the white paper.
The content & opinions in this article are the author's and do not necessarily represent the views of ManufacturingTomorrow

KINGSTAR
KINGSTAR Soft Motion Platform empowers you to dramatically reduce cost, time and complexity of hardware used for precision motion positioning and machine vision systems, with an industrial-grade real-time software-only solution. KINGSTAR's soft motion library and software PLC, built on EtherCAT standards and a real-time 64-bit Windows operating system, accelerate your time-to-market and enhance your efficiency and productivity with PC-based motion controllers for industrial machines
Other Articles
In the case of Windows Compact, the death of a product is actually giving rise to a whole new world where the possibilities are truly amazing. What will you develop?
When developing firmware using a Real-Time Operating System (RTOS), how do you measure the software performance?
Automate 2017 is the largest culmination and collaboration of our customers and prospects in the world of industrial automation, robotics, semiconductors, surface mount technology, motion control, machine vision and so much more.
---
Comments (0)
This post does not have any comments. Be the first to leave a comment below.
---
Post A Comment
You must be logged in before you can post a comment. Login now.
Featured Product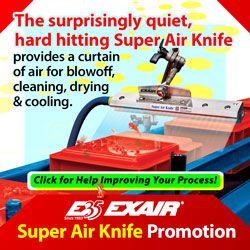 EXAIR Cabinet Cooler® Systems are a low cost, easy to install, maintenance free way to cool and purge electronic control panels. EXAIR Cabinet Coolers incorporate a vortex tube that produces cold air from ordinary compressed air - with no moving parts. The compact Cabinet Cooler can be installed in minutes through a standard electrical knockout. NEMA 12, 4, and 4X (IP54 and IP66) Cabinet Coolers that match the NEMA rating of the enclosure are available in many cooling capacities for large and small control panels. NEMA 12 Cabinet Coolers are ideal for general industrial environments where no liquids or corrosives are present. NEMA 4 Cabinet Coolers incorporate a low pressure relief valve for both the vortex tube and cabinet air exhaust. This valve closes and seals when the cooler is not operating to maintain the integrity of a NEMA 4 enclosure. NEMA 4X Cabinet Coolers offer the same protection as NEMA 4 but are constructed of stainless steel for food service and corrosive environments.