An Enterprise Content Management (ECM) system has the ability to reduce "scrap and rework," improve quality, help ensure regulatory compliance, track employee or customer certifications, and increase worker safety.
Why ECM is so Crucial Within the Manufacturing Sector
Denny Hammack | FileSolve
Some manufacturers don't recognize the many ways an Enterprise Content Management (ECM) system can make their lives easier. An ECM system has the ability to reduce "scrap and rework," improve quality, help ensure regulatory compliance, track employee or customer certifications, and increase worker safety. While that might seem like a lot to ask from a software solution, it's only a small part of what an ECM system can offer. Maybe that's why Gartner reports that the market reached more than $5.4 billion in 2014, and continues to grow at an annual rate of more than six percent. What follows are just a few ways ECM can help manufacturers.
Compliance
Many manufacturing industries are subject to comprehensive regulatory requirements. The life sciences industry, for example, is subject to oversight by the FDA and other regional bodies. While no regulation mandates the use of an ECM or any type of software for compliance, all regulations require that the necessary information be quickly accessible, easily auditable and stored for a number of years. While it's possible to record information on paper and file that paper, this process is far too cumbersome to be feasible in today's fast-paced world.
Rather than spending time filing and retrieving paper, with ECM, a manufacturer can be certain that all required records are stored properly. Electronic records don't get lost, misfiled or take up floor space. They can be retrieved instantly in the event of an audit or recall. The ECM system can even enforce the proper routing for signatures and approvals, so manufacturers never have to worry about missing steps in the process.
Certifications
Almost every industry has specific certification requirements. For example, in the automotive industry, many original equipment manufacturers and Tier One and Tier Two suppliers require their suppliers to pass an audit against a body of standards, which provides assurance that their supply chains are resilient.
Most manufacturers today strive for ISO certification, which provides assurance that their processes and procedures are conducive to producing a reliable, high-quality product. In many industries or parts of the world, a company cannot do business without ISO certification.
Other industries may require employee certifications to ensure that employees are qualified to work in certain areas of the business or to provide service to customers.
Regardless of the reason for certification, an ECM system can store the documents so they can be easily retrieved for an audit or to show a customer. They can also keep track of the expiration date for certification and trigger automatic reminders for the company or employees to renew their certifications.
Hazardous Materials and Safety Procedure Training
Many materials used in manufacturing can be hazardous to health if they are not stored or handled correctly. OSHA requires training employees in proper handling techniques before allowing them to work with the material.
An ECM system can store records of worker safety and hazardous materials training, including test results and scores. The results can be called up quickly and reliably when needed. The ECM system can also start an automatic workflow process to remind employees and their managers when it is time for refresher training.
The ability to store training results and to automatically process reminders frees managers' time so they can focus on more strategic areas of the business while still ensuring the safety and well-being of their employees.
Just from these simple examples, it is easy to see why ECM can be invaluable in many areas of a manufacturing business.
About Denny Hammack
Denny Hammack is CEO of FileSolve, an industry-leading supplier of document management services and solutions. FileSolve helps businesses improve workflow processes by accessing information more efficiently.
The content & opinions in this article are the author's and do not necessarily represent the views of ManufacturingTomorrow
---
Comments (0)
This post does not have any comments. Be the first to leave a comment below.
---
Post A Comment
You must be logged in before you can post a comment. Login now.
Featured Product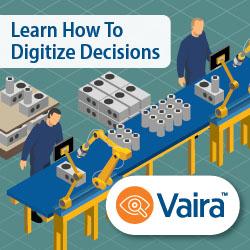 Pleora's Visual Inspection System helps operators detect errors and defects for unique component types, assembly steps, and custom low-run products where automated optical inspection (AOI) is too complex and expensive. The system helps DICA Electronics: Avoid costly, errors as a result of detecting errors at different phases in production, Speed time in detecting the root cause of the in-field errors with Tracking & Reporting apps for traceability, Maintain consistency in training new employees on requirements or with staff any time a new product is added, Easily train the system using 'good product' images for multiple product lines with no programming skills required, Reduce subjective decision-making, especially over a long shift, reducing error-escapes.