What is the advantage of buying linear guideways with integrated linear encoder pre-installed?
Direct measurement is usually favorable over indirect position measurement. In the case of integrating direct position measurement, there are two primary methods of adding position measurement to an axis. The first is to purchase a linear guideway with a pre-installed integrated position measurement encoder. The second is to purchase the encoder separately, and self-install on the axis.
HIWIN produces two product categories that pre-integrate sensors to the linear guideway block: PG-type and H- type linear guideways.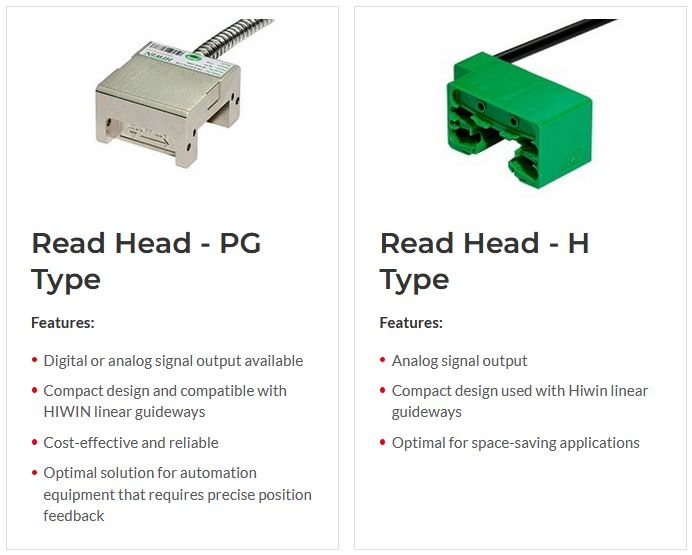 The PG series is a linear guideway assembly integrated with a magnetic encoder for position measurement, and is available in digital or analog signal output. The H-type accessory is a compact design, perfect for where space is limited, and analog signal is desired. Let's explore why a design engineer might want to use these products.
The benefit to preinstalled linear guideway position measurement is time savings in design process and installation process.
Save Time During the Design Process
Design time savings begins with working with a HIWIN engineer located in Huntley, Illinois, near Chicago. HIWIN's experts discuss your application with you to recommend the best solution for your needs and budget, saving you time searching online.
Lead time savings can be significant when PG position measurement linear guideways are purchased from HIWIN's standard stocking program. Select stocked models for faster shipment, including cutting the rail to within one millimeter.
Administratively, buying the linear guideway block preinstalled with the encoder reduces complexity in the ordering process and saves time. HIWIN also produces a series of digital displays that can work with PG and H encoder types.
Save Time in Installation and Operations
When the PG linear guideway from HIWIN arrives, HIWIN will have cut the rail and scale to your specification. HIWIN will assemble the encoder on the block, and the block on the rail. Scale installation is easy. After installing the guideway rail in the machine, just apply the pre-cut, self-adhesive scale to the groove in the rail.
The time savings is a greater differentiator when parallel rails are required, or the load requires more than one block on the rail. HIWIN can provide one block with the PG measurement system and another block at a lower cost standard type. We can provide the system with these two blocks assembled on the rail before shipping.
Maintenance is easier for systems using magnetic encoders like the PG and H type linear guideways, because readings are not hindered by grease, dirt, oils or other contaminants that might get on the polymer scale. Consider the E2 accessory, a self-lubricating block to further decrease maintenance demands. The accessory is used on the block to store lubrication and apply consistently, to extend life and reduce maintenance.
The most impactful design time savings comes from working with a global leader in motion control because our components provide high reliability.
Pre-installed integrated magnetic encoders are often a good solution for design engineers in applications where resolution as fine as one micron is required, such as assembly, packaging and pick-and-place machinery. For complete list of models and dimensions, please see pages marked 217 – 231 in our catalog: https://www.hiwin.us/wp-content/uploads/Linear_Guideway-E-1.pdf
Comments (0)
This post does not have any comments. Be the first to leave a comment below.
---
Post A Comment
You must be logged in before you can post a comment. Login now.
Featured Product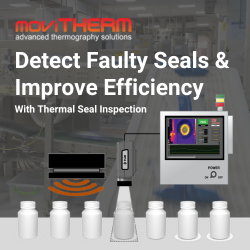 MoviTHERM's Thermal Seal Inspection (TSI) solution provides precise and reliable detection of defects in a variety of packaging types, including pouches, bags, blister packs, bottle caps, and more. By detecting defects in your packages, the TSI solution helps increase efficiency in your production line and ensures top-quality packaging is delivered to your customers every time. With state-of-the-art technology and an experienced team, MoviTHERM is dedicated to delivering accurate inspection solutions and peace of mind to its clients. Contact MoviTHERM today to learn more about their thermal seal inspection solution.