Why smart interconnection is essential for building the factories of the future
Not long ago, the '5G campus network' was just an idea, but in 2019, the very first operational campuses came online in China, with test-bed projects quickly following, including among manufacturing powerhouses like German airline carrier Lufthansa and automotive giants like BMW, Mercedes-Benz, VW, and Ford.
Today, 5G campus networks are one of the hottest topics in the manufacturing world – and that's no surprise, considering the use cases already being made possible to establish the smart factories of tomorrow.
5G is a complete game-changer in terms of the amount of data transmitted over a mobile network and the number of devices it can support. 5G peak data rates can reach up to 20 Gbit/s, with up to 1 million devices connected per km, while maintaining reliable data transmission and latency as low as a single millisecond. The nature of a campus environment demands wireless connectivity because the smart factories of tomorrow need seamless, completely reliable, high-bandwidth and low-latency communication between hundreds, if not thousands, of sensors, machines, AI capabilities, and external networks. And already, businesses are using 5G to spearhead innovative new technologies like digital twins – a virtual model of a product, system or process for running simulations, designing, and testing. In fact, by 2027, more than 90% of all IoT Platforms will be capable of some form of digital twinning, and the use of digital twins is predicted to increase tenfold by 2030. In manufacturing, digital twins depend on near-real-time data from machinery. This information can be used to carry out predictive maintenance, enabling the replacement of parts or identifying failures before they happen.
Similarly, remote maintenance powered by 5G is now a reality: the German airline Lufthansa pioneered establishing a 5G campus network for its Engine Services business unit, which launched in early 2020. Previous attempts at using WiFi resulted in inadequate image quality, preventing precise diagnostics. Still, the greater bandwidth and low latency of 5G made it possible for high-resolution photos and videos to be made available to customers, making a move to remote table inspections – brought about by the Covid-19 pandemic – a workable alternative to the on-site inspections usually preferred by customers.
Business consultancy Gartner forecasts that the warehouse operations of 75% of large enterprises will entail some form of 'intralogistics' smart robots by 2026. These will need to communicate with each other and be managed via 5G. Outside of company premises, however, 5G will have an even more significant impact on logistics by ensuring supply chain visibility and allowing real-time tracking of consignments in transit. Autonomous vehicles, meanwhile, need the kind of low-latency connectivity enabled by 5G – on the road; even slight communication delays could mean life or death.
But 5G-powered manufacturing can't exist in isolation – everything must be interconnected, orchestrated, maintained and monitored. Essential to delivering on the 5G promise is going beyond the power of connectivity alone, which means bringing in external partners that can help operationalize these projects as efficiently as possible.
For example, most of the above use cases would only work with AI-driven software to coordinate, orchestrate, and monitor the hardware platforms. Meanwhile, data centers often sit outside of the campus perimeter, so there's an enormous imperative for manufacturers to connect production plants to their data centers intelligently. And along with all the typical cloud-based applications like ERP and AI, IoT devices often depend on cloud services to aggregate data or for analytics.
There are several options for the manufacturer to ensure SLA-backed, high-performance, low-latency, and highly robust connectivity to clouds and partner networks, but essential as the glue to manage them all is a secure and resilient interconnection platform and, embedded within the platform, a 'cloud exchange.'
Cloud exchanges offer a range of benefits – allowing factories to connect directly with cloud services, bypassing the public internet and ensuring much greater security for the network's traffic and the shortest data pathway, and therefore the lowest possible latency.
Cloud-to-cloud communication handled via the platform, meanwhile, can improve data sharing and communication between services. This means that data transfer between cloud service providers can be as fast and seamless as within one cloud environment – allowing the manufacturer to choose best-in-class services across multiple providers and ensure seamless dataflows.
Equally, connecting the 5G network to a set of trusted external partners can be achieved through building a Closed User Group (CUG) on the interconnection platform – this functions like a mini, invite-only internet for its participants, with authentication and policy compliance baked in, and with the OEM setting the rules.
With all the benefits that a state-of-the-art 5G-enabled smart factory brings, the connection of this network to the outside world must be just as intelligent: ensuring low latency, high bandwidth, highly resilient, and secure connectivity to external networks.
Comments (0)
This post does not have any comments. Be the first to leave a comment below.
---
Post A Comment
You must be logged in before you can post a comment. Login now.
Featured Product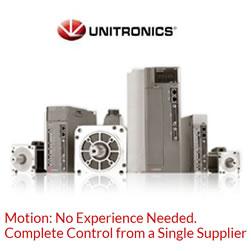 Unitronics' line of AC Servo Drives & Motors changes the traditional approach to motion control. They are simple to set up and painless to program. Unitronics Servos simplify implementation of motion applications while minimizing complexity and reducing development time. Some of the easy-to-use features in this new line include implementing motion control easily with ready-made motion code, embedded diagnostic tools, and automatic communication setup.