NEW STUDY: MAJORITY OF WORKERS WOULD LEAVE FRONTLINE WORK IF GIVEN THE OPPORTUNITY
A new survey from SafetyCulture finds life is getting tougher for frontline workers in many essential industries, with almost two in three (64%) saying the challenges and pressure they face at work have increased in the last 12 months.
Nearly a third of those surveyed said they're under 'intense pressure' at work, and almost three in four (73%) frontline workers feel they have been under increased pressure at home during the last 12 months.
SafetyCulture's Feedback from the Field report represents the views of American, British and Australian frontline workers defined as individuals who must physically show up to their job, including the likes of hospitality, retail, manufacturing, healthcare and logistics workers.
Alarmingly, more than half of this frontline workforce (54%) said if they had the opportunity they would leave frontline work altogether.
Feedback from the Field revealed US frontline workers are facing unnecessary pressure due to:
● Funding their own safety: almost four in ten (39%) US workers had to spend their own
money to stay safe at work during the last 12 months. It is estimated they spent $46.68 billion
on this in the last 12 months (an average of $872 per worker).
● Avoidable workplace injuries: one in five (21%) US frontline workers said they have
experienced workplace injury due to inadequate processes or communication, while one in four
(25%) know a colleague who has.
● Bad processes, tech and tools: four in ten (40%) US workers said they'd like to see greater
investment by their employer in technology to improve processes, efficiency and safety. While
51% said they don't have a say in the technology and tools they use at work.
"It's clear that frontline workers feel like they're under increasing pressure on multiple fronts," said Kylie Uvodich, General Manager, America at SafetyCulture. "While the pandemic is still ongoing, we're moving further and further away from the global devastation we saw back in 2020-2021. Life should be getting easier, not harder. Unfortunately, many frontline workers are under more pressure than ever before and there's a growing expectation for them to do more, with less."
The good news for businesses is that it's not too late to address these issues and prevent more exits. Small investments in technology can do more than just help businesses keep pace — organizations can start taking steps today to become more efficient and help alleviate the load.
Some of the top tips in the report for easing the pressure on the frontline include:
● Removing technological red tape: digitizing ways of working through actions like shifting
from paper checks to digital inspections or automating manual tasks with the help of sensors
and IoT. Rather than struggling to do more with less, using technology to free up capacity.
● Leveraging mobile learning: the quickest and most accessible way to get training out to
those in the field or working remotely. Ease the mental load and build team resilience with free
customizable courses.
● Checking your blindspots: hitting pause and doing an audit of your processes is hugely
valuable. Sometimes you need to slow down in order to speed up. Collating and integrating
your data sources in a meaningful way allows you to turn data into information. The information
then allows you to react in real-time, prevent incidents before they happen, and start a cycle of
continuous improvement.
Businesses have a key role in addressing some of the issues that are making work more challenging for frontline workers. It's more pressing than ever to understand the pressure points faced by the workforce that keeps the world moving — before they move on themselves.
"We hope this report will help businesses and employers of all kinds to engage with some direct feedback from the field, so they can better engage with their frontline workers — giving them the right tools and the support they need to do their best work, every day," said Uvodich.
To read the full report please visit: https://safetyculture.com/ebooks/feedback-from-the-field-under-pressure/
About the research
All figures, unless otherwise stated, are from YouGov Plc. Total sample size was 1,976 frontline workers (860 US, 558 Australia, 558 UK). Fieldwork was undertaken during August 2022. The survey was carried out online. The figures have been weighted and are representative of US, UK and AU frontline workers (aged 18+).
About SafetyCulture
SafetyCulture is the operational heartbeat of working teams around the world. Its mobile-first operations platform leverages the power of human observation to identify issues and opportunities for businesses to improve every day. More than 60,000 organizations use its flagship products, iAuditor, and EdApp, to perform checks, train staff, report issues, automate tasks and communicate fluidly. SafetyCulture powers over 600 million checks per year, approximately 50,000 lessons per day and millions of corrective actions, giving leaders visibility and workers a voice in driving safety, quality and efficiency improvements.
A recent analysis by Forrester found that SafetyCulture's flagship products provide a 214% return on investment for customers and USD 3.6M in cost savings from operational improvements.
Customers of SafetyCulture's award-winning products include the likes of GE, Marriott, Lowes, Toyota, and Schneider Electric.
Comments (0)
This post does not have any comments. Be the first to leave a comment below.
---
Post A Comment
You must be logged in before you can post a comment. Login now.
Featured Product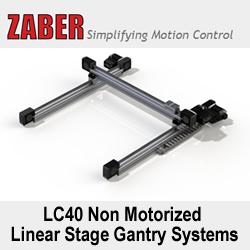 A Zaber gantry kit comes with everything you need to build a customized XY gantry system or XYZ gantry system. These gantry systems feature coordinated multi-axis motion, plug-and-play operation, easy integration with end-effector options, and built-in IO and E-Stop capabilities. An intuitive ASCII interface allows the user to easily communicate with the gantry systems using our free software, either Zaber Motion Library with APIs for several popular languages or Zaber Console. Third party terminal programs that can communicate over a serial port can also be used.