Could automation be the answer to the Great Resignation?
Regardless of location, if you are a manager in manufacturing, you will have seen the increasingly staggering data about the so-called Great Resignation, a phenomenon where employees voluntarily decide to quit their jobs. Claudia Jarrett, US country manager at global supplier of quality automation components EU Automation, explores how automation can help manufacturing businesses cope as staff retention rates fall.
The Great Resignation, a term coined by Anthony Klotz, a professor at Texas A&M University, is a growing economic trend in which employees have been voluntarily resigning from their jobs en masse since early 2021. Wage stagnation in the midst of a cost-of-living crisis, job dissatisfaction and safety concerns due to COVID-19 are all contributing factors as to why staff resignation levels are persistently on the rise across the globe. So, what does this mean for the manufacturing industry?
According to the Harvard Business Review, due to the COVID-19 pandemic, employees are now self-evaluating, significantly reconsidering their career paths and prospects. Humans are creatures of habit, but the pandemic has caused a shift in both perspective and work-life balance for manufacturing staff.
In Germany, the main factor triggering this shift in the workforce was inflation. Price hikes across food and energy products meant that in 2021, Germany saw inflation rates of 4.1 per cent in September 2021 — the highest in nearly 30 years, causing employees to seek higher-paid jobs with benefits such as working from home.
What's more, in manufacturing there are few options for remote work compared to other sectors. The Washington Post reports that manufacturing workers fear a new COVID-19 outbreak, and feel that their safety is not sufficiently protected. Other reasons for why staff retention has plummeted are the stagnation in pay rates, especially in manufacturing that involves 'nondurable goods', and harsh working conditions.
Leveraging automation
Job functions within the manufacturing industry often involve constant repetitive actions that might be monotonous and even lead to strain injuries. Leveraging automation systems across production lines to automate repetitive actions will reduce the chance of human error and increase levels of accuracy, but also allow employees to move into more fulfilling job roles, increasing job satisfaction. This might reduce the levels of staff resignation and increase productivity.
Pick and place robots are just one example of how manufacturers can leverage automation for increased efficiency. Using advanced vision systems, these robots can identify, pick up and move objects from one place to another and can be configured with a myriad of end-of-arm tools, thus making the robot useful for an array of tasks. Automating repetitive processes such as this can help increase levels of production, allowing workers to focus on more complex and rewarding work.
Automating the quality assurance function of the manufacturing process can also assist managers with harnessing automation effectively. The process of quality assurance can become a tedious task for workers over time and inspectors can make mistakes due to the complex nature of the item they are inspecting, whose quality is best assessed by an automated solution. Replacing manual inspection with an autonomous machine vision solution will lead to higher inspection accuracy, while workers can be moved to tasks that require reasoning and decision-making. Navigating the automation industry and sourcing new parts for these manufacturing functions can be a costly process, but sourcing your parts from a supplier of reconditioned and obsolete parts could be the solution.
Crucially, manufacturers should not hesitate to deploy new automated solutions for fear that breakages will lead to increase maintenance costs and more downtime. Liaising with a supplier such as EU Automation will allow managers to access parts easily and affordably, so that repairs can be made quickly and stress-free. While the Great Resignation movement continues, the manufacturing industry should accelerate the adoption of new technology to optimize productivity while moving their current employees into more rewarding, fulfilling jobs. Managers must see that automation is not just another expense but an asset to be valued.
Comments (0)
This post does not have any comments. Be the first to leave a comment below.
---
Post A Comment
You must be logged in before you can post a comment. Login now.
Featured Product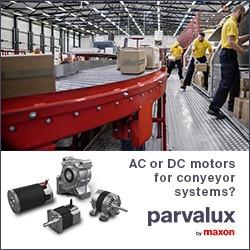 An effective, reliable and efficient drive system is essential to any material handling equipment, whether it's a motor-assisted tow truck, a barrel lifter, a robotic vehicle or a complete high-capacity parcel sorting hub; Parvalux designs and manufactures an exciting range of AC, DC brushless and brushed motors and our drives are valued for their performance and reliability.