What OSHA's Revised Lead Standards Could Mean for Workers
Since 1978, the U.S. Occupational Safety and Health Administration (OSHA) has been keeping workers safe from lead exposure while on the job. OSHA is a division of the Department of Labor (DOL) and dates back to 1922.
The corporate world is generally averse to regulations and responds with vigorous lobbying in response to calls for tightened rules, including those designed to protect public health. OSHA and the DOL exist to provide oversight and public accountability in areas that traditionally had little of both — namely, private enterprise.
Exposure to lead is both a ubiquitous phenomenon and an incredibly destructive one. Although OSHA's rules concerning lead exposure in the workplace have been updated several times, the agency is worried current guidelines don't go far enough.
Why Existing Lead Rules Might Fall Short
OSHA is seeking public and professional input concerning another round of revisions to its workplace lead standards. Interested parties had until late April 2022 to submit feedback on OSHA's "Advance Notice of Proposed Rulemaking" (ANPRM) on how those rules should evolve.
However, scientists have conducted additional and more exhaustive research on human lead exposure since OSHA's first rules on the topic and its most recent revisions. As a result, regulators fear existing protections for workers are insufficient.
Exposure to lead — measured with a metric called blood lead levels (BLLs) — is associated with various health issues. According to the Centers for Disease Control and Prevention (CDC), short-term lead exposure may result in:
Lethargy and irritability
Abdominal pain and/or constipation
Loss of appetite
Loss of memory
Pain and/or tingling in the extremities
Lead exposure is especially worrying because symptoms may manifest slowly and a proper diagnosis may not happen immediately. Lead crosses the placental barrier between mothers and embryos, meaning unborn children may inherit health issues before the pregnant woman even knows she's been exposed.
Children exposed to lead face potential lifetimes of difficulty due to nervous-system damage, cognitive and behavioral performance impacts, hearing and speech problems, attention-span deficits and other setbacks.
In adults, long-term lead exposure is associated with progressively more burdensome health conditions, including:
Brain damage
Kidney malfunction
High blood pressure
Depression
Anemia
A general feeling of weakness
Lasting nausea
Reproductive-system harm
Impaired kidney function
The Environmental Protection Agency (EPA) and the Department of Health and Human Services (DHHS) also recognize lead as a likely carcinogen in humans.
How Changes to Existing Lead Rules Could Impact Workers
OSHA's existing rules governing lead exposure in the workplace reference BLLs of ≥60 mg/dL (milligrams per deciliter) in general industry and ≥50 mg/dL in construction as potentially hazardous and requiring medical evacuation of the affected individuals. They can be cleared for work when their BLL drops below 40 mg/dL.
However, according to OSHA, current research shows the human body may sustain lasting harm even with a BLL as low as 5 mg/dL.
There are no specifics available yet since fine-tuning the details is one of the purposes of a public comment period. However, the agency is signaling its intent to lower thresholds for lead intervention in the workplace and make other changes to guidance concerning protective equipment, procedures and remediation. The resulting action should be of interest to any facility that faces routine or random OSHA inspections due to its handling of sensitive materials or the presence of harmful elements.
OSHA released a press release saying: "The agency is seeking input on reducing the current BLL triggers in the medical surveillance and medical removal protection provisions of the general industry and construction standards for lead. The agency is also seeking input about how current ancillary provisions in the lead standards can be modified to reduce worker BLLs."
Before the rulemaking change is finalized, OSHA wishes to reconcile the referenced body of scientific knowledge with experiences and input garnered from the corporate world. The result will, ideally, be a worker-focused rule change that makes employees safer.
The Worker Impact of Tighter Regulations
There's no downside for the working class regarding tighter regulations on carcinogens, pollutants and workplace safety. The original OSHA lead exposure rule, and each published amendment since, was designed to incrementally make workers safer on the job by reconciling the need updated scientific findings concerning human health.
OSHA recognizes that the industrial use of lead is on the decline — thanks to ever-tighter environmental and health regulations — and that lead remains a persistent threat in the modern world. Recognizing exposure as a health threat resulted in widespread efforts to remove materials and products containing it. However, sources of exposure remain.
Workers can only benefit from OSHA's proposal to "reduce the current BLL triggers." The result will be lower levels of lead in workers' blood, faster medical interventions due to lower thresholds for reporting, and a far lower risk for workers and unborn children of developing lasting health problems.
Comments (0)
This post does not have any comments. Be the first to leave a comment below.
---
Post A Comment
You must be logged in before you can post a comment. Login now.
Featured Product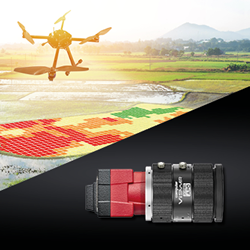 Allied Vision's compact and light weight Alvium SWIR (short wave infrared) cameras are the ideal choice to build cost-effective OEM systems used in embedded and machine vision applications. The cameras support a spectral range from 400 nm to 1700 nm at high quantum efficiencies. This allows to capture images in both the visible and SWIR spectra with a single camera and enables users to reduce overall system costs! Equipped with Sony's IMX990 and IMX991 SenSWIR InGaAs sensors, Alvium SWIR cameras deliver high image quality and frame rates. This makes them well suited for drones or handheld devices used in various industries such as, agriculture, mining, solar cell inspection or medical.