ELECTRONICS SUPPLY CHAIN CHALLENGES

The Situation
Global electronics demand has undergone unprecedented growth in the past year through a macro-economic rebound caused by the acceleration of digital transformation, instigated and sustained by the COVID-19 pandemic and fundamental shifts toward adopting renewable power and electric transportation. The lack of integrated circuits (ICs or "chips") and other electronic materials to meet this demand has profoundly impacted the electronics supply chain, which some have termed Chipageddon.
Huge investments across the electronics supply chain are being made in response to this extraordinary level of electronics demand. Of course, a fundamental response is to increase electronics manufacturing capacity, which is hampered by the time and expense required to build a manufacturing plant or integrated circuit (IC) "fab."
Many electronic manufacturers have established a plan to increase the manufacturing capacity of electronics test and measurement solutions. From my perspective, those efforts include improving Resilient Operations, Supplier Collaboration, Strategic Sourcing and Value Engineering. Resilient Operations ensure people can safely work, with vaccination programs exceeding 98% of the workforce and safe operational procedures. This includes accelerating the digital transformation of fulfillment, manufacturing, and logistics operations.
Strategic Sourcing is about investing in alternate sources and deep supply-based analytics to squeeze every available part out of the worldwide supply.
Supplier Collaboration escalates when shortages occur and deeply engaged supply chain partners help deliver more components and capabilities.
Value Engineering involves redesigning components or assemblies to retain the existing design's capability, while substituting the part in short supply with another available part. This is expensive and takes time to properly complete, so re-engineering a component or assembly is only applied in the most needful situations.
The COVID-19 pandemic has not only accelerated business and personal digital transformation, but the electronics supply chain and manufacturing digital transformation as well. This ranges from artificial intelligence algorithms used to predict component availability to software predicting upcoming manufacturing issues.
Growing up in a Community
I grew up in the mid-west region of the United States, and both my maternal and paternal grandparents were farmers. It is well known that modern farming is one of the most dangerous professions, nowadays using a lot of machine-powered equipment. Growing up in this environment, I experienced that the worst events brought out the best in my community.
A large piece of farming equipment called a combine cuts down a mature plant and separates the leaves and stalks from the harvested fruit, which was corn. One of the farmers in my community was manually freeing up material from inside the combine but had not taken the step of shutting down the machine because that takes additional time and was pressed to finish the harvest quickly. The farmer suffered a horrible accident that I won't share in detail, but suffice it to say, resulted in several months of recovery in the hospital. This happened at the time-critical point of harvesting the corn crops.
Without being asked directly, several community members showed up to finish the harvest and ensure the farm was being taken care of while the farmer recovered in the hospital. Some did direct work on the farm, and some provided meals and material free of charge to those aiding the impacted farmer and his family.
In the modern age, this community response is facilitated by 5G communications, shared planning worksheets and access to digital records of how the farmer tended to their crops and livestock. You might be surprised at how quickly farmers are leveraging digital technologies ranging from drones to advanced planning software.
Electronics manufacturing is not unlike farming in that both activities transform natural materials into valuable commodities that improve the lives of others. They are also similar in that the ecosystem or events can provide challenges that the individual cannot overcome but requires the resources of a community to address the challenge.
Customer reengineering
When faced with completing the farmer's harvest after the injury, it didn't make sense to solely use the farmer's equipment since we temporarily had access to much more human capacity. It was more efficient and effective to bring in more equipment and accelerate the harvest. I remember also helping upgrade the farm's infrastructure to improve efficiency, such as fixing or upgrading inefficient equipment. A community can be creative on how to achieve the outcome!
Organizations will be wise to leverage Value Engineering towards helping their customers re-engineer solutions they already have for higher productivity. This will help teams develop new digital tools that will help determine which existing hardware and software upgrades might have the best ROI to improve productivity. It will also allow the organization to benefit from the new insights gained from working intensely with customers on these initiatives, which could also have a positive effect on the next generation of new products in development.
Summary
The power of digital technologies and human innovation is impressive, mainly when applied in a crisis. Growing up in a farming community taught me lessons in our global electronics community. When we facilitate a community response, solutions happen faster, more efficiently and everyone involved contributes. This has helped transform escalations into partnerships for mutual success. Don't forget that our customers are our neighbors as well!
Formulating a response to the global supply chain challenges can also be reapplied to your customer outcomes when your products and solutions are part of that supply chain. This algorithm is called recursion in software and is one of the most powerful algorithms available. Re-engineering your customer outcomes, especially by leveraging digital technologies, is an excellent source of innovation and accelerated value creation.
Ensuring the success of our neighbors is an enduring value, and in times of crisis, we must remember to be flexible and innovative in how we deliver that success. That influenced my grandparent's generation in the farming community and continues to influence me in the global community of the electronics supply chain.
Comments (0)
This post does not have any comments. Be the first to leave a comment below.
---
Post A Comment
You must be logged in before you can post a comment. Login now.
Featured Product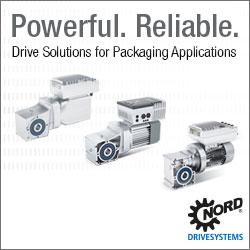 NORD gear units, motors, and electronic control products focus on durability, adaptability, and high efficiency for a wide range of manufacturing applications with over 20,000,000 standard configuration options. Featuring IE5+ PMS motors that can work effectively at partial loads and low speeds thanks to their constant torque and high overload capacity. Their smooth surface and ventilated designs provide ultimate versatility and variant reduction. Combined with surface protection options, such as IP69k or NORD's state-of-the-art nsd tupH Sealed Surface Conversion System, NORD drives are ready to take on the demands of extreme manufacturing environments.