5 Crucial Steps of Digitizing Your Production
The fourth industrial revolution is here. During the last decade, smart manufacturing, Industrial Internet of Things and digitized systems have become a reality in the manufacturing industry. While some have moved to smart manufacturing, many in the industry are still wondering if it is time to move to the new way of manufacturing.
Past revolutions teach us to accept the change and not be left behind when the technologies advance. It is safe to say that it is about time the manufacturing industry went digital. Still, bringing big changes to any plant takes a significant amount of thought and resources. Hence, it is better to follow a plan and move one step at a time to avoid any negative side-effects to production.
How Industry 4.0 is Changing Production
Production systems have moved from being just digitally controlled to being interconnected, automated and smart. From raw material transportation, machining, packaging to shipping, all the systems are like meshing gears that allow factories to produce like clockwork. At the same time, the data available from production is continuously analyzed to find better solutions for every sub-system using big data analytics and cloud computing. The result is modern factories with smart manufacturing and higher efficiencies.
These modern factories of Industry 4.0 rely on cyber-physical systems, embedded computing and IIoT technologies which have improved production rates, quality and efficiency. Such new technologies, combined with modern additive manufacturing processes, can produce complex geometries that conventional processes cannot. New products produced through these systems provide higher quality at similar prices, which gives companies a crucial advantage over conventional manufacturers in the market. To stay competitive, every factory has to keep pace with this revolution and move towards digitizing their manufacturing systems.
As might be clear, Industry 4.0 has multiple aspects. Here are the five steps you can follow to easily navigate the road to your digitized production plant while addressing all these aspects.
1.Prepare for Change
Moving towards a new way of manufacturing is a huge decision that needs to come from the top. Digitizing production isn't like bringing in a new machine or software. It involves creating a new business strategy that will bring changes to every rung of the organization. The executives have the responsibility to prepare the organization for it.
The primary job in preparation is identifying the challenges faced by the business and how digitizing can help achieve the goals of the company in the long term. At the same time, effective processes have to be designed to coordinate the organization during the change. The top should also look at the financials and decide how much capital can be invested in the digitizing process. Once such decisions are made, the ground level can be worked on.
2.Assess the Current Production Systems
Before going all digital, it is important to look at what the issues are with your current production systems. Often, production systems have multiple issues that are directly or indirectly connected to one sensitive area. Assessing where these sensitive areas with the biggest problems are, then prioritizing them for resolution is the key to optimizing production operations.
With better visibility of such problems, it becomes easier to decide which one to tackle first to improve production and move towards smart manufacturing. The gaps and shortcomings of current systems, which have low priority, will also be useful later on when the big problems are solved and optimizing is the goal.
3.Look for Suitable Technology Partners
Once you know what the issues with your production system are, the next step is looking for solutions. Technology partners with expertise in your industry can provide accurate solutions that match your vision for the future.
To get started, gather all the options you have, based on the solutions you are looking for. Once you have shortlisted a few, look at their track record and past projects. Communicate your assessment and ask for their suggestions on technologies that can be implemented. It should be enough to tell you who will suit your needs and goals. Once you have chosen the technology partner, you should look for a comprehensive solution that involves digitization, security, onboarding support and training, post-implementation support, data analytics, scaling and compatibility.
4.Start Small and Move Ahead
You have a technology partner and know what changes you need to make first. Now, the real process of digitizing can start. The key here is starting small so as not to disrupt the whole production system. Implement new technology or a few tech solutions at the most sensitive part of the production to solve multiple problems. This will keep the costs low, have a visible effect on production, and provide enough data to analyze the effects on the rest of the system. Analysis of this small start will help optimize the solution and also bring forth the areas that can be targeted next to improve production.
The same process should be followed for the next area, and results should be carefully analyzed to find any side-effects that might have developed. It is important to remember this process might not always be smooth, but an experienced tech partner can handle disruptions and deliver results.
5.Train, Analyze, Optimize
After the factory has been totally digitized, the process of creating a smart factory doesn't stop. Training the employees who will work with the new technology is vital for best results. SOPs should be created for each position to make it easy for a new worker to take over.
A part of smart manufacturing is analyzing data regularly to look for changes in different aspects of production. When product design changes, capacity is increased, or the load changes, the response of the system can be analyzed through data and then optimized with the help of new findings.
Moving to a new business strategy and production system is a huge task. Following these five steps can help reduce the number of challenges you will face in the journey. Taking small steps, putting the company's goals at the center, and preparing every level for the change is paramount. From start to finish keep people at the center, as they will be the ones handling the new systems. Do not forget that a smart factory is only smart if it is working on itself, constantly optimizing the production.
Eric Whitley has 30 years of experience in manufacturing, holding positions such as Total Productive Maintenance Champion for Autoliv ASP, an automotive safety system supplier that specializes in airbags and restraint systems. He is also an expert in lean and smart manufacturing practices and technologies. Over the years, Eric has worked with all sectors of industry including Food, Timber, Construction, Chemical and Automotive to name a few. Currently, he's a part of the L2L team.
Comments (0)
This post does not have any comments. Be the first to leave a comment below.
---
Post A Comment
You must be logged in before you can post a comment. Login now.
Featured Product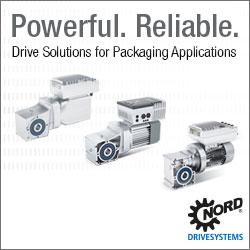 NORD's redesigned line of small CLINCHER parallel gear units showcase increased power and torque capacity for a variety of applications. These re-engineered versions will be replacing the existing SK0182NB, 0282NB, and 1382NB units. They are lightweight, have improved heat dissipation, are more cost-effective, and are available with NORD nsd tupHTM sealed surface conversion for wash-down and extreme environments.