POLITICS AND SUPPLY CHAINS COLLIDE AS THE TREND TOWARDS LOCALISATION IS ACCELERATED BY COVID-19
Experts from PwC discuss the increasing shift to 'glocalisation' on a national scale brought on by COVID-19, and its impact on operations and supply chains at the Global Manufacturing and Industrialisation Summit's #GMIS2020 Digital Series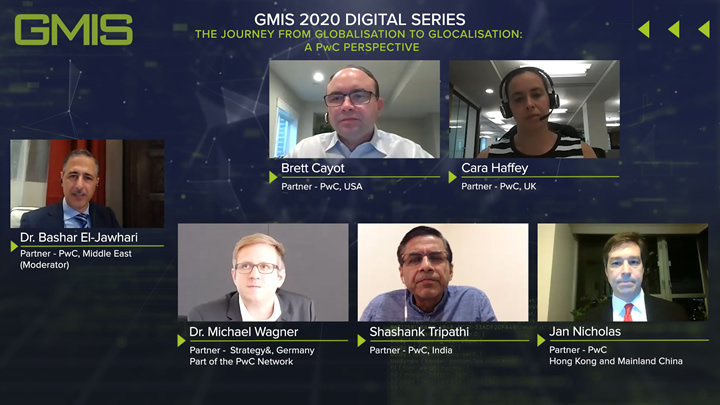 Hannover, Germany – September 22, 2020: Supply chains around the world are being reshaped - not just by the pandemic but also by the political landscapes in different regions, according to PwC experts. Many of the world's global supply chains saw extreme disruption through the pandemic, furthering the case for nationalism and bolstering calls to develop more regional and local capabilities.
These are some of the key findings from the virtual panel session involving leading experts at PwC from across the world at the Global Manufacturing and Industrialisation Summit's #GMIS2020 Digital Series. A core theme throughout the conversation was the many ways in which politics intersects with supply chain management.
Dr. Bashar El-Jawhari, Partner and Leader of Industry 4.0, procurement and supply chain, PwC Middle East highlighted the importance of a steady supply of critical goods and services for sustenance.
"The pandemic has shown that while there have been localisation programs in place, it has been mostly driven by the energy sector. When it came to healthcare, as an example, they discovered that there was a shortage in pharmaceuticals, protective gear and some of the other critical elements within healthcare. The third point that became critically important in the region is food security." He highlights how the availability food and critical goods was the key concern and said: "That's why they started thinking a little differently on how they can diversify their sources, and how to speed up the digital applications for better forecasting and scenario testing and so on."
Domestic elections are shaped by how the public in different nations view the opportunities and challenges of globalisation and glocalisation, while international relations also play a fundamental role. Cara Haffey, Partner and Leader of Manufacturing and Automotive, PwC UK, said: "In the UK, our industrial manufacturing companies had the added benefit as COVID-19 hit that they had spent the previous year looking at their supply chains, because of the impending Brexit. Some of my clients understood their supply chain to a level that they hadn't previously. At the height of the pandemic in the UK, there was a lot of talk about going back to local yet some of the manufacturing associations were cautioning that it takes a long time to change your supply chain. It's generally not something that you can suddenly change overnight."
Brett Cayot, Partner, Strategy & Operations, PwC US, highlighted the impact of increased costs in both labour and logistics. He said: "One of the solutions might be manufacturing or having your suppliers closer to the point of use. In the US, we envision more moves into areas like Mexico or dual strategies in the US and Mexico or Mexico and another low-cost country in Asia. Labour rates have gone up, and logistics costs are higher than anybody ever imagined. Duties are a big factor as well. People are starting to think more about other factors that aren't in the total cost model, looking at resiliency and flexibility, and figuring out how to provide a better customer experience."
Dr. Michael Wagner, Partner and Leader of PwC's Fit for Growth transformation platform in EMEA, Strategy& Germany, part of the PwC network, said that in Germany COVID-19 had exposed insufficient resiliency in industrial supply chains. While he does not foresee a rollback in globalisation, he believes that for German companies, it is the right time to balance efficiency and scale with flexibility and robustness. He said: "We are seeing a transition to localisation; a shift to a far more flexible global manufacturing footprint with global planning. We are expecting that physical value chains will become more localised within a regional setup. We believe it goes beyond the location. What we are seeing in Germany is that many industrial companies will deploy multi-sourcing strategies to move towards a more flexible supplier footprint, and will maintain or even accelerate investments in digital technologies."
The panel, titled 'The Journey from Globalisation to Glocalisation', was moderated by Dr. Bashar El-Jawhari, Partner and Leader of Industry 4.0, procurement and supply chain, PwC Middle East, and brought together some of PwC's leading experts from around the world to discuss the increasing shift to 'glocalisation' on a national scale brought on by COVID-19, and its impact on operations and supply chains. The panel offered detailed views on different regional approaches and drivers used to forge a path to success amid this shift. Dr. Jawhari, was joined by Cara Haffey, Partner and Leader of Manufacturing and Automotive, PwC UK; Brett Cayot, Partner, Strategy & Operations, PwC US; PwC USA; Jan Nicholas, Partner and Leader of Operations Consulting team, PwC Hong Kong; Shashank Tripathi, Partner, Government Strategy & Transformation Leader and Leader of Aerospace & Defence practice, PwC India; and Dr. Michael Wagner, Partner and Leader of PwC's Fit for Growth transformation platform in EMEA, Strategy& Germany.
The virtual panel discussion is the first in a new sequence of weekly sessions of the #GMIS2020 Digital Series that commenced today, following the Virtual Summit that was held on September 4-5, 2020. The session is available to watch on-demand at https://bit.ly/2YHVHyY.
Participants can watch the GMIS Digital Series by registering on the following link: https://bit.ly/3eYq75o. The programme agenda is available on the following link: https://bit.ly/2Al40r7.
About GMIS:
The Global Manufacturing and Industrialisation Summit (GMIS) was established in 2015 to build bridges between manufacturers, governments and NGOs, technologists, and investors in harnessing the Fourth Industrial Revolution's (4IR) transformation of manufacturing to enable the regeneration of the global economy. A joint initiative by the United Arab Emirates and the United Nations Industrial Development Organization (UNIDO), GMIS is a global platform that presents stakeholders with an opportunity to shape the future of the manufacturing sector and contribute towards global good by advancing some of the United Nations Sustainable Development Goals.
The first two editions of the Global Manufacturing and Industrialisation Summit were held in Abu Dhabi, United Arab Emirates in March 2017, and Yekaterinburg, Russia in July 2019, respectively, with each edition welcoming over 3,000 high-level delegates from over 40 countries.
GMIS 2020, the third edition of the Global Manufacturing and Industrialisation Summit, will be held virtually as a sequence of Digital Series starting June 2020 followed by a virtual Summit in September 2020, and will focus on the theme of glocalisation.
To learn more about GMIS, please visit https://gmisummit.com/ and follow GMIS on Twitter: @GMISummit, Instagram: @gmisummit, LinkedIn: GMIS - Global Manufacturing & Industrialisation Summit, and Facebook: @GMISummit.
Comments (0)
This post does not have any comments. Be the first to leave a comment below.
---
Post A Comment
You must be logged in before you can post a comment. Login now.
Featured Product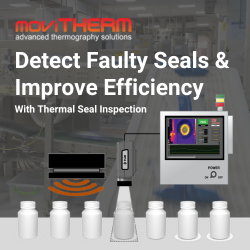 MoviTHERM's Thermal Seal Inspection (TSI) solution provides precise and reliable detection of defects in a variety of packaging types, including pouches, bags, blister packs, bottle caps, and more. By detecting defects in your packages, the TSI solution helps increase efficiency in your production line and ensures top-quality packaging is delivered to your customers every time. With state-of-the-art technology and an experienced team, MoviTHERM is dedicated to delivering accurate inspection solutions and peace of mind to its clients. Contact MoviTHERM today to learn more about their thermal seal inspection solution.