Will Manufacturing Recover After Coronavirus? China Says 'Yes'
There's a lot of uncertainty in the world because of COVID-19. The full economic impact is challenging to predict, and we can't be sure how long the outbreak is going to last. But amid all the uncertainty, some signs of hope are beginning to emerge.
Most industries across the world have seen some decline at the hands of coronavirus. The manufacturing sector, like many others, is experiencing supply bottlenecks and decreased business from the outbreak. As the virus rages on, you may wonder if the industry will ever recover from this economic impact.
While nothing is absolute yet, there have been promising signs at the heart of the outbreak. As China's production starts to pick up steam again, it could signify the revitalization of the industry.
COVID-19's Impact on Manufacturing
Social distancing guidelines are necessary to prevent COVID-19 from spreading, but they've caused an economic slump. As millions of people worldwide stay home, businesses can't operate at their typical capacity. The resulting slowed production has led to logistics delays, among other things.
According to a survey by the National Association of Manufacturers, more than a third of manufacturers have already experienced delays. These disruptions have forced some companies to scale back further, losing more employees. Supply chain delays aren't the only consequence of COVID-19, either.
As companies of all kinds have had to slow down, manufacturers have less business. Suppliers that had stockpiles of materials or goods now face bottlenecks from declining demand. Even if manufacturers have enough staff to maintain normal operations, they don't have the business to do so.
But it's not all bad news. China, the epicenter of the virus, is starting to show signs of recovery.
Recovery in China
You may already know that the coronavirus outbreak hit China particularly hard. The country saw the first recorded cases of the disease, which spread throughout the densely populated nation in no time. But just as China was the first to experience the outbreak, they're becoming the first to recover from it.
As of March 20, the Chinese economy was back to 85% of its normal output as people return to work. This return to normalcy didn't come all at once. Output rates have been slowly increasing over the months since the worst of the outbreak.
The economy isn't yet back to where it once was, but it's getting there. As infection rates decreased, the Chinese government started loosening restrictions by letting some closed businesses reopen. Manufacturers are beginning to increase their production levels again as workers and buyers return.
State-run companies have seen the greatest recovery, with many now close to full operational capacity. Private manufacturing businesses have been slower, but are also recovering. As the supply chain gets closer to regular activity, it's likely these companies will too.
Small Steps Towards Restoration
A gradually returning workforce isn't the only thing helping China's recovery. Online shopping has started picking up again, leading to higher demand. With more business, companies can comfortably ramp up production once more.
The fact that an economy as large as China's is recovering is encouraging. If the epicenter of the outbreak can start to regain its footing, then so can manufacturers in other countries. The key is taking small, regulated steps.
You can't expect to go back to previous levels of production instantly. Manufacturing's success depends on many factors, like various suppliers and buyers, so you can't achieve regular numbers until they do. But by taking things on a week-to-week or even day-to-day level, slowly increasing production, you can recover fully in time.
It's also essential to keep health considerations in mind. To prevent a secondary outbreak, businesses must take precautions like providing respiratory protection gear to keep employees safe. Maintaining higher health standards after the virus subsides will decrease the risk of any "aftershocks."
Manufacturing After Coronavirus
The coronavirus outbreak may slow the manufacturing industry, but it won't stop it. Manufacturers in the United States are already adapting to work within the confines of COVID-19. If the industry can change to fit its current situation, it can change back to normal after it's all over.
Recovery won't happen instantly, so you should be prepared to weather the storm for longer. But if the early signs in China have anything to say, it's that bouncing back is possible. It's challenging to be certain of anything at this time, but manufacturing certainly won't end because of the new coronavirus.
Comments (0)
This post does not have any comments. Be the first to leave a comment below.
---
Post A Comment
You must be logged in before you can post a comment. Login now.
Featured Product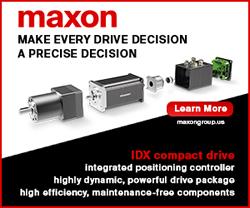 The compact brushless EC-i motor combined with an EPOS4 positioning controller delivers a highly dynamic, powerful drive package with field-oriented control (FOC), high efficiency, and maintenance-free components in a high-quality industrial housing. The maxon IDX drives are suitable for use across the entire speed range (from standstill to maximum speed) and have an extremely high overload capability. Together with a positioning controller, the integrated sensor (single turn) enables absolute positioning.