The first example of "Collaborative Industry" in the Italian ceramic manufacturing district has been set up with Ceramiche Mariner thanks to System Ceramics' Prime.
The need for production customization, the reduction of lot sizes, and the possibility of producing a unique product are the new challenges facing the manufacturing industry.
The complete digitalization of processes, the use of shared resources and the efficient management of data are fundamental elements for the development of a new industrial model designed for flexibility and sustainability.
The first completely digitalized factory for the production of ceramic tiles can be found in Roteglia, in the province of Reggio Emilia, in the heart of the Italian ceramics district. Ceramiche Mariner SpA is the company that has taken on the role of promoter of this new industrial approach and Prime is the software platform developed by System Ceramics which has made it possible to implement this concept of digital manufacturing.
From the processing of the raw materials to the completion of the finished product, Prime manages the entire production flow through sophisticated IT systems which, using modern IT systems, are able to monitor the entire process making use of a latest-generation graphic interface and through 3D technologies.
System Ceramics decided to adopt "edge computing" in order to implement this extraordinary project. We are living in an era of decentralized intelligence in which new standards for ceramic production are being defined. With edge computing, the Information Technology resources are positioned near the sources of data in a collaborative eco-system where the machines learn from people how to interpret and anticipate relationships between processes, giving rise to possible solutions that had been unimaginable until now.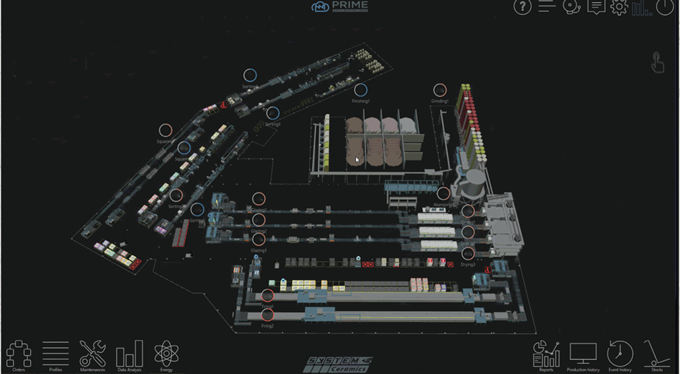 Ceramiche Mariner is an extraordinary example of horizontal integration and Collaborative Industry: the new factory represents the evolution towards an open architecture and an example of communication and collaboration that goes beyond the confines of the factory. The choice to use Prime reflects a new human-centered manufacturing concept, where the information generated inside the factory, managed and transformed through human intervention from a simple datum to useful knowledge for improving the process and value chain is at heart of the industry of the future.
"Our adventure with Prime was love at first sight. The 3D interface is simple and clear to use; it's user-friendly for everyone working with it inside our company. It's a tool that we all exploit, from the line operator to the department manager, from the technical manager to the production manager, from the laboratory technicians to the quality department, and including the company's top management. When I was invited to System Ceramics to see how Prime worked, I was struck by the visual immediacy with which the entire production system was faithfully represented, with the benefit of being able to adapt the platform to our requirements, like a garment specially tailored only for us.
In Mariner, the entire management of the factory therefore takes place through Prime, thanks to which I'm able to show my customers the state of the production progress, as well as a whole range of information, such as yields, shades, problems encountered and defects, in real time and from any part of the world. It's a genuine digital twin of the factory. The reaction of my customers has been truly extraordinary.
When we started with the development of the factory in 2016, we had a clear idea of the key elements underpinning it: flexibility, performance, quality and interconnection. We have fully achieved our objectives with Prime. In the month of October alone, for example, we produced 130 different articles, and those in the sector know how complex it is to manage such a wide range. This is just one demonstration of Prime's high level of flexibility and performance, which by analyzing data, provides information that makes it possible to take decisions of strategic importance. In some departments, we can even make a product change with a simple click. This was unthinkable a few years ago.
Another crucial aspect is the analysis that we can have on every single article, giving us the precise production costs, and even taking account of water and energy consumption, thus becoming a precious ally in commercial terms.
System Ceramics has created a powerful industrial efficiency-creating system, which operates on the basis of interconnection between all the departments, from the input into the factory of raw materials to the shipment of the finished goods. But we have only scratched the surface: Prime still has much more to offer us.
Mariner is a cutting-edge industrial project. We are proud of what's been done so far and, most of all, of having developed real 4.0 manufacturing in our own territory, with our own workers and with a first-class technological partner such as System Ceramics. We have a 100% digitalized factory, demonstrating a far-sighted entrepreneurial vision, envisaging a new way to do business." Giulia Catti, Ceramiche Mariner SpA.
This innovative approach represents a real evolution and transformation of System Ceramics' role which, from a constructor of systems and machines for the ceramic sector, has become a supplier of cutting-edge services, where the organizational structure and business model are redesigned in keeping with the fundamentals of mechatronics, finding its winning ally in digital transformation.
With regards to hardware, System Ceramics is focusing heavily on robotized automation, through which its technologies can change settings via software, without the intervention of an operator.
The company has already been committed to a process of digitalization for some time in order to offer customers smart manufacturing solutions that were very complex until not so long ago.
The computerization of production systems, the automatic reconfiguration of machines and total traceability, besides being a reality today for System Ceramics, have achieved great success and recognition at an international level among various operators in the sector.
These developments represent a major turning point for the ceramics industry, and System Ceramics has inevitably taken on the role of pioneer of this new era. The company based in Fiorano Modenese has been a leader in its sector for 50 years with its unmatchable innovative processes, opening up new application solutions in the manufacturing world and creating new standards.
Prime has introduced a new manufacturing approach, where man and machine dialogue through a software platform, completing one of the pillars of the new industrial paradigm: Collaborative Industry. As timeframes change and the nature of work changes, while at the same time people's knowledge and intellectual creativity are fundamental for conquering as yet unexplored territories, the Human -Machine interface becomes essential.
Comments (0)
This post does not have any comments. Be the first to leave a comment below.
---
Post A Comment
You must be logged in before you can post a comment. Login now.
Featured Product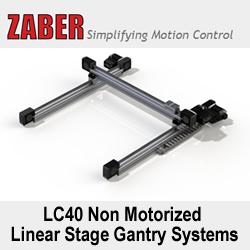 A Zaber gantry kit comes with everything you need to build a customized XY gantry system or XYZ gantry system. These gantry systems feature coordinated multi-axis motion, plug-and-play operation, easy integration with end-effector options, and built-in IO and E-Stop capabilities. An intuitive ASCII interface allows the user to easily communicate with the gantry systems using our free software, either Zaber Motion Library with APIs for several popular languages or Zaber Console. Third party terminal programs that can communicate over a serial port can also be used.