Manufacturing Trends for 2020 according to Pricefx
Manufacturing Trends for 2020 According to Gabriel Smith
In 2020, manufacturers are one tweet away from disaster. Those firms with a global footprint are particularly vulnerable in 2020. Gabriel Smith, the Chief Evangelist of Pricefx, insists to compete in 2020 (and beyond), manufacturers need to be prepared to react immediately to changing market conditions much quicker than the decade just ending.
Manufacturers must prepare for an unknown economic outlook and find ways to quickly adapt to changes like tariffs execute and change strategy and tactics, especially around pricing, in response. Manufacturers are increasingly managing multiple routes to market and channel disruption from the direct-to-consumer (D2C) model, more business-to-consumer (B2C) impact in business-to-business (B2B), the Amazon effect in more channels. As a result, there are more players using dynamic pricing to respond quickly to changing market conditions. Manufacturers will continue to see industry consolidation and increased price transparency as a result. Expect gray markets where customers have visibility to pricing in different markets as a result. Manufacturers will need to track cross market purchases compared to market trends to control this.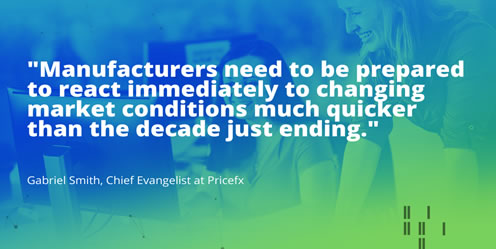 To address these changes, manufacturers can also manage price differentiation through rebates to reduce customer price visibility and increase the precision of incentives by paying for the desired performance instead of promises. They should measure markets and leading indicators and flag suspect behavior, if possible. Other strategies can include centralizing pricing strategies and tactics with regional inputs, and supply data driven recommendations to sales from this central group.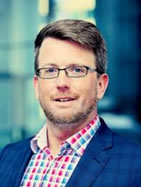 Gabriel Smith holds a Six-Sigma Green Belt with twenty years-experience in Pricing and Quote to Cash. He has been in the price optimization software industry for twelve of those years and worked with leading companies across many industries such as 3M, IBM, Iron Mountain, Emerson, and Smith's Group. Smith started his career at Cisco Systems, where he was part of the manufacturing team that structure the Sales BOMs and wrote the CPQ logic for configuring and pricing Cisco's products. Smith holds an interdisciplinary degree from UC Berkeley focused on the use of technology to gain competitive advantage in the market.
---
Manufacturing Trends for 2020 According to Garth Hoff
Some of the manufacturing 2020 trends impacting the chemical manufacturing sector suggest that global economic factors will continue to drive volatility for chemicals pricing by tariffs and duties, as well as oil and natural gas price variation. This will require pricing to be updated high frequency to mitigate against cost risks.
Although there will be dips and spikes, oil and natural gas prices will remain relatively low, driven by technology advances, new discoveries, and slowing of the global economy. Feedstock prices will remain low given both supply and demand factors. This will allow for efficient pricing but also will squeeze prices.
The digital revolution will continue to push chemical companies to invest in big data analytics and Artificial Intelligence (AI) driven by platforms, cloud applications, and IIoT (Industrial Internet of Things) for better pricing outcomes.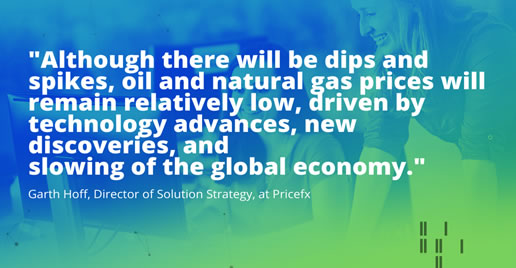 Rapid advances in technology and falling IT costs will unlock utilization of big data analytics, AI, and SaaS (and cloud infrastructure). This will drive improved economics of chemical products as well as unlocking faster and more accurate pricing to the market. Pricing strategy teams will have better economic, procurement, and demand forecasts. They will also have the ability to utilize new data and real-time value attributes to provide customer-specific pricing, perhaps even integrating back into the supply chain where both cost to serve and value are presented with unprecedented visibility to the customer.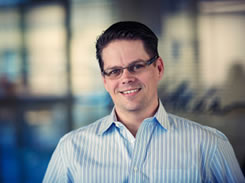 Garth Hoff, WW Director, Solution Strategy at Pricefx, leads the global solution strategy team at Pricefx. He currently focuses on helping companies make the best possible decision when investing in price management and optimization software. His 15 years of experience as a pricing practitioner and software executive includes products, services, B2B, B2C, and e-commerce focus at Ascend Performance Materials, IHS Markit, PROS, Orbitz.com, United Airlines, and Delphi Automotive Systems.
Comments (0)
This post does not have any comments. Be the first to leave a comment below.
---
Post A Comment
You must be logged in before you can post a comment. Login now.
Featured Product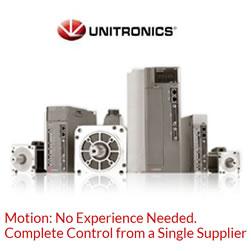 Unitronics' line of AC Servo Drives & Motors changes the traditional approach to motion control. They are simple to set up and painless to program. Unitronics Servos simplify implementation of motion applications while minimizing complexity and reducing development time. Some of the easy-to-use features in this new line include implementing motion control easily with ready-made motion code, embedded diagnostic tools, and automatic communication setup.