University of Tampere and VTT to lead robotisation of SMEs with a total funding of EUR 32 million
Within the next few years, robotics to enable agile production will be developed in Tampere, Finland in two projects under the EU's Horizon 2020 programme with a combined budget of EUR 32 million. The projects are coordinated by the University of Tampere and VTT, respectively.
The TRINITY project coordinated by the University of Tampere and the DIH2coordinated by VTT help SMEs in robotisation by providing them with new technical and standardised solutions, tailored training and access to Europe-wide competence networks. The projects enable digitisation of SMEs by means of cost-efficient robotics solutions for short production runs.
The electronics industry, automotive industry and other long-run production have been benefitting the most from robotics for a long time. In smaller companies, robotisation has not become as common at a similar pace. They often consider traditional industrial robotics too inflexible and difficult to apply to short-run production. Behind such thinking lie the outdated conceptions of the performance of robotics and its adaptability to changes in production. Recently, the willingness to make investments has also been affected by the lack of competent employees.
"The goal is to keep the European SMEs at the forefront of global competition by bringing each one in the circle of digital revolution. This will fast track to more production and jobs in Europe", says Ali Muhammad, who acts as coordinator of the DIH2 project at VTT.
"Flexible and efficiently used robotics is one of the methods by which Europe will be able to keep the manufacture and, consequently, the jobs on the continent," emphasises Minna Lanz, Professor of Mechanical Engineering at the University of Tampere and coordinator of the project.
Both projects last four years and offer R&D funding for application trials of individual companies. A total of EUR 16 million of funding will be channelled through projects based on open application.
TRINITY: human-robot collaboration in the manufacturing industry

In collaboration with the project consortium, the TRINITY project will present almost 20 advanced manufacturing applications for the needs of SMEs. The demonstrations take advantage of the latest technologies in robotics, industrial internet and data security. Public demonstrations will function as examples of the opportunities offered by modern robotics, and they can be developed further, adapting them to the needs of any interested companies.
In the project, the University of Tampere will focus on human-robot collaboration in the manufacturing industry. In the future, human-robot collaboration will be needed particularly in the manufacturing of short-run products of high quality.
The TRINITY project involves 16 partners around Europe. The partners comprise universities, research institutes, businesses and networks within the sector. In addition to the coordinator, In Finland the TRINITY consortium also includes Fastems from Tampere and CENTRIA University of Applied Sciences from Ylivieska.
Agile production network DIH2
The DIH2project is a pan-European network of agile production and robotics. It represents 26 European digital innovation hubs and aims at reaching more than 300,000 manufacturing industry SMEs. For companies, the DIH2consortium offers expertise and support for agile production challenges, including technologies, investments, standardisation, know-how and competences, as well as ethics, data and cyber security.
The DIH2consortium comprises 37 partners, 28 countries, including 26 innovation centres, and 10 companies providing operative expertise. 10 global business sponsors have pledged their support for the project.
Comments (0)
This post does not have any comments. Be the first to leave a comment below.
---
Post A Comment
You must be logged in before you can post a comment. Login now.
Featured Product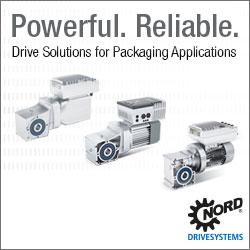 NORD's redesigned line of small CLINCHER parallel gear units showcase increased power and torque capacity for a variety of applications. These re-engineered versions will be replacing the existing SK0182NB, 0282NB, and 1382NB units. They are lightweight, have improved heat dissipation, are more cost-effective, and are available with NORD nsd tupHTM sealed surface conversion for wash-down and extreme environments.