Major Industry Growth Forecast as Largest Ever PACK EXPO International Opens
The largest PACK EXPO International and co-located Healthcare Packaging EXPO in history opens its doors today amidst forecasts of growth in the packaging industry. Based on the newly released State of the Industry U.S. Packaging Machinery Report by PMMI, The Association for Packaging and Processing Technology, owner and producer of the PACK EXPO portfolio of trade shows, packaging machinery shipments are forecast to grow to $10.5 billion.
"With so much growth in the packaging industry, PACK EXPO International is an invaluable event. It gives exhibitors and attendees the opportunity to see solutions from other vertical industries to assist in addressing production challenges and boost their company's ability to innovate," states Jim Pittas, president and CEO, PMMI. "You can learn firsthand the latest innovations in the industry to be on the forefront of your business."
Bringing together 2,500 exhibitors and 50,000 attendees across 1.25 million net square feet of McCormick Place exhibit space, no event in the world this year is poised to offer targeted solutions to meet this increasing demand like PACK EXPO International and Healthcare Packaging EXPO.
Per the State of the Industry report, the value of domestic shipments of packaging machinery rose 6.4 percent to $8.2 billion in 2017 – and are forecast to grow at a compound annual growth rate (CAGR) of 4.1 percent to 2023.
Food represents the largest packaging machinery sector in 2017, accounting for 36.6 percent of shipment revenues, followed by beverage at 22.1 percent. The pharmaceuticals sector is expected to grow the fastest to 2022, at a CAGR of 3.5 percent. While the largest machinery type category in 2017 was case handling at 15.1 percent, bottling line machinery is forecast to grow the fastest to 2023, with a CAGR of 5.3 percent.
E-commerce has influenced much of this market growth with the first quarter of 2018 e-commerce sales accounting for 9.5 percent of total retail sales, according to PMMI's recent report, E-Commerce: Think Inside the Box.
"Across all demographics, from Baby Boomers to Generation Z, a growing number of people are purchasing a large portion of their products online with greater frequency than ever before," says Paula Feldman, director of business intelligence, PMMI. "E-commerce operations need advanced equipment in order to keep up with demand, manufacturers are investing in smarter, automated functionality to achieve a greater level of machine flexibility."
Explore the findings of the State of the Industry report, E-Commerce report and more. Visit PMMI's online Business Intelligence library.
PACK EXPO International and Healthcare Packaging EXPO is open now through Wednesday, Oct. 17. Registration is available on-site for the remainder of the show.
About PMMI
PMMI, The Association for Packaging and Processing Technologies, represents more than 800 North American manufacturers and suppliers of equipment, components and materials as well as providers of related equipment and services to the packaging and processing industry. We work to advance a variety of industries by connecting consumer goods companies with manufacturing solutions through the world-class PACK EXPO portfolio of trade shows, leading trade media and a wide range of resources to empower our members. The PACK EXPO trade shows unite the world of packaging and processing to advance the industries they serve: PACK EXPO International, PACK EXPO Las Vegas, Healthcare Packaging EXPO, PACK EXPO East, EXPO PACK México, EXPO PACK Guadalajara and ProFood Tech. PMMI Media Group connects manufacturers to the latest solutions, trends and innovations in packaging and processing year-round through brands including Packaging World, Automation World, Healthcare Packaging, Contract Packaging, ProFood World and OEM. PMMI Business Drivers assist members in pursuing operational excellence through workforce development initiatives, deliver actionable business intelligence on economic, market and industry trends to support members' growth strategies and actively connect the supply chain throughout the year.
Learn more at pmmi.org and packexpo.com and pmmimediagroup.com.
Comments (0)
This post does not have any comments. Be the first to leave a comment below.
---
Post A Comment
You must be logged in before you can post a comment. Login now.
Featured Product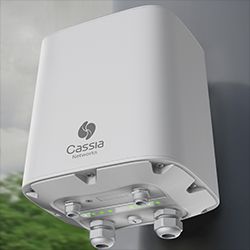 Cassia works with smart IIoT equipment manufacturers to help them overcome their challenges and to provide the competitive edge they need to reach their business goals. We provide companies in various IIoT sectors with a comprehensive suite of enterprise Bluetooth IoT products and solutions they need to enable smart IIoT solutions such as Condition Monitoring, Predictive Maintenance as well as Personnel and Asset Tracking solutions. Cassia's long-range Bluetooth gateways are uniquely designed for today's Industrial IoT enterprises to provide the scalability, flexibility and ease of deployment needed to reduce costs and achieve greater ROI.