GE and Microsoft expand partnership to accelerate IIoT adoption
Malek Murison for Internet of Business: GE and Microsoft have significantly expanded their partnership to provide a simpler path for industrial companies taking on digital transformation projects.
The move will see GE Digital standardise its Predix solutions for Microsoft Azure, and integrate the Predix portfolio with Azure's cloud-based data and analytics tools.
GE and Microsoft will co-sell their combined IIoT solutions across a range of verticals. Meanwhile, GE will be harnessing Microsoft Azure to streamline its own business processes, applying Azure's IT workload and productivity tools to drive innovation internally.
Microsoft and GE are betting on industrial customers seeing the value in a joint solution that combines GE Digital's expertise in industrial data-gathering, storage, and analysis, with Microsoft's expanding range of cloud tools. Full Article:
Comments (0)
This post does not have any comments. Be the first to leave a comment below.
---
Post A Comment
You must be logged in before you can post a comment. Login now.
Featured Product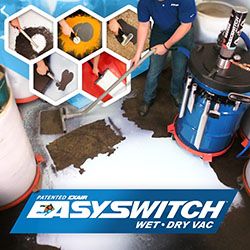 EXAIR's Soft Grip Super Air Scraper is a safety air gun designed to help remove the most stubborn debris found within industrial facilities. The patent pending design uses a scraping blade to assist the powerful compressed air flow removal of debris. This product is perfect for removal of caulk, gaskets, sealant, adhesives, tape, paint, stickers, labels, grease, lubricant and difficult to sweep metal chips, flakes or discs. It will help keep your machining tables, sub plate and assembly stations clean and functional. The corrosion resistant scraper blade is attached to a 2 inch Flat Super Air Nozzle and a ¾ inch extension to provide the strength and durability necessary for many of your toughest cleaning and housekeeping challenges. Extensions for the Soft Grip Super Air Scraper are available from 6 inches to 72 inches long to aid in cleaning table tops, inside machines, reaching the floor or other remote surfaces. Chip shields are also available. www.exair.com/184/sgsasext.htm