New Story and ICON Unveil First Permitted 3D-Printed Home Created for the Developing World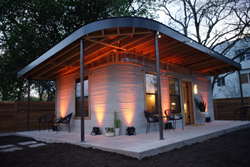 The first permitted, 3D-printed home created specifically for the developing world was unveiled today in Austin, Texas by New Story, the non-profit working to create a world where no human being lives in survival mode, and ICON, the newly launched construction technologies company leading the way into the future of homebuilding by using 3D printing to make major advancements in affordability, building performance, sustainability and customizability.
The 3D-printed home serves as proof-of-concept for sustainable homebuilding that will allow for safer, more affordable homes for more families, faster than ever. The printer, called the Vulcan, is designed to work under the constraints that are common in places like Haiti and rural El Salvador where power can be unpredictable, potable water is not a guarantee and technical assistance is sparse. It's designed to tackle housing shortages for vulnerable populations instead of building with profit motivation.
"We feel it's our responsibility to challenge traditional methods and work toward ending homelessness. Linear methods will never reach the billion+ people who need safe homes," said Brett Hagler, CEO of New Story. "By working with ICON and leveraging their 3D printing innovations, we're able to reach more families with the best possible shelter solutions, exponentially faster."
"Conventional construction methods have many baked-in drawbacks and problems that we've taken for granted for so long that we forgot how to imagine any alternative," says Jason Ballard, co-founder of ICON. "With 3D printing, you not only have a continuous thermal envelope, high thermal mass, and near zero-waste, but you also have speed, a much broader design palette, next-level resiliency, and the possibility of a quantum leap in affordability. This isn't 10% better, it's 10 times better."
The portable printer is designed to function with near zero-waste and to work under unpredictable constraints (limited water, power, and labor infrastructure) to tackle housing shortages in underserved communities throughout the world. New Story's goal for this project is to print the first community of homes for underserved families in El Salvador in the coming 18 months, and then through partnerships, scale up production to serve additional communities over the next few years. Housing will feature cutting-edge materials tested to the most recognized standards of safety, comfort and resiliency.
More than just New Story using the technology to reach more families, the hope is that this catalytic R&D project that will influence the sector as a whole. Through the technology, the team will learn, iterate, and then share the technology with other nonprofits and governments to help everyone improve and reach families faster.
The high-powered innovators behind ICON and the first global initiative with New Story include a cross section of engineers, environmentalists, designers and entrepreneurs. ICON and New Story worked in close partnership with several other organizations to develop the Vulcan printer including Pump Studios, Yaskawa Electric, Alchemy Builders, TreeHouse, Andrew Logan Architecture, Linestar Automation and The University of Texas.
About New Story
New Story is a non-profit working to create a world where no human lives in survival mode by providing one of life's most basic needs - shelter. The organization currently works in Mexico, Haiti, El Salvador, and Bolivia and, in just three years, has funded more than 1,400 homes for families in need. 850+ of those homes have been built and families have moved in. Their 100% model ensures that every penny of each donation goes to build homes while organization overhead and R&D is covered by private donors such as Y Combinator, prominent venture capitalists, and other leading executives. The current $6,500 homes are built to last for generations and each donation is paired directly with a family so donors can see their impact. See more at https://newstorycharity.org/
About ICON
ICON is a construction technologies company dedicated to revolutionizing homebuilding. Through their proprietary 3D printing technology and cutting-edge materials, ICON provides sustainable solutions to a number of our world's most pressing issues, including the pandemic of homelessness in the developing world, the difficulty of constructing off-planet space habitats, and the exorbitant cost of customized housing. ICON has recently built the first permitted, 3D-printed home in America in partnership with the non-profit New Story, and is working with them to create a mobile printer for the developing world that has the ability to print a single story, 600-800 square foot home in under 24 hours for less than $4000. As a part of that effort, ICON has developed cutting-edge materials tested to the most recognized standards of safety, comfort and resiliency and is designed to function with nearly zero waste production methods and work under unpredictable constraints (limited water, power, and labor infrastructure) to tackle housing shortages. For more information, visit https://iconbuild.com/ or follow on Instagram and Twitter @ICON3DTech.
Comments (0)
This post does not have any comments. Be the first to leave a comment below.
---
Post A Comment
You must be logged in before you can post a comment. Login now.
Featured Product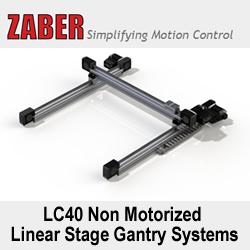 A Zaber gantry kit comes with everything you need to build a customized XY gantry system or XYZ gantry system. These gantry systems feature coordinated multi-axis motion, plug-and-play operation, easy integration with end-effector options, and built-in IO and E-Stop capabilities. An intuitive ASCII interface allows the user to easily communicate with the gantry systems using our free software, either Zaber Motion Library with APIs for several popular languages or Zaber Console. Third party terminal programs that can communicate over a serial port can also be used.