How Executives Around The World View Industry 4.0
Forbes Insights With Deloitte: How will the Fourth Industrial Revolution play out? It often depends on where in the world you live. The Fourth Industrial Revolution, also referred to as Industry 4.0, is the marriage of the physical world with digital technologies like analytics, artificial intelligence, cognitive technologies and the internet of things (IoT). To better understand the Fourth Industrial Revolution's impact on business, Forbes Insights and Deloitte surveyed more than 1,600 executives in the Americas, Asia-Pacific and EMEA for "The Fourth Industrial Revolution Is Here—Are You Ready?," asking them to share their views on four major areas: social impact, strategy, workforce and technology.
In this article, we compare how executives' responses varied by region, assessing which topics they saw eye to eye on and where they diverged.
Where Executives See Eye To Eye
Role of businesses: A majority of executives realize that shaping the society in which the Fourth Industrial Revolution unfolds is within their purview. More than two-thirds believe that business organizations will have the biggest influence on how Industry 4.0 will shape our lives. Full Article:
Comments (0)
This post does not have any comments. Be the first to leave a comment below.
---
Post A Comment
You must be logged in before you can post a comment. Login now.
Featured Product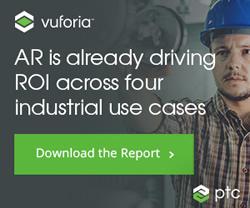 Learn how manufacturers are using augmented reality to onboard new workers faster and to help workers of all skill levels become more effective. Analytics and automation have changed manufacturing operations. Now, augmented reality is similarly transforming human operations. Manufacturers that have embraced AR are seeing newer workers develop skills faster and workers of all skill levels become more effective and responsive. Download this free analyst white paper from ARC Advisory Group to learn how AR is driving value for manufacturers.