Novel 3D printing technique yields high-performance composites
Harvard John A. Paulson School of Engineering and Applied Sciences: Nature has produced exquisite composite materials—wood, bone, teeth, and shells, for example—that combine light weight and density with desirable mechanical properties such as stiffness, strength and damage tolerance.
Since ancient civilizations first combined straw and mud to form bricks, people have fabricated engineered composites of increasing performance and complexity. But reproducing the exceptional mechanical properties and complex microstructures found in nature has been challenging.
Now, a team of researchers at the Harvard John A. Paulson School of Engineering and Applied Sciences (SEAS) has demonstrated a novel 3D printing method that yields unprecedented control of the arrangement of short fibers embedded in polymer matrices. They used this additive manufacturing technique to program fiber orientation within epoxy composites in specified locations, enabling the creation of structural materials that are optimized for strength, stiffness, and damage tolerance.
Their method, referred to as "rotational 3D printing," could have broad ranging applications. Given the modular nature of their ink designs, many different filler and matrix combinations can be implemented to tailor electrical, optical, or thermal properties of the printed objects.
"Being able to locally control fiber orientation within engineered composites has been a grand challenge," said the study's senior author, Jennifer A. Lewis, Hansjorg Wyss Professor of Biologically Inspired Engineering at Harvard SEAS. "We can now pattern materials in a hierarchical manner, akin to the way that nature builds." Lewis is also a Core Faculty Member of the Wyss Institute for Biologically Inspired Engineering at Harvard. Full Article:
Comments (0)
This post does not have any comments. Be the first to leave a comment below.
---
Post A Comment
You must be logged in before you can post a comment. Login now.
Featured Product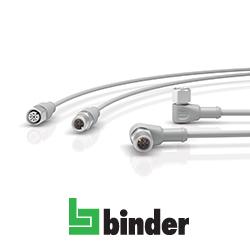 binder USA, LP, has expanded the M12 product family with the addition of the M12 A-Coded Connector, which is now certified for both Ecolab and FDA Code of Federal Regulations (CFR) Title 21 standards. The M12 A-Coded connectors are extraordinarily durable and IP69K-rated, ideal for harsh-duty and washdown applications in the food and beverage, pharmaceutical, and chemical industries. Available in 3, 4, 5, 8, and 12 contacts, the high quality stainless steel locking rings (V4A) and gold contact plating can also withstand UV exposure and shock and vibration.