Huawei advances its Smart Factory push with 5G-based Robot as a Service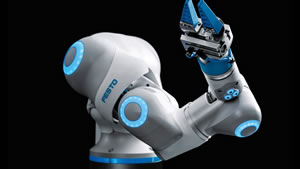 Guy Daniels for TelecomTV: Huawei has signed an MoU with German industrial control and automation company Festo to jointly explore the 5G network application of manufacturing. Their joint aim is to promote the digital transformation of the manufacturing industry with 5G slicing technology, as well as further Huawei's ongoing commitment to what it calls the Smart Factory.
The MoU is based on 5G Cloud Robotics to test a Robot as a Service (RaaS) concept, which is part of the digital transformation within the manufacturing industry that supports the shift from mass production to mass customisation and offers value-based services in smart factories. The idea is that computation is moved from the robot to the fabrication cloud and that due to the requirements for low latency in the control loop, 5G must be used to link both cloud and robot.
"5G will meet the diversified network needs of industry, enabling more vertical industry applications with end-to-end slicing solutions," said Yang Chaobin, President of Huawei's 5G Network Product Line. "Huawei will work with vertical industries to explore new 5G applications and create greater value. Our cooperation with Festo will promote development of an intelligent manufacturing industry."
The 5G Cloud Robot project is based on a moving robot platform that consists of a handling apparatus (i.e. a robotic arm) with six degrees of freedom. An uRLLC (Ultra Reliable and Low Latency Communications) network slice is used to achieve the real-time and high reliability requirements of the closed control loop for the arm. Trajectories and control messages are calculated in the fabrication cloud and ensures the scalability of the computing power and energy savings on the robot platform. Full Article:
Comments (0)
This post does not have any comments. Be the first to leave a comment below.
---
Post A Comment
You must be logged in before you can post a comment. Login now.
Featured Product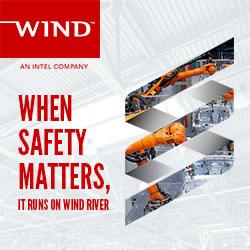 When it comes to ensuring the development of can't-fail systems, Wind River® is a leader with a proven track record of success. With more than 30 years of experience in embedded software and a portfolio of products deployed across more than 2 billion devices, Wind River delivers safety and security when it counts most. From industrial automation to automotive systems, as well as in healthcare devices, railway operations, and throughout the aerospace and defense sector, Wind River has extensive expertise providing built-in safety for complex, connected, safety-critical systems.