This NYC Startup Just Raised $5M to Make Manufacturing in America Viable Again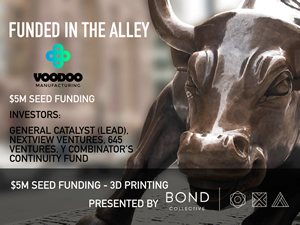 By AlleyWatch: Whether manufacturing returns to the United States at scale is yet to be determined. However, one thing that is certain is that with the advent of 3D printing and robotics, manufacturing will not be the same. Voodoo Manufacturing is poised to capitalize on this with its software driven 3D printing factory that minimizes costs associated with manufacturing and cuts lead times for mass production. Founded in Brooklyn in 2015 by former MakerBot employees, the startup has raised a total of $6.65M over three rounds and this latest funding is providing the firepower to build the future of automation in manufacturing.
Today we sit down with Max Friefeld, cofounder and CEO of Voodoo Manufacturing to discuss the startup, the future of manufacturing, and the company's latest funding round.
Who were your investors and how much did you raise?
We raised a $5M seed extension round led by General Catalyst, with participation from NextView Ventures, 645 Ventures, and Y Combinator's Continuity Fund.
Tell us about your product or service.
Voodoo Manufacturing is a software-enabled 3D printing factory that works with major brands to produce high-quality products, prototypes and parts at scale. We have manufactured 3D printed parts for major brands like Microsoft, Viacom, Mattel, Intel, Autodesk, and more.
At Voodoo, we minimize the cost and lead-time for mass production and customization, making it possible for consumers to have a completed customized product overnight. Compared to traditional manufacturing, 3D printing increases design freedom and serves as a low-cost alternative to traditional manufacturing.
What inspired you to start the company?
The idea for Voodoo started while our team was at Makerbot. They had internal "Bot farms" where they made sample parts and ran select projects for customers. At one point, we realized this could be turned into a larger business and convinced them to let us take it out on our own. We left MakerBot in May 2015, publicly launched in October 2015, and have been growing since. Full Q&A:
Comments (0)
This post does not have any comments. Be the first to leave a comment below.
---
Post A Comment
You must be logged in before you can post a comment. Login now.
Featured Product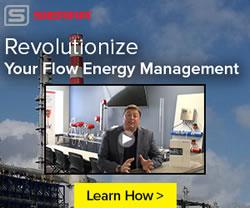 Sierra Instruments announces the launch of its new flow energy solution for managing and optimizing flow measurement for industrial facilities of all sizes. It features Sierra's QuadraTherm 640i/780i thermal flow meters, their InnovaMass 240i/241i vortex flow meters, and their new InnovaSonic 207i ultrasonic flow meter. Designed, built, and calibrated in the USA by Sierra, the Big-3TM share the same revolutionary Raptor firmware and many of the same software apps. They are a complete flow energy solution for flows like compressed air, natural gas, steam, and hot and chilled water. Together, they set a new standard in ease-of-purchase, performance, accuracy, reliability, and ease of use.