The US Navy 3D printed a concept submersible in four weeks
Andrew Liptak for The Verge: Militaries around the world have eyed 3D printing as a cost and time-effective resource for future missions, whether it's printing up replacement parts for warplanes, grenade launchers, or meals for soldiers. Recently, the US Navy has partnered with the Oak Ridge National Laboratory to develop a proof-of-concept submersible that was printed in under four weeks.
The idea of printing up weapons or vehicles is something out of science fiction, but this is something that the military could begin using in the next couple of years, if everything goes well. The 3D printed submersible was developed by a team from the Naval Surface Warfare Center (NSWC) and Carderock Division's Disruptive Technology Laboratory (DTL), and comes with the cumbersome name Optionally Manned Technology Demonstrator, which is based on a submersible currently used by Navy SEALs.
The team began work in August 2016, and used a massive industrial 3D Pinter called Big Area Additive Manufacturing (BAAM) to manufacture six carbon fiber sections, which were then assembled into the 30 foot long vehicle. The team was given four weeks to develop the hull, spending the first week designing it, and began printing the components a week later. It's now the Navy's largest 3D printed asset. Full Article:
Comments (0)
This post does not have any comments. Be the first to leave a comment below.
---
Post A Comment
You must be logged in before you can post a comment. Login now.
Featured Product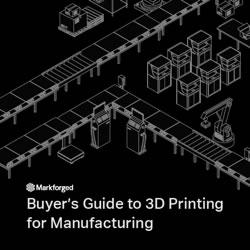 3D printing has become a powerful force in today's manufacturing industry from prototyping to tooling and fixtures to custom, end-use parts. Many businesses struggle to find the right solutions to fit their needs and provide ROI. Selecting the right platform to prevent manufacturing roadblocks is vital to optimizing your manufacturing line productivity. Download the all new buyer's guide to help you evaluate the benefits of 3D printing and dispel misconceptions, understand the pros/cons of various 3D printing processes and materials, and assess the key considerations in selecting a 3D printer.