This 3D-Printer Uses Holograms for Super-Fast Printing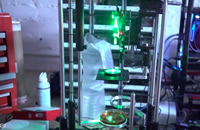 Patrick Lynch for Arch Daily: One established 3D-printing technique is using laser to cure light-activated plastic, building up layers one at a time in a time-consuming process. But now tech start-up Daqri has discovered a way of speeding up that process: by using a 3-dimensional hologram. The printer works by projecting a 3D light field into a dish of the light sensitive monomer "goo." The plastic quickly hardens, allowing it to be extracted using a screen. The whole process takes just 5 seconds, compared to the several minutes than would be required by an ordinary 3D printer.
In addition to its increased speed, the printer also creates monocoque objects that don't suffer from the weaknesses found in the "grain" between layers of 3-D objects. The process would also eliminate the need for supporting structures currently required to create some 3D objects. Cont'd...
Comments (0)
This post does not have any comments. Be the first to leave a comment below.
---
Post A Comment
You must be logged in before you can post a comment. Login now.
Featured Product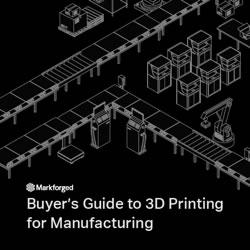 3D printing has become a powerful force in today's manufacturing industry from prototyping to tooling and fixtures to custom, end-use parts. Many businesses struggle to find the right solutions to fit their needs and provide ROI. Selecting the right platform to prevent manufacturing roadblocks is vital to optimizing your manufacturing line productivity. Download the all new buyer's guide to help you evaluate the benefits of 3D printing and dispel misconceptions, understand the pros/cons of various 3D printing processes and materials, and assess the key considerations in selecting a 3D printer.