Spanish City Installs 3D-Printed Bridge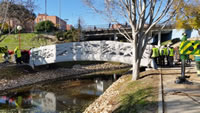 Jen Kinney for Next City: Alcobendas, Spain, this week unveiled a 3D-printed pedestrian bridge, reports 3ders.org, a 3D printing news site. The approximately 40-foot concrete bridge is made up of eight separate parts that fit together, and was created using an additive manufacturing process. It spans a small canal in Castilla La Mancha Park.
According to a statement from the Alcobendas City Council, the 3D printing process resulted in far less waste than normally produced while creating concrete structures, making it less expensive than traditional processes.
Large-scale 3D printing holds the promise of versatility — since structural elements can be created without molds or forms — and of sustainability, since raw material can often be recycled and fewer resources are required during manufacture. Cont'd...
Comments (0)
This post does not have any comments. Be the first to leave a comment below.
---
Post A Comment
You must be logged in before you can post a comment. Login now.
Featured Product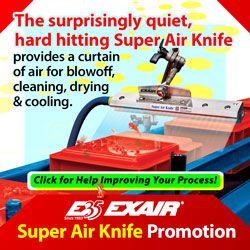 EXAIR Cabinet Cooler® Systems are a low cost, easy to install, maintenance free way to cool and purge electronic control panels. EXAIR Cabinet Coolers incorporate a vortex tube that produces cold air from ordinary compressed air - with no moving parts. The compact Cabinet Cooler can be installed in minutes through a standard electrical knockout. NEMA 12, 4, and 4X (IP54 and IP66) Cabinet Coolers that match the NEMA rating of the enclosure are available in many cooling capacities for large and small control panels. NEMA 12 Cabinet Coolers are ideal for general industrial environments where no liquids or corrosives are present. NEMA 4 Cabinet Coolers incorporate a low pressure relief valve for both the vortex tube and cabinet air exhaust. This valve closes and seals when the cooler is not operating to maintain the integrity of a NEMA 4 enclosure. NEMA 4X Cabinet Coolers offer the same protection as NEMA 4 but are constructed of stainless steel for food service and corrosive environments.