MIT's Foundry software is the 'Photoshop of 3D printing'
Andrew Dalton for enGadget: Because the materials from a 3D printer aren't the most functional, their output has largely been limited to prototyping in the past. That should change in the near future with devices like MIT's own MultiFab, which can print up to 10 different materials at a time, but it still doesn't solve the problem of how to design such complex objects. That's where the new program called Foundry, created by MIT's Computer Science and Artificial Intelligence Laboratory comes in.
According to MIT CSAIL, Foundry can import objects designed with traditional CAD programs like SolidWorks and then assign specific materials or properties to different parts of the object. While creating a multi-material object in the past might have required days of work and multiple 3D printers to create (assuming it was possible with existing technology at all), CSAIL says these sorts of designs can now be created in mere minutes. Rather than manufacturing a separate piece for each material in the finished product, the entire object can now be printed in one fell swoop. Cont'd...
Comments (0)
This post does not have any comments. Be the first to leave a comment below.
---
Post A Comment
You must be logged in before you can post a comment. Login now.
Featured Product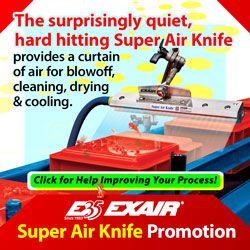 EXAIR Cabinet Cooler® Systems are a low cost, easy to install, maintenance free way to cool and purge electronic control panels. EXAIR Cabinet Coolers incorporate a vortex tube that produces cold air from ordinary compressed air - with no moving parts. The compact Cabinet Cooler can be installed in minutes through a standard electrical knockout. NEMA 12, 4, and 4X (IP54 and IP66) Cabinet Coolers that match the NEMA rating of the enclosure are available in many cooling capacities for large and small control panels. NEMA 12 Cabinet Coolers are ideal for general industrial environments where no liquids or corrosives are present. NEMA 4 Cabinet Coolers incorporate a low pressure relief valve for both the vortex tube and cabinet air exhaust. This valve closes and seals when the cooler is not operating to maintain the integrity of a NEMA 4 enclosure. NEMA 4X Cabinet Coolers offer the same protection as NEMA 4 but are constructed of stainless steel for food service and corrosive environments.