Disney files patent for near instantaneous 3D printing
Lucas Mearian for ComputerWorld: Disney Research has filed a patent for a 3D printing technology that uses high-intensity light to harden photo-sensitive resin in a single process, removing the need for layer-by-layer printing.
The patent describes a machine for printing in "a nearly instantaneous manner."
"Presently, 3D printing is extremely slow and time consuming. For example, it may take several hours to print a single 3D object even if the 3D object is relatively small (e.g., several inches in diameter and four to 12 inches tall)," Disney stated in its patent filing. "The 3D printing process that uses conventional 3D printers ... is limited in its speed by the speed of the mechanism moving the print head to each new position on a print layer." Cont'd...
Comments (0)
This post does not have any comments. Be the first to leave a comment below.
---
Post A Comment
You must be logged in before you can post a comment. Login now.
Featured Product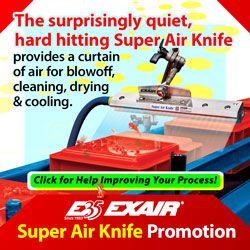 EXAIR Cabinet Cooler® Systems are a low cost, easy to install, maintenance free way to cool and purge electronic control panels. EXAIR Cabinet Coolers incorporate a vortex tube that produces cold air from ordinary compressed air - with no moving parts. The compact Cabinet Cooler can be installed in minutes through a standard electrical knockout. NEMA 12, 4, and 4X (IP54 and IP66) Cabinet Coolers that match the NEMA rating of the enclosure are available in many cooling capacities for large and small control panels. NEMA 12 Cabinet Coolers are ideal for general industrial environments where no liquids or corrosives are present. NEMA 4 Cabinet Coolers incorporate a low pressure relief valve for both the vortex tube and cabinet air exhaust. This valve closes and seals when the cooler is not operating to maintain the integrity of a NEMA 4 enclosure. NEMA 4X Cabinet Coolers offer the same protection as NEMA 4 but are constructed of stainless steel for food service and corrosive environments.