Industrial IoT Market Nears $132 Billion in 2020: Technavio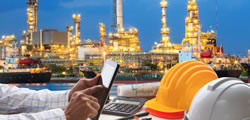 Pedro Hernandez for Datamation:  The Internet of Things (IoT) is expected to have a major, efficiency- and productivity-enhancing impact on how manufacturers and other companies in industrial settings conduct businesses. A new forecast from market research firm Technavio paints a rosy picture for IT vendors that specialize in industrial IoT.
According to the analyst group, the market for industrial IoT software and services will reach nearly $132 in 2020. Between now and then, the market will expand at a compound annual growth rate (CAGR) of 7 percent.
In terms of demand, Technavio has identified the Asia-Pacific (APAC) region as the largest market for industrial IoT.
Last year, the industrial IoT market generated $38 billion in sales in the region, a number that will reach $54 billion in 2020. APAC countries are investing heavily, including South Korea, which plans to pour over $3.6 billion into the IoT by 2020. Â Cont'd...
Comments (0)
This post does not have any comments. Be the first to leave a comment below.
---
Post A Comment
You must be logged in before you can post a comment. Login now.
Featured Product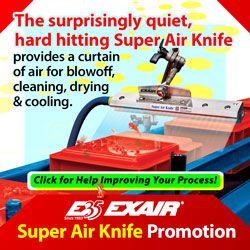 What Is The Super Ion Air Knife? EXAIR's Super Ion Air Knife removes static electricity from plastics, webs, sheet stock and other product surfaces where tearing, jamming or hazardous shocks are a problem. The laminar sheet of air sweeps surfaces clean of static, particulate, dust and dirt. Production speeds, product quality, and surface cleanliness can improve dramatically. Why The Super Ion Air Knife? The Super Ion Air Knife floods an area or surface with static eliminating ions - up to 20 feet (6.1m) away. A uniform airflow across its length will not cause misalignments to critical surfaces such as webs. Force can be adjusted from a "blast" to a "breeze". The Super Ion Air Knife is electrically powered, is shockless and has no moving parts. It also requires only 3.7 SCFM of compressed air per foot of length at 5 PSIG (105 SLPM per 300mm of length at 0.3 BAR). Sound level is surprisingly quiet at 50 dBA for most applications.