U.S. official sees more cyber attacks on industrial control systems
Jim Finkle for Reuters: A U.S. government cyber security official warned that authorities have seen an increase in attacks that penetrate industrial control system networks over the past year, and said they are vulnerable because they are exposed to the Internet.
Industrial control systems are computers that control operations of industrial processes, from energy plants and steel mills to cookie factories and breweries.
"We see more and more that are gaining access to that control system layer," said Marty Edwards, who runs the Department of Homeland Security's Industrial Control Systems Cyber Emergency Response Team, or ICS-CERT.
ICS-CERT helps U.S. firms investigate suspected cyber attacks on industrial control systems as well as corporate networks.
Interest in critical infrastructure security has surged since late last month when Ukraine authorities blamed a power outage on a cyber attack from Russia, which would make it the first known power outage caused by a cyber attack. Cont'd...
Comments (0)
This post does not have any comments. Be the first to leave a comment below.
---
Post A Comment
You must be logged in before you can post a comment. Login now.
Featured Product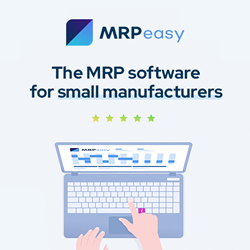 Always know what you have in stock and what you'll need to fulfill orders. Never forget to order parts on time or fail to notice a late delivery from your vendor. Easily create manufacturing orders and schedule them automatically according to resource availability or delivery deadline. Generate accurate cost and lead time estimates and provide customers with quick quotes. Receive notifications when orders are late or inventory levels reach a critical point. Ensure seamless communication between sales, production, warehousing, procurement, administration, and finance. Integrate with popular accounting, CRM, and e-commerce apps. MRPeasy is an ERP software for small manufacturers that gives you all that and more. Our users report a 54% average improvement in the overall performance of their business and a 42% increase in on-time deliveries. Try for free, no credit card needed.