MesoGlue: Room Temperature Metallic Glue
From Hanchen Huang of Northeastern University:
MesoGlue is our revolutionary joining solution that lets you attach items together with a metal bond, at room temperature. This is like welding or soldering, but without the heat! The patented process gives you the strength and thermal/electrical conductance of a metal bond, with the ease of attachment of glue or tape. Surfaces are merely pressed together to form a very strong connection.
Our MesoGlue technology can be applied to nearly any flat surface. The surface can be rigid or flexible, and roll-to-roll processing is possible. We currently offer coating of two joining surfaces at our state of the art processing facility. Items of up to approximately 1 cubic foot can be accommodated.
MesoGlue Silver:
A pure silver bond offering the highest electrical and thermal conductivity. Formation of the bond requires moderate pressure.
MesoGlue Eutectic:
A bond made of primarily copper with other metals added to help the process. Formation of the bond requires only fingertip pressure.
Comments (0)
This post does not have any comments. Be the first to leave a comment below.
---
Post A Comment
You must be logged in before you can post a comment. Login now.
Featured Product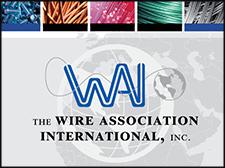 INTERWIRE will bring you back to the future of wire making with an Industry 4.0 theme. Automation, AI, robotics, data analytics, and machine learning affect the way wire is made and how well companies compete on the world stage. Ready or not, change has arrived. You are invited to INTERWIRE to explore what is imminent, what is here to stay, and what these changes mean for your plant, personnel, and production goals. Visit often for developing details on the industry 4.0 Pavilion, speakers, conference sessions, production demos, exhbits, and an inspiring new format.