Factory Automation Will Speed Forward with A.I., Says Bernstein
By Tiernan Ray for Barron's: Bernstein Research's Alberto Moel, who follows tech-industrial companies such as Corning(GLW) and AU Optronics (AUO), this afternoon offered up a thinks piece on robotics andfactory automation, arguing that some of the costs of automation beyond the basic cost of the robot are about to get dramatically cheaper, thanks in large part to artificial intelligence akin to what Alphabet (GOOGL) and others are doing.
Moel notes that the basic components of factory robots are only falling by perhaps 6% per year, their cost reduction bounded by things such as casings and servomotors and reduction gears that don't rapidly fall in cost.
But, writes Moel, the cost to install and adjust these machines on a factory floor is ten times their component cost and that stuff can be reduced more dramatically:
How much this integration costs varies widely. An often-cited rule of thumb is that a $50,000 robot will need $500,000 of integration costs before it is all said and done. Of course, these integration costs can be amortized over many robots, so perhaps a better estimate would be 3-5x the robot cost [...] But I do believe we are at an inflection pointthat will materially increase the capability of automation systems and substantially reduce programming, setup, and fixturing costs which are the largest cost element in most automation efforts. So instead of a measly 6% YoY cost reduction , we get 25-30% YoY declines, and automation Nirvana. Cont'd...
Comments (0)
This post does not have any comments. Be the first to leave a comment below.
---
Post A Comment
You must be logged in before you can post a comment. Login now.
Featured Product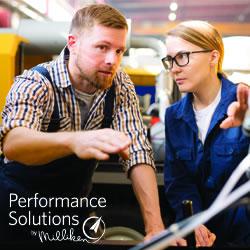 Performance Solutions by Milliken is a dedicated consulting and training group that helps guide businesses toward success. From supply chain, to operations and safety, we're dedicated to developing sustainable results for our clients through the implementation of a holistic operating system. We believe engaging all associates in the process will systematically transform your company to create efficiency, uncover hidden capacity, and generate long-term gains. Are you ready to reinvent your operations and transform your organization? Let's get started.