Accelerate Industrial Automation with 7x PCIe, DDR5, and 12/13th Gen Intel® Core™
Summary:

New industrial ATX motherboard supports 12/13th Gen Intel® Core™ processors.
Faster performance, higher capacity, and next-gen GPU support with seven PCIe slots, PCIe 5.0, DDR5, and 2.5GbE PoE
Ideal for industrial automation, machine vision, factory automation, and logistics
ADLINK Technology Inc., a global leader in edge computing, a global supplier of industrial PCs and motherboards, and a Titanium member of the Intel® Partner Alliance, announces the launch of the new IMB-M47 industrial ATX motherboard for 12th and 13th Gen Intel® Core™ i9/i7/i5/i3 processors. The IMB-M47 ATX motherboard delivers high-performance computing power, with multiple I/O and expansion ports, including three simultaneous independent displays, USB 3.2 Gen2x2 (20Gb/s), up to 128GB DDR5 4800MHz, 3x 2.5GbE, multi-M.2 Key M, TPM 2.0, and PCIe 5.0 high-performance add-on cards for complex Edge AIoT processing tasks in industrial automation, machine vision, factory automation, and logistics.
The IMB-M47 industrial ATX motherboard supports 12th and 13th Gen Intel® Core™ processors that utilize a high-performance hybrid architecture with up to sixteen E-cores (Efficient-cores) for multi-threaded background task management and multitasking, and up to eight P-cores (Performance-cores) for demanding single-threaded work such as graphics and video rendering. The 13th Gen Intel® Core™ processors speed up edge applications that benefit from faster memory performance with faster DDR5 memory.
"Since the successful introduction of next-generation connectivity such as DDR5, PCIe 5.0, and 2.5GbE to ADLINK's industrial ATX motherboard portfolio, the next step is to embrace the latest processors. With 12th Gen firmly established, 13th Gen now brings an additional boost for cutting-edge speed and performance increases that enable new opportunities for our customers." said HC. Lin, ADLINK's Product Manager of Edge Computing Platforms BU. "Keeping on top of the latest developments helps keep our customers one step ahead of the technology curve, allowing them to start developing new solutions as quickly as possible, while still backing them up with unparalleled support through ADLINK's extensive selection of pre-validated motion, vision, and I/O cards that provide a one-stop, fully integrated solution to help them speed up deployment."
The ADLINK IMB-M47 industrial ATX motherboard includes some of the fastest interfaces on the market today, with continued support for ADLINK's range of pre-validated PCI/PCIe expansion cards for motion, vision, and I/O that provide fast and convenient deployment for real-time graphics processing in automation applications. The IMB-M47 utilizes the latest technological advances in computing, including 12/13th Gen Intel® processors, 7x PCIe slots (PCIe 5.0 single x16 or dual x8, 2x PCIe 4.0 x4, and 3x PCIe 3.0 x1), DDR5 (up to 128GB and 4800MHz), 2.5 GbE LAN (with PoE support) with security and manageability features, and AI enablement to help boost productivity and fuel future innovation in Edge AI applications.
For additional product information, visit: https://www.adlinktech.com/Products/Industrial_Motherboards_SBCs/ATXMotherboards/IMB-M47
About ADLINK Technology
ADLINK Technology Inc. (TAIEX:6166) leads edge computing, the catalyst for a world powered by artificial intelligence. ADLINK manufactures edge hardware and develops edge software for embedded, distributed, and intelligent computing - from powering medical PCs in the intensive care unit to building the world's first high-speed autonomous race car - more than 1600 customers around the world trust ADLINK for mission-critical success. ADLINK holds top-tier edge partnerships with Intel, NVIDIA, AWS, and SAS, and also participates on the Intel Board of Advisors, ROS 2 Technical Steering Committee and Autoware Foundation Board. ADLINK contributes to open source, robotics, autonomous, IoT and 5G standards initiatives across 24+ consortiums, driving innovation in manufacturing, telecommunications, healthcare, energy, defense, transportation and infotainment. For over 28 years, with 1800+ ADLINKers and 200+ partners, ADLINK enables the technologies of today and tomorrow, advancing technology and society around the world. Follow ADLINK Technology on LinkedIn, Twitter, Facebook or visit http://www.adlinktech.com.
All trademarks are the property of their respective owners in the U.S. and other countries.
Featured Product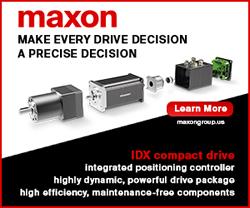 The compact brushless EC-i motor combined with an EPOS4 positioning controller delivers a highly dynamic, powerful drive package with field-oriented control (FOC), high efficiency, and maintenance-free components in a high-quality industrial housing. The maxon IDX drives are suitable for use across the entire speed range (from standstill to maximum speed) and have an extremely high overload capability. Together with a positioning controller, the integrated sensor (single turn) enables absolute positioning.