Tai's TMS and automation propel SIO Logistics to unprecedented growth
Tai Software (Tai), a fully integrated freight broker platform for freight management and transportation, today announced their customer, SIO Logistics, a third party logistics (3PL) and truckload shipping company headquartered in Dallas, Texas, has doubled their load volume since implementing Tai.

SIO Logistics faced significant challenges with their previous transportation management software (TMS). Manual tasks, such as check calls and document management, consumed valuable time and resources. Integrating with external logistics solutions proved to be another major hurdle. SIO needed a robust TMS that could optimize operations, integrate with multiple solutions, grow with them and provide end-to-end visibility to enhance workflow management.
"Freight technology is ever-changing and evolving. Tai is great at offering critical integrations with notable companies that add further value to my business," explained Ali Shafi, Chief Executive Officer, SIO Logistics. "When we first met Tai, we were growing at an unprecedented rate, one that our prior TMS couldn't keep up with. Tai came in and not only assisted with the freight we already had under management, but fueled further growth."
SIO Logistics implemented Tai TMS to overcome growth obstacles and optimize their logistics operations. Tai facilitated swift and seamless integrations, enhanced automation, provided comprehensive visibility and improved overall workflow management.
Following the implementation of Tai TMS, SIO Logistics' weekly load volume skyrocketed by 212%. Tai's customizable customer portal empowered SIO Logistics' users to book loads efficiently by reviewing internal rate history and route details. Without having to leave the TMS, they were able to spend 90% of their time on a single platform.
Tai's automation and AI engine also played a pivotal role in SIO Logistics' success story. Check calls and accounting operations have become fully automated, reducing the time spent on these tasks significantly. Invoice creation and POD management are now fully automated, with the time required reduced from 5 minutes to just 5 seconds. Tai's portal provides end-to-end visibility, enabling SIO Logistics representatives to track and trace shipments with unmatched efficiency.
"We're not in the business of replacing staff with automation, we're in the business of empowering staff with automation," added Walter (Mitch) Mitchell, CEO, Tai. "SIO Logistics' use case of our entire platform showcases and underscores the importance of implementing automation and operational efficiencies into your freight brokerage."
Furthermore, SIO experienced seamless onboarding for new team members, even those without prior supply chain or logistics experience. Training on Tai TMS takes only a week, and team members are fully versed in the software within two weeks, ensuring minimal disruptions in operations as SIO continued its impressive growth trajectory.
To review the full details of Tai's work with SIO, check out the case study here https://tai-software.com/solutions/sio-case-study/
Featured Product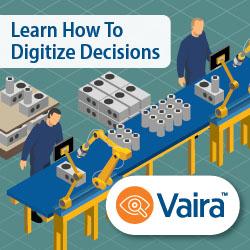 Vaira™ helps manufacturers digitize, automate, and upgrade error-prone manual processes and decisions to boost productivity and increase profits by helping humans make decisions consistent, reliable, and traceable. The camera-based solution is powered by a scalable suite of shop floor-ready apps built on proven machine vision and AI expertise for frontline manufacturing operations, with two-way integration to resource planning tools to help drive continuous analysis, insight, and improvements. Start digitizing immediately, streamlining processes customized to your unique requirements and reduce errors that lead to costs, delays, and quality concerns.