Company Appoints Renowned Supply Chain Specialists Mark Fralick, Patrick Maley, and Nrupesh Dullur to its Leadership Roster
Softeon, the only tier-1 warehouse management system (WMS) provider focused on optimizing warehouse and fulfillment operations, announced additions to the company's new leadership team.

-Mark Fralick, Chief Technology Officer (CTO)
-Patrick Maley, Chief Revenue Officer (CRO)
-Nrupesh Dullur, Chief Financial Officer (CFO)
-Brian Pier, Vice President of Solution Delivery
-Jack O'Malley, Vice President of Account Management
-Elizabeth McGuire, Director of Talent Strategy
Chief Executive Officer Jim Hoefflin, who joined the company in Nov. 2022, brings on a team that can deliver results for customers. The new team is building on Softeon's innovative technology and customer-centric culture to create new ways for supply chain leaders to manage constant change within the warehousing industry.
"Change management and growth acceleration are on the minds of our customers, as these opportunities also consume the minds of Softeon's leadership team," said Hoefflin. "Bringing on this highly tenured team of supply chain leaders - many with deep WMS experience - will help Softeon create an ecosystem of people, service, and products to meet our goal of providing limitless solutions for our customers' ever-changing warehousing challenges."
"Our goal is to enable the success of our customers, and to enable implementers to be more nimble in meeting the specific needs of the end customers," said Fralick. "Helping our customers manage constant change within the warehousing industry is top priority for Softeon as we provide greater customer choice, agility, scalability, and satisfaction."
As a software expert with over 35 years of experience who is known as the "founding father of modern WMS architectures," in the role of CTO Fralick will be essential in leading the industry - especially in areas concerning what he calls the technological battleground of the warehouse. This includes integrating and orchestrating work being completed with the assistance of the WMS, warehouse execution system (WES), and autonomous mobile robots (AMRs), for example. His leadership experience includes founding GetUsROI, a WMS implementation and next generation technology company; serving as Chief Architect for RedPrairie (BlueYonder); and selling the company he co-founded with Hoefflin, Software Architects - the creator of the BlueYonder WMS, to RedPrairie.
"The evolving and exciting opportunity in the WMS space, coupled with Softeon's reputation for innovative technology and customer-centric culture is a unique combo," said Maley, who brings over 25 years of supply chain industry experience and expertise in go-to-market strategies and branding to the expanding company.
As CRO, Maley will lead sales, marketing, and account management teams to drive growth for customers and Softeon simultaneously. He has served in sales, marketing and leadership roles for BluJay Solutions, RedPrairie, and Manhattan Associates.
Bringing more than 18 years of software as a service (SaaS) experience in finance controllership to Softeon, as CFO Dullur is tasked with accelerating the company's growth. Dullur has served in financial leadership roles for RevenueWell, software solution company CBORD, and BluJay Solutions.
As Vice President of Solution Delivery, Pier brings 30 years of experience delivering results for high growth software organizations, including building professional services teams, establishing high impact sales, and services operations, while achieving revenue growth. His experience includes leading teams for GetUsROI, RedPrairie, and McHugh Freeman.
As Vice President of Account Management, O'Malley brings over 30 years of experience with multiple industry-leading companies in the supply chain, retail, and payments software and technology space to Softeon. He's served in various leadership roles focused on sales, account management, go-to-market, and product management. With a focus on ensuring customers receive impeccable service and solutions assistance, his background includes service for NCR Corporation, Verifone, Salesfusion, and RedPrairie.
McGuire is a human resources professional who brings over 25 years of experience in aligning employee development with organizational goals. She will be essential in creating and executing talent strategy that prepares Softeon to improve its capacity for solving problems and managing the processes for future industry needs and innovation. McGuire's leadership experience includes service for The Society of Interventional Radiology, The Michael J. Fox Foundation for Parkinson's Research, and Argon ST/The Boeing Company.
Softeon's new leadership team will be instrumental in advancing Softeon's mission of empowering customers with solutions for managing a constantly changing warehousing industry. This group of leaders will drive the company forward in its commitment to providing top-tier warehouse management solutions and shaping the future of fulfillment solutions.
Featured Product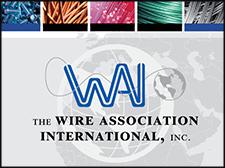 The Wire Association International (WAI), Inc., founded in 1930, is a worldwide technical society for wire and cable industry professionals. Based in Madison, Connecticut, USA, WAI collects and shares technical, manufacturing, and general business information to the ferrous, nonferrous, electrical, fiber optic, and fastener segments of the wire and cable industry. WAI hosts trade expositions, technical conferences, and educational programs.