New data explores what B2B buyers want and need, and how their loyalty increases when merchants deliver a perfected payment experience
A new study of 300 global business buyers conducted by TreviPay, the global B2B payments and invoicing network, unveils how merchants can improve the B2B payments experience to build buyer loyalty. To best meet business buyer expectations and purchasing needs, the data recommends merchants across all industries offer choice of preferred payment methods, convenient onboarding and software integrations, and customization of invoicing.

"The strongest seller-buyer relationships are significantly affected by the payments process," said Brandon Spear, CEO of TreviPay. "Our newest research reveals today's merchants must recognize the immense value B2B buyers place on the payments experience and offer what they are looking for to drive loyalty and average order value."
Payments Choice
According to the survey, 72% of business buyers are more loyal to a business that offers their preferred payment methods. Businesses use multiple payment methods but 61% of buyers say trade credit or net terms is their leading way to pay. Payment choice is critical for optimizing first-time and returning buyer experiences: 86% of buyers report the ability to pay using their preferred payment method is important, and 83% say having a variety of payment options available is important. Between credit cards and trade credit, the latter helps merchants close larger deals as survey respondents cite transaction limits as a barrier to checkout with credit cards.
Convenience
The survey also indicates that business buyers expect convenience at all stages of the purchase experience, beginning the moment they onboard with a supplier. Just like with B2C transactions, B2B buyers also expect convenience when making a purchase. Flexibility with payment options is so important that 78% claim it is necessary for merchants to offer invoicing, and 51% would switch to a different merchant if it offers flexible net terms (30-, 60-, 90-days to pay). Finally, 80% of business buyers say it's very or extremely important that merchants conveniently integrate with their ERP platforms.
Customization
Lastly, many B2B buyers (78%) need to customize or control certain aspects of their purchasing experience. Considering the unique invoicing needs of business buyers is part of offering a seamless purchasing experience. This could include capturing PO or serial numbers, as well as setting spending limits or preapproved SKUs.
"Providing payments choice, convenience, and customization gives merchants a competitive advantage," said Allen Bonde, CMO of TreviPay. "To truly build buyer loyalty, B2B merchants can leverage payments technology solutions that do not take a one-size-fits-all approach, but rather take into account what each buyer values most."
The full B2B buyers' payments preference study, The Data Is In: B2B Buyers Expect a Better Payments Experience, can be accessed online here. The data is follow-up to TreviPay's 2019 survey, Why More Payment Options Mean More Purchases, which is also available online here.
To learn more about how TreviPay can help deliver a perfected payments experience using automated accounts receivable, underwriting and trade credit management solutions, visit www.trevipay.com.
###
The study was conducted by Murphy Research on behalf of TreviPay from May 17th to June 2nd, 2023. The results are based on a comprehensive review of 300 global B2B buyers.
About TreviPay
At TreviPay, we believe loyalty begins at the payment. By understanding the diverse and unique requirements of B2B sellers, TreviPay's global B2B payments and invoicing network enables enterprises to provide payments choice and convenience, open new markets and automate accounts receivables. With more than four decades of experience, TreviPay serves leaders looking to build loyalty while driving efficiency and embracing new digital channels, especially in industries with large distribution networks such as manufacturing, retail, and transportation. For more information, visit  trevipay.com.
Featured Product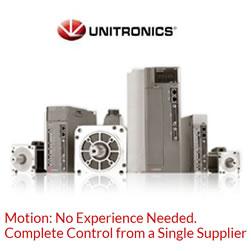 Unitronics' line of AC Servo Drives & Motors changes the traditional approach to motion control. They are simple to set up and painless to program. Unitronics Servos simplify implementation of motion applications while minimizing complexity and reducing development time. Some of the easy-to-use features in this new line include implementing motion control easily with ready-made motion code, embedded diagnostic tools, and automatic communication setup.