Lawrenceville, GA - WIKA USA Launches MH-4 CAN - A High-Performing OEM CAN Pressure Sensor for Mobile Working Machines
WIKA USA, a leading manufacturer of pressure and temperature measurement instrumentation, is proud to announce the launch of the MH-4 CAN, a cost-effective and technically capable OEM CAN pressure sensor for mobile working machines. With its advanced electronics, robust sensor design, and comprehensive validation testing, the MH-4 CAN offers performance stability and the best possible operational reliability throughout its life cycle.

Designed for the extreme operating conditions of mobile working machines, the MH-4 CAN offers CANopen and SAE J1939 communication protocols, making it a high-performing, robust, and reliable pressure sensor. Its small stainless steel casing size is shared with the field-proven MH-4, offering the added benefit of customer-specific adaptations and individualization.
"The MH-4 CAN is a game-changer for the mobile working machine industry," says Chad Reinhard, Senior Product Manager at WIKA USA. "Our customers can now benefit from the exceptional performance, stability, and reliability that the MH-4 CAN offers, along with the ability to customize and adapt the sensor to their specific needs. We are excited to bring this innovative solution to market."
Ideal for high-volume production, the MH-4 and MH-4 CAN are perfect OEM pressure sensors for any kind of mobile working machinery. To learn more about the MH-4 CAN and MH-4 family of products, please visit our website.
Number of characters: 2,172
Key word: Mobile Working Machines
About WIKA
For over 75 years, WIKA has been committed to advancing instrumentation for pressure, temperature, level, and flow measurement, while simultaneously embracing digitalization, decarbonization, and demographic change. With decades of experience and expertise, we have developed a diverse selection of stock and custom instrumentation, as well as engineering services, to support plant safety, productivity, and profitability in a rapidly changing world. As a global leader in lean manufacturing, WIKA has manufacturing locations around the globe, which enables flexibility and the ability to meet high delivery demands.
Featured Product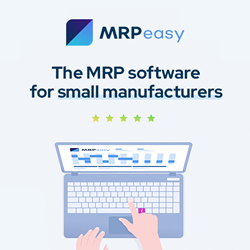 Always know what you have in stock and what you'll need to fulfill orders. Never forget to order parts on time or fail to notice a late delivery from your vendor. Easily create manufacturing orders and schedule them automatically according to resource availability or delivery deadline. Generate accurate cost and lead time estimates and provide customers with quick quotes. Receive notifications when orders are late or inventory levels reach a critical point. Ensure seamless communication between sales, production, warehousing, procurement, administration, and finance. Integrate with popular accounting, CRM, and e-commerce apps. MRPeasy is an ERP software for small manufacturers that gives you all that and more. Our users report a 54% average improvement in the overall performance of their business and a 42% increase in on-time deliveries. Try for free, no credit card needed.