Survey Also Reveals Cloud ERP is a Key Strategic Focus for Manufacturers with Two-Thirds of Respondents Planning to Upgrade Their Solutions
San Ramon, CA (May 17, 2023) - Rootstock Software today announced results from its sponsored study, which reveals that despite inflation and other economic concerns, more than three-quarters of manufacturers (75.2%) responding to the survey have plans to boost their software spending over the next 12 months, with more than one-third (37.8%) planning on double-digit increases. Key findings are summarized in the IDC InfoBrief, sponsored by Rootstock Software, "2023 State of Manufacturing Technology Survey," Doc #US50602523, May 2023:

https://www.rootstock.com/manufacturing-technology-survey/
"Today, manufacturers have in their sightlines the key factors that could most dramatically impact their businesses, including operational efficiency, inflation, a desire to protect their margins, and reshoring for resilience," said David Stephans, CEO at Rootstock Software. "Market volatility is also seen as a continued threat; nearly twice as many respondents said they were concerned about keeping pace with increased orders over those worried about diminishing demand. What's clear is that manufacturers see software investments, including those made in Cloud ERP, as a way to address and alleviate critical challenges."
Additional results from the 2023 State of Manufacturing Technology Survey include the following:
• Top of mind are initiatives to improve security, operational performance, and sustainability, as well as to maximize the value of data and enable collaboration across the enterprise.
• Toward such goals, about two-thirds (62.6%) of respondents foresee the need to upgrade their ERP solutions.
• The most tech-savvy manufacturers are already on the cloud, as they recognize the value and competitive benefits a Cloud ERP platform and its associated ecosystem can deliver.
• Manufacturers feel the biggest consequence of not engaging in digital transformation (DX) is the continued disconnection caused by data silos; as such, improving connectivity enterprise-wide is the first task many manufacturers must tackle.
• Since manufacturers feel they lack the digital competencies to transform, they may decide to upskill existing staff or lean on vendors and consultants for DX expertise.
Reid Paquin, research director for IDC Manufacturing Insights' IT Priorities and Strategies, commented on the survey: "The manufacturing environment is changing faster than ever before, making the ability to adapt operations essential to success. Manufacturers have encountered many challenges in their efforts to become more resilient, but one of the most cited issues are outdated/legacy systems. Cloud-based ERP solutions, like those offered by Rootstock Software, can help manufacturers build the digital infrastructure needed to thrive in the face of continual disruption and evolving market conditions."
For additional survey findings and implications, sign up to receive the full IDC InfoBrief here:
https://www.rootstock.com/manufacturing-technology-survey/
And register for Rootstock's upcoming webinar with IndustryWeek on May 18th, 1pm EDT here:
https://www.industryweek.com/webinars/webinar/21264612/getting-a-grip-on-manufacturing-chaos-embracing-erp-to-tame-disrupted-operations-and-stay-competitive
The survey methodology was as follows: IDC conducted a study of over 500 North American discrete manufacturing companies. Respondents came from vertical sectors such as aerospace and defense, automotive, industrial manufacturing, high tech, and medical devices; companies have revenues between $50 million and $2.5 billion. Respondents were director level and above, the primary decision makers for digital transformation, or part of a digital transformation team. They are responsible for decisions associated with enterprise IT systems, including ERP solutions.
ABOUT ROOTSTOCK
At Rootstock Software (www.rootstock.com), our connected Manufacturing Cloud ERP enables hundreds of manufacturers, distributors, and supply chain organizations to turbocharge their operations in a dynamic, post-pandemic world. With our solution natively built on the Salesforce Platform, our customers leverage the industry's leading Cloud ERP, Rootstock, to connect with their suppliers, trading partners, and the broader ecosystem.
Ranked as a leading ERP solution provider by industry analysts, Rootstock has vertical expertise in discrete manufacturing, medical devices and high-tech verticals. Rootstock team members partner with customers as trusted advisors in driving change and transformation to what's next.
We continue to grow, so stay tuned to our new customers, career opportunities, and LinkedIn posts.
Salesforce and others are among the trademarks of salesforce.com, inc.
Featured Product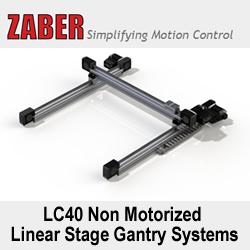 A Zaber gantry kit comes with everything you need to build a customized XY gantry system or XYZ gantry system. These gantry systems feature coordinated multi-axis motion, plug-and-play operation, easy integration with end-effector options, and built-in IO and E-Stop capabilities. An intuitive ASCII interface allows the user to easily communicate with the gantry systems using our free software, either Zaber Motion Library with APIs for several popular languages or Zaber Console. Third party terminal programs that can communicate over a serial port can also be used.