Keyboard, video, and mouse (KVM) extenders allow operation of the peripherals and PC hundreds of feet apart to protect equipment and save space on the manufacturing floor
At pharmaceutical manufacturing facilities across the globe, critical computing platforms and key performance indicator (KPI) visualization displays play a key role in controlling and monitoring production. This equipment can include thin clients, panel PCs, remote touch displays, and fixed and mobile operator workstations.

Given the unique and novel requirements of the manufacturing process, however, there can often be substantial financial benefits to separating the KVM (keyboard, video, mouse) peripherals far from the PC, thin client, or workstation host. When this is the case, KVM extenders combined with CAT5/6 network cabling can effectively separate these peripherals up to 330 feet away, making the items more accessible to personnel in other rooms and even other buildings.
For pharmaceutical manufacturers, there are significant advantages to this approach, such as extending the life of computer equipment (including the most expensive components) and reducing downtime for replacement or upgrades. In addition, facilities can save space in the production area.
"With KVM extenders, the host computer can be kept in a protected, IT managed,
chemical-free area like a server room instead of a cleanroom or production area subject to cleaning and disinfection protocols. This can reduce the total cost of ownership by protecting the most expensive computing system components from harsh conditions and eliminate downtime to replace a device that fails," says Paul Shu of ARISTA Corporation, a leading provider of computing platforms and visualization display products for harsh industrial environments.
The available production area is increased since only the peripherals occupy space in that area while the computer is remotely located. With the PC situated out of the cleanroom, computing power is not limited by requirements related to environmental protection.
Additionally, KVM extenders can be used to connect large Key Performance Indicator (KPI) displays that depict crucial metrics used to measure product quality, productivity, and other forms of business success - precisely where they are required for viewing on the facility floor.
KVM Extender Fundamentals
KVM Extender products like ARISTA's increase the distance of signal transmission by utilizing a transmitter on one end, and a receiver on the other (which can be standalone or integrated into a display or workstation). On the computer side, HDMI, USB, RS-232 and Ethernet signals are encoded by the transmitter and sent via CAT5/6 network cable to the receiver up to 330 feet (100 meters) away. The receiver decodes the signal, allowing full functionality of all KVM peripherals as well as touchscreens and most USB devices.
At the same time, the transmitter is Power Source Equipment (PSE) that enables powering the receiver via CAT5/6 cable. "With power over cable capability, the receiver can be placed anywhere without a power source and simplifies installation on the industrial production floor," says Shu.
Protecting Equipment Life, Production Uptime
In pharmaceutical manufacturing plants, cleanrooms and production areas must be routinely cleaned and disinfected. Although separating the host computer and placing it in a protected environment is a good solution, Shu says standard off-the-shelf KVM components in the production area may only last a year before needing to be replaced.
To dramatically extend that time, ruggedized displays, keyboards, and mice are recommended that meet NEMA 4X waterproofing standards.
"When an area is routinely cleaned and sanitized, you need KVM that can reliably withstand harsh, wet, or humid environments," says Shu.
He points to an example. A major pharmaceutical manufacturer that was regularly replacing monitors decided to use waterproof displays with integrated KVM extenders to connect to servers in the control room.
"Previously, they had installed a TV-type monitor that was not water resistant or easy to clean. Now, they use ruggedized monitors so that is no longer an issue," says Shu.
Given the popularity of KPI visualization in the pharmaceutical industry, KVM extenders also provide more flexibility when positioning the floor displays for ideal viewing positions at different workstations throughout the facility.
For this, ARISTA offers KVM extenders integrated into displays from 42 to 55inches.The display screen can be configured to show key performance metrics in four separate sections. To create a video wall in a war room, multiple KPI displays can be mounted together.
KVM Extenders can also be used to simply mirror the output of any display. When this is the case, ARISTA's transmitter can provide local video loopback to support cloning or mirroring the control room display. "The remote LCD monitor will display exactly the same contents that are shown on the LCD monitor in the control room," says Shu.
Saving Space, Easing Upgrades
In addition to extending the life and reducing the total cost of ownership of the computing system, pharmaceutical manufacturers that use KVM extenders also free up production room space. Cabling requirements are simplified to CAT5/6 cable, which further streamlines replacement or upgrades when needed as well.
"The host computers can be upgraded without entering a cleanroom and the displays can be kept as is using KVM extenders," says Shu. "If the KVM on the plant floor needs to be replaced, you only have to remove a single cable and plug in a replacement, which minimizes any production downtime."
Finally, Shu points to the role that KVM extenders will play in facilitating the use of ever greater computing power, which will be necessary to enable increasingly complex artificial intelligence (AI) applications.
"More pharmaceutical applications will use an AI model to improve the decision-making process, and this will drive the demand for more computing power. Since KVM extenders enable the application of essentially any level of computing power needed in cleanrooms without limitation, this is a 'future proof' investment in modern production installations," says Shu.
As the pharmaceutical industry seeks to improve production reliability while maintaining the highest quality standards, utilizing KVM extenders is an optimal choice that can substantially reduce computer failure and downtime as well as facilitate efficiency and flexibility.
For more information, contact ARISTA Corporation at (510) 226-1800, e-mail sales@goarista.com, or write to 48460 Lakeview Blvd., Fremont, CA 94538
Featured Product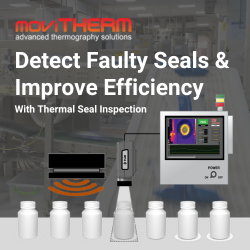 MoviTHERM's Thermal Seal Inspection (TSI) solution provides precise and reliable detection of defects in a variety of packaging types, including pouches, bags, blister packs, bottle caps, and more. By detecting defects in your packages, the TSI solution helps increase efficiency in your production line and ensures top-quality packaging is delivered to your customers every time. With state-of-the-art technology and an experienced team, MoviTHERM is dedicated to delivering accurate inspection solutions and peace of mind to its clients. Contact MoviTHERM today to learn more about their thermal seal inspection solution.